Press Contact
Liam Passmore
Shave and a Haircut
liam@shaveandahaircut.biz
415-865-0860; 415-218-1544

AXIS Dance Company Turns 30 With First Home Season Under New
Artistic Director Marc Brew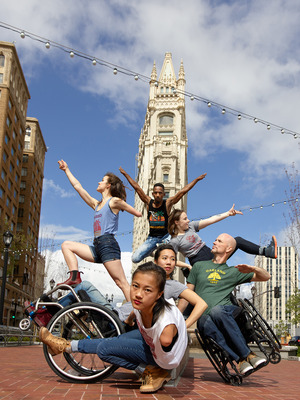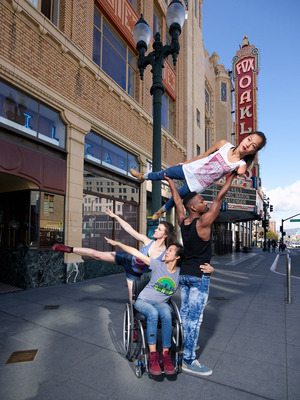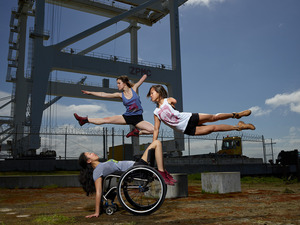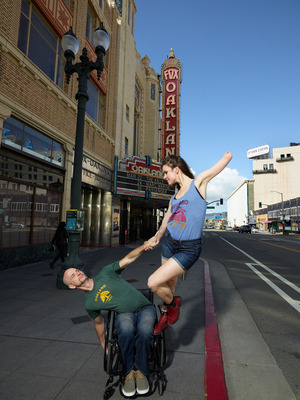 AXIS Dance Company 2017; cast in first image, from left: Julie Crothers, James Bowen, Liv Schaffer, Dwayne Scheuneman, Carina Ho, and Lani Dickinson; (David DeSilva)
[links to high-res images with caption and credit can be found in body of release]
AXIS Dance Company's 2017 home season program will see the debut of a Radical Impact, a new work created and produced by Marc Brew in collaboration with JooWan Kim, Artistic Director of Oakland-based hip-hop orchestra, Ensemble Mik Nawooj, as well as a restaging of a years-in-the-vault treasure, Amy Seiwert's The Reflective Surface featuring an original composition by Darren Johnston; finally the evening will include a not to be missed iconic piece of work when it stages excerpts from Secret Ponies, choreographed by Stephen Petronio in 2001 and peformed here by its original cast; in addition AXIS will curate and present in New York for the first time ever when they join the roster of Gibney Dance's POP series in November before heading to San Francisco's Yerba Buena Theater in early 2018

October 26-29 2017: Onward and Upward: AXIS Celebrates 30 Years at Malonga Casquelourd Center for the Arts, Oakland
November 16–18: AXIS' first New York Season at Gibney Dance's POP series, Agnes Varis Performing Arts Center, NYC
February 9–11, 2018: AXIS' 30th Anniversary San Francisco Season at Yerba Buena Theater

Oakland CA, August 3, 2017— AXIS Dance Company, the country's leading physically integrated dance company, is proud to announce the its first season under new Artistic Director, Marc Brew. The program will celebrate 30 years of AXIS, and will feature Radical Impact a new work produced in collaboration with JooWan Kim and his Oakland-based Hip Hop Orchestra, Ensemble Mik Nawooj. The original score for the piece will be performed live by string quartet.

The program will also include

a restaging Amy Seiwert's

The

Reflective Surface. Siewert, who is now the newly appointed Artistic Director of Sacramento Ballet, orignally made the piece for the 2013 home season, but due to dancer injury, it was never performed (though much talked about). This restaging will

feature an original composition by Darren Johnston.

"I have always admired this work by Amy Seiwert, but I only saw it performed as excerpts at assembly performances and felt it deserved to be seen on the main stage in all its full glory with lights, costumes and staging so the audience can enjoy this wonderful work that pushes our dancers to new limits. I am thrilled for this piece to be re-worked by Amy on our new company dancers. They are loving the process and working with Amy, she is brilliant."

Finally, AXIS will present an excerpt of an iconic piece of work from AXIS Repertory history. Secret Ponies—choreographed by prolific choreographer Stephen Petronio in 2001—will be performed by its original cast of previous AXIS Dancers: Nadia Adams, Alisa Rasera, Nicole Richter, Bonnie Lewkowicz, and Judith Smith. "It was constructed as a series of 7 vignettes created for these particular 5 women," says Brew. "Its aim was to unleash the kind of movement that like the mythical wild animal, rides through our collective imaginations. I'm so looking forward to this. It will be a thrill for both the dancers and the audience."

Radical Impact marks the first time AXIS has collaborated with JooWan Kim, the Artistic Director of Ensemble Mik Nawooj. JooWan has composed a string quartet which will be played live at both the home season in Oakland and at YBCA in 2018. "I was interested in working with JooWan because he challenges stereotypes and blurs the lines between Hip Hop and classical techniques in order to create a hybrid of new possibilities. We both are Oakland based and proud rule breakers of traditional stereotypes of dance and music. As soon as I heard his work I was hooked, and knew it would push me in new directions as a choreographer."

Ensemble Mik Nawooj is a composer ensemble that performs the innovative music of composer/pianist JooWan Kim who injects Western European Classical compositional techniques into such genres as hip-hop, rock & pop. Featuring a 6-piece chamber orchestra, 2 MCs, deep funk drums and a lyric soprano, the group has been featured on ABC 7, MTV, NBC, NPR, The New Yorker & more.

"After meeting with JooWan and his co-founder Christopher Nicholas," says Brew, "I became very intrigued with how to integrate the different elements into his compositional work. So I brought everyone into the studio together to explore the possibilities of what we could create together and how we could feed off each other artistically. It was very exciting."



In addition, AXIS will curate and present in New York for the first time ever when they join the roster of Gibney Dance's POP series in November before heading to San Francisco's Yerba Buena Theater in early 2018.



"Since arriving January I have wanted to build our presence on the East Coast," says Brew. "Dance NYC and their Disability, Dance Artistry initiative, hosted our National Convening "The Future of Integrated Dance in the USA" at Gibney Dance in January 2016, which led to our first ever Dance Intensive in March 2017, where we held a teacher training on physically integrated dance which was very successful. And now we will now be returning in November to present our own performance program, as well as facilitate a choreographic & performance intensive, curate a professional class and lead another Teacher Training. This is all part of expanding AXIS' presence on main stages and in dance festivals nationally and internationally."

This first season under Brew follows the passing for the torch from founder Judith Smith passing the torch after close to 20 year in the role, as she moves into a multi-faceted advocacy and funderaising role as Founder & Director.

While Smith first became aware of Brew close to 20 years ago, his first official encounter with AXIS was in 2011, when he came stateside to choreograph the extremely well received Full of Words, "which got me hooked on the virtuosity, passion and dedication of the company."

At 20 years of age, while enjoying a blossoming professional dance career, Brew was injured in a head-on car collision while dancing with PACT Ballet in South Africa that left him paralyzed from the chest down with a spinal cord injury and using a wheelchair. "But" as he recently told the BBC Arts for a profile on him and his accomplished career, "I was still a dancer. I couldn't just stop because I couldn't walk anymore."

In 2016, The Guardian in the UK listed Brew's For Now I Am as one of the top 10 dance performances of the year, in which the writer notes the "exhilaration and triumph" of the performance. https://www.theguardian.com/stage/2016/dec/14/top-10-dance-of-2016-judith-mackrell

Under the stewardship of Smith, using a strategy built on artistic, engagement and advocacy touchstones, AXIS has become a well-known and hugely respected entity in contemporary dance with an impressive repertory that has evolved over the last 30 years. "I'm so proud of what we've managed to accomplish," says Smith, "but there is still a lack of opportunity for people with disabilities (PWD's) in both dance and society. And while there is increased awareness of integrated/inclusive dance, there are still many opportunities yet to be explored. My new role allows me to pursue those, all while knowing the company's artistic destiny is in the hands of someone as talented and driven as Marc. This is about the future."

What: Onward and Upward: AXIS Dance Company Celebrates 30 years/2017 Home Season
When: October 26-29 2017
Time: 7:30pm
Where: Malonga Casquelourd Center for the Arts, 1428 Alice Street, Oakland, CA
Tickets: $20-$30, with low-income discounts available at axisdance.org

Image Library:
Social Media Hashtags:

#AXISdancecompany #MarcBrew #JudithSmith #PhysicallyIntegratedDance



About Marc Brew
​Acclaimed International choreographer Marc Brew trained as a professional dancer at the Victorian College of the Arts Secondary School and The Australian Ballet School. He has been working in the UK and Internationally for the past 19 years as a director, choreographer, dancer, teacher and speaker; with the Australian Ballet Company, State Theatre Ballet Company of South Africa, Infinity Dance Theatre, CandoCo Dance Company and as Associate Director with Scottish Dance Theatre and Guest Artistic Director with AXIS Dance Company. Since 2008 Marc has been dedicating time to his own choreography with Marc Brew Company and is currently Associate Artistic Director with Ballet Cymru in Wales and was Associate Artist in 2015 at Tramway Theatre in Glasgow, Scotland where he is now based. Recent choreographic commissions include Scottish Ballet, Ballet Cymru, AXIS Dance Company (USA), Candoco Dance Company (UK), Touch Compass (NZ), Amy Seiwert's Imagery (USA), GDance, Scottish Dance Theatre, Greewnwich & Docklands International Festival and City of London Festival (UK). Marc was featured by Time Out Magazine as the best of the new breed of London's Rising Dance Talent and was presented with a Centenary Medal for Outstanding Contribution as a dancer and choreographer. His work Remember When was nominated for an Isadora Duncan Dance Award for Best Performance (individual) and his recent solo work For Now, I am… was listed in the Guardians Top 10 Dance Shows for 2016. More information www.marcbrew.com

About Judith Smith
Judith Smith, Founder and Director of AXIS Dance Company, was born and raised in Colorado. Prior to becoming disabled in a car accident at age 17 in 1977, Judith was a champion equestrian. She transferred her passion for riding to dance after discovering contact improvisation in 1983. She has earned an international reputation in the field of physically integrated dance. Judith has commissioned works by some of the nation's best choreographers and composers and has helped to create one of the field's most extensive integrated dance education/outreach programs.

Her advocacy work led to the first-ever National Convening on the Future of Physically Integrated Dance in the USA, followed by six regional town halls throughout the country in 2016. This project was supported by the prestigious Doris Duke Charitable Foundation National Project Program. She serves on numerous conference panels, arts review panels and is on the advisory board of the Maggie Allesee National Center for Choreography, The National Art and Disability Center, Dancers' Group and Bates Dance Festival.
Judith has received the 2010 Dreamspeakers' Award, the 2009 Alameda County Arts Leadership Award, KQED's Local Hero and the Homer Avila danceAble awards in 2005 and Artship Foundation's Local Hero award in 1999. She was honored with an Isadora Duncan Dance Award for Sustained Achievement in 2014, the O2 Initiatives Sabbatical Award in 2015 and in 2016 she was honored as one of Theatre Bay Area's 40 people that have changed the face of Bay Area theatre. In her spare time, Judith raises butterflies and is actively involved in thoroughbred racehorse rescue and adaptive carriage driving.

About Ensemble Mik Nawooj
Ensemble Mik Nawooj is a composer ensemble that performs the innovative music of composer/pianist JooWan Kim who injects Western European Classical compositional techniques into such genres as hip-hop, rock & pop. Featuring a 6-piece chamber orchestra, 2 MCs, deep funk drums and a lyric soprano, the group has been featured on ABC 7, MTV, NBC, NPR, The New Yorker & more.

About AXIS Dance Company
AXIS Dance Company exists to change the face of dance and disability through Artistry, Engagement and Advocacy. Founded in 1987, AXIS is the nation's most acclaimed ensembles of performers with and without disabilities. Based in Oakland, CA and in its 30th year AXIS' list of collaborators includes Bill T. Jones, Stephen Petronio, Yvonne Rainer, Ann Carlson, David Dorfman, Marc Brew, Meredith Monk, Joan Jeanrenaud and Fred Frith. AXIS has toured to over 100 cities in US, Europe and Russia. The Company has received seven Isadora Duncan Dance Awards and has appeared twice on FOX TV's So You Think You Can Dance, exposing their important and relevant work of physically integrated dance to millions. Through education and outreach programs thousands of children and adults of all ages and abilities are inspired to dance each year. For more information visit axisdance.org.

###
---
Shave and a Haircut
3685 17th Street, # 3
San Francisco, California 94114
US


Read the VerticalResponse marketing policy.