Dear Karen,

We hope you have been having a wonderful summer and are enjoying the things summertime brings... vacations, backyard barbecues, fresh produce from the garden and farmers market and of course, great wines!

We've had a busy summer in the cellar racking wines and making the final blends for the 2008 vintage, which will be bottled next month. Rick has done wine tastings in South Lake Tahoe, Winemaker Dinners in Indiana and hosted our 3rd Annual Luau at the winery last weekend.

We have a few events coming up that we wanted to invite you to attend:

Last Chance Barrel Tasting ~ August 7th, 11:00 AM - 4:00 PM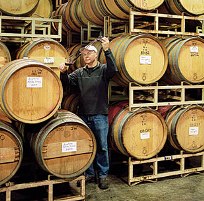 The 2008 vintage has been aging nicely in barrel and will be bottled at the end of August. To celebrate the vintage, we're offering a "last chance" for you to join us in the cellar for a little barrel tasting and to place your orders at futures pricing. These wines will be available to ship or pickup mid-November, just in time for the holidays.
If you are unfamiliar with "futures", it works like this: you purchase the wine now, at a substantial discount, and receive it a few months after bottling. You thus "lock in" your price and availability for a particular wine. Can't make it for Barrel Tasting? You can still purchase "futures" of your favorite wines. Check out the
Futures pages
of our website, call us at (707) 431-7767, or email us!
Stomp Out Breast Cancer Grape Stomp ~ October 3rd, Noon - 4:00 PM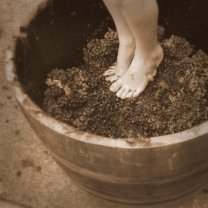 Join us for our 6th Annual Grape Stomp - Have fun and support a great cause at the same time! Women have a great time stomping and sampling wine crushed at the 2005 Stomp, our "Due Sorelle" Cabernet Sauvignon. Men are welcome to take pictures and cheer the stompers on. Only Women Can Touch the Grapes™ to Stomp Out Breast Cancer is a fundraiser for the Breast Care Center at Sutter Medical Center in Santa Rosa, CA in memory of Rick's sisters. A $25 minimum donation is required for each participant (larger donations are gladly accepted). Proceeds are used to subsidize mammograms for uninsured women in Sonoma County.
If you can't make it but would like to support the cause, give us a call and we'll take your donation by phone. All donations are tax deductible and are acknowledged with a receipt from Sutter with their not-for-profit information and tax ID #.
---
We hope you can join us for one or both of these events but if not, please stop by and visit the next time you are in the area. Rick almost always has something special to share in the tasting room or cellar and we do enjoy seeing our Amphora friends and family!

Best wishes and Cheers!

The Amphora Winery Crew