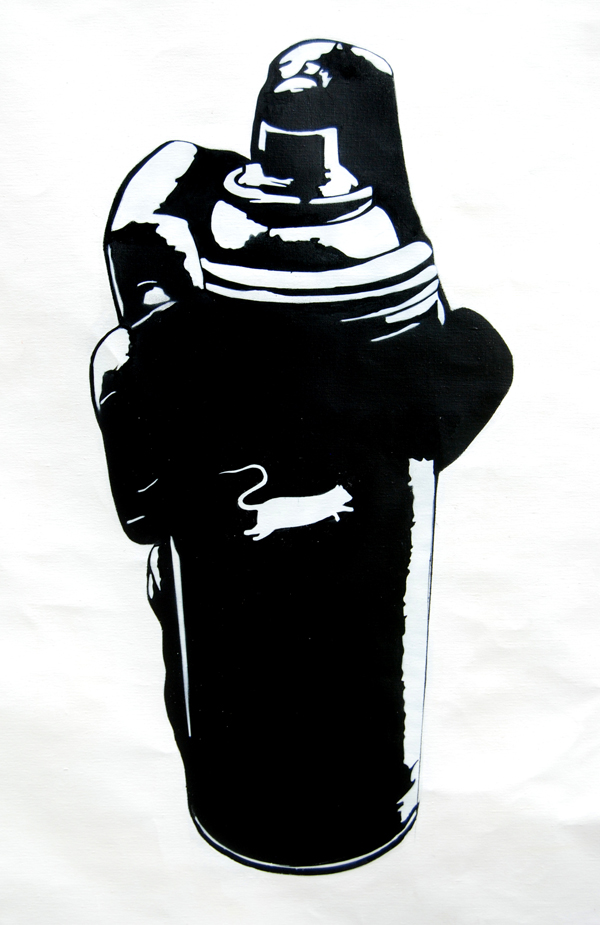 Blek le Rat
Ignorance is Bliss
Solo Exhibition
529 West 20th Street
September 7—October 5, 2013
Opening Reception:
Saturday, September 7, 7—9pm

NEW YORK, NY (August 20, 2013) — Jonathan LeVine Gallery is pleased to present Ignorance is Bliss, a solo exhibition of new works by celebrated French stencil pioneer Blek le Rat in what will be his second solo exhibition at the gallery and his largest body of work, to date. In conjunction with the exhibition, the gallery will be releasing a new print edition and the artist will be creating a public mural in New York City.



Ignorance is Bliss features a series of works on canvas as well as one bronze, marking the first time the artist has worked in sculpture. The subject matter for the bronze—Michaelangelo's David, holding a rifle—is based on a stencil that Blek le Rat developed years ago which he has placed on the streets of cities all over the world. The sculpture contains a small rat by David's feet—this iconic rat is found throughout the artist's work, not only in this exhibition but across his entire oeuvre, as well.



Blek le Rat is recognized as having influenced numerous contemporary artists working today.


"Every time I think I've painted something slightly original, I find out that Blek le Rat has done it as well, only twenty years earlier." — Banksy, 2005


"Blek le Rat's stencils distill the essence of the human struggle into poetically concise images. Blek shows clarity in his work, he makes every stylized mark count, yielding art that is at once personal and universal, economical in gesture and bountiful in statement."
 — Shepard Fairey, 2011



"His work offers a devastatingly concise and provocative iconography of personalized social critique that is at once formal and lyrical. Fundamentally, it is of seminal importance and influence to the emergence of contemporary street art. Blek le Rat is central to the greater story of how urban visual vernacular evolved from a primal scrawl to a fine art." 
— Carlo McCormick, 2011 


ABOUT THE ARTIST
Blek le Rat was born Xavier Prou in Paris, France in 1951. A pioneer of street artists in Europe, he was the first to use large stencils for creating icons on the streets instead of writing his name. Blek was first exposed to graffiti in 1971, in New York, but didn't start making his own until ten years later, in Paris. Inspired by a stenciled portrait of Mussolini he created a silhouette of a rat running along the streets, which quickly became recognized around Paris. Blek's work has been exhibited around the world and featured in publications such as TIME Magazine, The New York Times and The Los Angeles Times. In 2008, his first monograph, Blek le Rat – Getting Through the Walls, was published by Thames + Hudson. In 2011, Art Publishing, Ltd. released Blek le Rat: 30 Year Anniversary Retrospective.

ABOUT JONATHAN LEVINE GALLERY
Jonathan LeVine Gallery is committed to new and cutting edge art. Our roots go back to 1995, when Jonathan's life-long participation in punk and underground music grew into a curatorial experiment with the visual culture that surrounded him. We moved to Chelsea in 2005, with an eye towards honoring and connecting with the history and context of Post War art. We contribute to the dialogue by challenging the conventions of the canon – exploring the terrain of the high/low and everything in between. Jonathan LeVine Gallery is located at 529 West 20th Street, New York, NY 10011. For further information, please visit: www.jonathanlevinegallery.com, call: 212.243.3822 or email: info@jonathanlevinegallery.com.