Hi List Members,

Yeah, I know, it's still summer (at least in the northern hemisphere) but I am posting the picture above in honor of Seattle with its view of wonderful snow capped Mount Ranier. Why? See below!
FROM SEA TO SHINING SE-ATTLE
NEWSFLASH - I will be joining Strings Without Boundaries
next week
for another week of alternative string playing and teaching, this time at Seattle Pacific University! Along with our founder, violinist Julie Lyonn Lieberman, the faculty will include Darol Anger (Turtle Island String Quartet, David Grisman Quintet) and Paul Anastsio (Merle Haggard, Gatlin Bros., Loretta Lynn).
There is always room for cello, so if you live in or around Seattle, or care to hop a train, bus, car or plane, sign up right away for the full week, partial week, or even one day!
And for my friends who live anywhere near Seattle, get in touch and let's hang!
AARON IN ATLANTA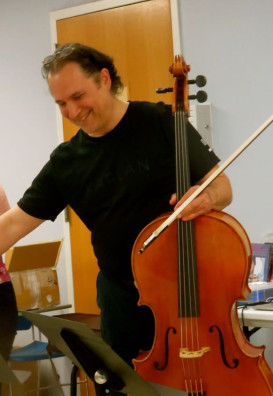 I had a great time working at my first Strings Without Boundaries at Georgia State University. Among the classes I taught was a survey of my etudes, encores and ensembles for violin, viola, cello and bass, and, I imagine, the first course ever taught for college credit on how to play the music of the Grateful Dead on cello, viola and violin. I will be teaching the same in Seattle. It was also great to work with the faculty, Julie Lyonn Lieberman, Martin Norgaard and Andy Reiner. A highlight for me was a reading of my second cello concerto. the first for cello and strings, currently titled, "Sunny Daze". (More on that in future issues.)
I also enjoyed performing "Old Growth Forest Stream" from my Pacific Northwest Suite with violinist Jennifer Warrilow, a college student at Georgia State. We met again while she was attending a music festival in Westchester, NY, and recorded the whole suite. I'll post the videos below. Meanwhile, enjoy this video of our performance during the faculty concert for Strings Without Boundaries.
GRATEFUL VON
I was very grateful and honored last month when Relix, the magazine of record for the jamband world, published my article about the long strange trip it's been for me going from a young Grateful-Dead-playing-guitarist to a composing cellist who composed the first ever classical arrangement of their music approved by their publisher! The article first appeared on the Relix site in conjunction with the Dead's final performances this past July. It is expected to appear in the physical magazine in September.
PACIFIC NORTHWEST SUITE
This suite of duets, written for every string instrument plus guitar, is available exclusively at my website:
http://www.voncello.com/store.html
It can also be performed by a whole string orchestra.
Here are links to my performances of the suite with Jennifer Warrilow at Manhattanville College, in beautiful Purchase, New York, where she was attending the Summit Music Festival. I recommend watching the three in order.
THE MISSING LINK
After Strings Without Boundaries I was invited by Nan Kemberling to give an improvisation class to about a dozen of her students. I was so glad to get the chance to move beyond the college environment and spend some quality time with adult Atlanta cellists. Nan and her husband could not have been better hosts!
Before I met Nan her fame proceeded her. I had seen her wonderful video:
I was happy to see my music in the repertoire of Nathan Chang who appeared in the British documentary, "The World's Greatest Music Prodigies".
Here is an exceptional performance of my Three American Cello Duets by an excellent duo from South Korea. My piece starts at 37 minutes.
Some of you may remember Scott Guberman who played keys and bass and sang on the Von Cello CD, Celtar. Scott finally reached nirvana - he performed with Phil Lesh, bassist and founding member of the Grateful Dead! (Beam me up Scotty!)
THE ENDPIN
In all honesty my head is spinning. I just got the news about going to Seattle yesterday. I have so much composing that I need to do and had it all planned out for the next three weeks. But I'm not complaining. If having to suddenly pick up and fly out to the Pacific Northwest is the price of success I'll gladly pay it! :-)