Your 7th & 8th graders spelling over 40 words correctly
each week and loving it!
Now they can with Enjoy Spelling™
How it Works
Immediate Reinforcement
The student covers the word, writes the word, and immediately sees whether their answer is right or wrong.

Dictionary Syllabication
Dividing words into syllables allows
the students to break down words in order to make
them easier to spell and pronounce.
Integrated Curriculum - Just 16 minutes / day
Spelling by syllables - 43 words

correct per week

Reading vocabulary - 1,440

words per year

Cursive handwriting

Language skills

Religious education - 10

words

per week

Teacher Engagement

Customizable Teacher's Manual
Easily substitute words you would prefer.


This complete series is available for only $75, plus shipping, including:
Hardcover teacher's manual with

student copy

masters.

Seven-pocket file to keep everything organized.

480 multicolored cover squares.
Learn about our Special Introductory Offer

ORDER TODAY

AND START SEEING RESULTS!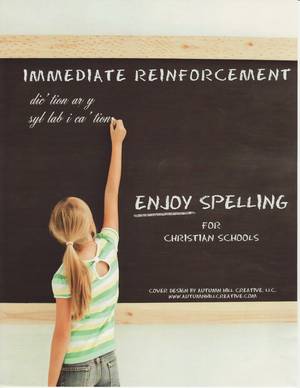 "The immediate reinforcement is
great because it really sticks in your head.
It works!"
--8th Grade Student
About Les Kehl
Les Kehl, creator of Enjoy Spelling, taught
in Lutheran schools for 44 years. While teaching at Livonia, MI and Jackson, WI,
Les experienced success using this method
of teaching spelling and vocabulary.
His former students urged him to share this revolutionary approach with a
new generation of teachers and students.