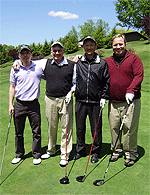 Paul J Wilhelm Memorial Golf Outing
May 9, 2011
The Paul J. Wilhelm Memorial Golf Outing will be held Monday, May 9, 2011 at Valley Brook Country Club in McMurray, PA. Golfers compete for winning team trophies, individual skill prizes and hole-in-one prizes. Highlights of the event include the Grand Prize Raffle Delta Tickets, exciting opportunities for gift certificates, dinners, golf items and more. The golf outing offers many opportunities to support the JASP. All supporters are publicly acknowledged. We hope you will join us for this fun and popular event. Registration deadline is TODAY. Contact Kelly Chaney at kchaney@us-japan.org or (412) 433-5021 with questions.
Click here to register!
To learn more about how your support of the JASP has enabled us to fulfill our mission and to respond to the crisis in Japan please go to our website at www.us-japan.org/jasp. A portion of funds raised at the golf outing will go to the JASP/Brothers Brother Foundation for aid to Japan.


Raffle Items Needed!
Raffle items are needed for the Paul J Wilhelm Memorial Golf Outing. A portion of the proceeds of this year's golf outing will go to Japan relief. Items needed are gift certificates, theater tickets, golf items, electronics, etc. are requested to help make our largest fundraiser a success. Your donation is tax deductible. Contact Kelly Chaney at (412) 433-5021 or kchaney@us-japan.org with your name and the items you would like to donate.


Member Spotlight – Wheeling-Nisshin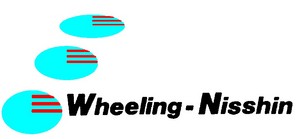 Wheeling-Nisshin, Inc. is a 100% wholly owned subsidiary of Nisshin Steel, Ltd. of Tokyo, Japan. Located in Follansbee, West Virginia, Wheeling-Nisshin is one of the country's largest hot-dip steel coating mills with the capability of producing 700,000 tons a year.
Wheeling-Nisshin is a long-time member of JASP and has been well represented down through the years on the Board of Directors. Likewise the Company has been very active in various JASP activities and a continuing corporate supporter.
The Company of 175 employees strives to maintain its reputation as one of the premier steel coating producers in the country. Wheeling-Nisshin is looked upon as a very important employer in the northern panhandle of West Virginia and maintains a long standing corporate philosophy of supporting education in the tri state area. The Company has given monetary support to local schools for college scholarships on an annual basis and has participated in other education support activities.

Wheeling-Nisshin is proud of the mark it has made both in the coated steel industry and its involvement with community activities and relations. Likewise, the executive management of the Company is also proud of the strong relationship that it has developed with its employees including the United Steelworkers of America which represents its plant workforce. Having excellent equipment and state of the art technology still requires a dedicated and talented group of employees that make up the foundation for success and continuous improvement.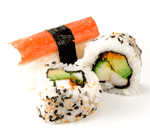 The JASP's Pittsburgh Sushi Experience
Experience Pittsburgh sushi with the Japan-America Society of Pennsylvania! Our second experience will be at Chaya, a cozy Squirrel Hill restaurant supplying Pittsburgh with authentic Japanese cuisine since 2001. Owner and Head Chef Yasuzawa's creations were voted Best Sushi by Pittsburgh magazine in 2008.

April 21, 2011 at 7 p.m., Chaya Japanese Cuisine, 2032 Murray Avenue in Squirrel Hill
The cost is $25 (including tax, tip, and green tea). The special menue is a Deluxe Sushi dinner including (3 Pieces Tuna, 2 pieces salmon, 1 piece hamachi, 1 piece shrimp, 1 piece unagi, 6 piece California roll), Salad with ginger dressing, Edamame (appetizer), Miso soup, Dessert-Mochi icecream and green tea. It's a great opportunity to try a new sushi place and network with other JASP members and Japan enthusiasts. Kaya is BYOB with a $2 bottle charge. Don't forget to bring your business cards, because we will hold a drawing for a gift card to each restaurant! Space is limited so register now by clicking here.



Yoko Ono's Artwork Comes to Pittsburgh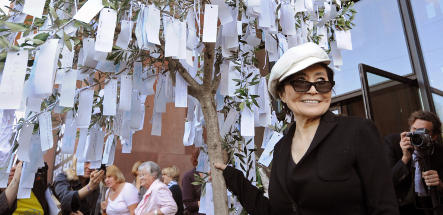 The JASP and The Andy Warhol Museum, are pleased to announce the May 8, 2011 showing of Yoko Ono's artwork titled "MY MOMMY IS BEAUTIFUL". Ono has given her permission to show the work in celebration of the JASP 25th anniversary this year! More information to come.



Japan Relief Benefits
What: "Water Babies" Art Show by Tara Zalewsky
When: Saturday, April 16 4-7 pm
Where: Mendelson Gallery, 5874 Ellsworth Avenue, Pittsburgh (Shadyside), PA 15232
Details: Paintings, drawings, and sculptures from the artist's October trip to Japan. The works highlight the artist's impressions of the country, including bibbed Jizo statues and the variety of offerings placed on children's graves. Since this is a one-night showcase, you can take any art you purchase that night.
The artist will donate her profits to the Brother's Brother Foundation Japan fund. More Info
What: "Ganbare Nippon" Benefit Concert
When: Saturday, April 16 at 7 pm
Where: North Allegheny Senior High School, 10375 Perry Highway, Wexford, Pa 15090
Details: Chinese, Japanese, Indian and Korean music, dancing, and martial arts
Tickets: $15 general, $25 VIP
More Info: Chiapih Shaw 412-897-9899 or cultural.affairs@ocapghpa.org
What: "This Moment, Once in a Lifetime" Benefit Concert
When: Saturday, April 23 2:00-4:00 p.m.
Where: Bellefield Hall Auditorium, 315 S. Bellefield Ave., University of Pittsburgh
Details: Jazz guitarist Joe Negri ,Yuko Eguchi, Matt Gillespie, Jonghee Kang, Kerrith Livengood, Emily Pinkerton, Martin Spitznagel, Yoko Suzuki, Bryan Wright, and others.
Suggested Donation: $5 for students and $10 for general public
More Info: Brenda G. Jordan, 412-648-7763 or jordanb@pitt.edu

What: "Tsunami Survival Benefit"
When: Tuesday April 26, 2011 from 5:30 PM to 7:30 PM
Where: Harvard-Yale-Princeton Club at 619 William Penn Place, Pittsburgh, PA 15219
Details: A special sushi chef will be on hand presenting an interesting array of sushi selections in addition to traditional appetizers for your enjoyment. The cost of the event is $45 with a cash bar. 100% of the proceeds will be donated to the survivors of the tsunami and will be provided to the Japanese America Society. In addition, all Japanese students will have complimentary admission.
More Info: Please register with Mr. Tim Allen at tallen@pciv.org or 412-392-4513.




Volunteer Spotlight – Ikuko Kurasawa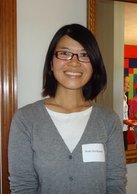 Although Ikuko Kurasawa has been in the area less than a year, she has been a great help to the JASP. She is originally from Yokohama, relocating to Greensburg from Oberlin, Ohio last summer where she taught Japanese at Oberlin College. She now teaches Japanese at Penn State Greater Allegheny Campus and also teaches at Pittsburgh Nihongo Hoshuko (Pittsburgh Japanese School).
Her first volunteer experience with the JASP was at the Dragon Boat Festival last September. She helped with the furoshiki workshop at the JASP booth at the festival. She wanted to volunteer for our Japan in the Schools program because she believes that the hands on experience will give school children an opportunity to feel close to Japan.
Ikuko is also an experienced Taiko (Japanese drumming) performer. She is a member of Pittsburgh Taiko group and has visited local schools for workshops and performances on behalf of the JASP.
She has unusual hobbies other than Taiko. She enjoys American Contra dances and English dances with her husband.
Oh, Kurasawa-san loves to eat, too. But if you want to scare her away, there is one food she can't stand looking at. What is it? Umeboshi! Yes, umeboshi, Japanese pickled plum, a key ingredient of onigiri (rice ball). She says the wrinkles on the plum look so evil. Thank goodness it's just the look not the taste she does not like. She can eat the paste form of umeboshi- anytime.




EITC at the JASP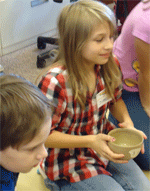 If given a choice of either sending a check to Harrisburg to pay for taxes on your business earnings OR making a donation to the Japan-America Society of Pennsylvania to support students receiving Japan-centered educational programs in area schools, which would you choose?

You have such a choice through the Educational Improvement Tax Credit program (EITC)! Click here for more information.

Talk to your employer about receiving state tax credits for contributions to the JASP supporting our Japan in the Schools program. It's quite simple:
•Submit the one page application to the PA Department of Community & Economic Development.
•Applications can be found at www.newpa.org/eitc. Click on the link under guidelines.
•Upon approval, make the company's donation to the JASP.
•Receive a credit to offset business tax liability equal to 75% of the contribution for one year, or a credit equal to 90% of the contribution if company commits for two years (annual maximum of $300,000).
•Entire contribution may be deducted 100% against federal net income, allowing the donation to cost the business nothing.
The EITC program is a great way to ensure that your tax dollars support the things you care about! Please consider donating to the JASP today.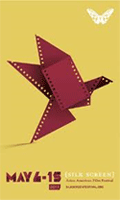 Silk Screen Festival May 4-15, 2011
The Silk Screen Gala is May 5, 2011 and the JASP along with the Origami Club of Pittsburgh will be there to celebrate! Be sure to stop by, see us and try your hand at origami. Don't worry, origami instructors will be there to show you how.

Gala only tickets purchased until April 20 are $85, from April 21- May 1 tickets are $100, at the door tickets are $125. For further details about the opening night film and Gala tickets click here.




Sunday, May 15
FunDay Passes - $25 Each
Sr. FunDay Passes (55+) - $15 Each
Children 2 and under are free
Contact Donna Micuch at 412-395-5348 or Shellie Yeung at 412-498-8411 to purchase tickets or for more information.



The 21st America-Japan Grassroots Summit
The 21st America-Japan Grassroots Summit will be held June27-July 4 in Kochi Pref. in Japan. The trip is open to all and has four features you do not normally find on trips to Japan:
1. Interesting, rarely visited location; Kochi Prefecture on Shikoku, with locally organized events
2. Home stays for 3 nights arranged by the summit organizers with local families
3. Great price- $2200 (depending on departure city) including airfare, 6 nights stay, most meals
4. A chance to participate in the 5-day grassroots summit activities
NAJAS is a partner of the Center for International Exchange, the organizer of these summits for 20 years,
and Japan-America Society of Kentucky and the Japan Society of Boston have hosted summits in the US in recent years. A great tradition of grassroots contact and a terrific opportunity to see Japan reasonably, you can find the electronic brochure on their website: http://www.us-japan.org/.
Any questions, call NAJAS office at 202-429-5545 and please see all the details of schedule, location and pricing at:
http://www.manjiro.or.jp/eng/summit/kochi/index.htm

l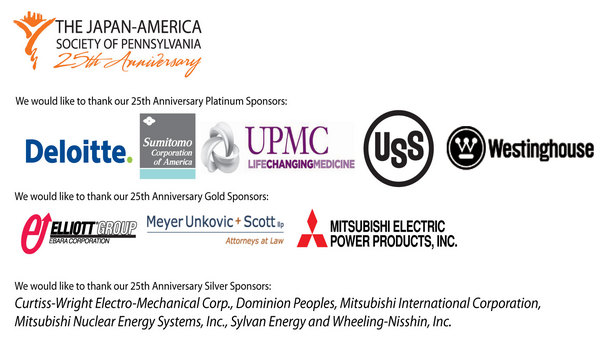 The Japan-America Society of Pennsylvania (JASP), established in 1986, is an association of individuals and corporations actively engaged in bringing the peoples of Japan and America together in understanding, appreciation and cooperation in order to promote a better relationship between the countries.