August 2013 Newsletter

In this issue:
Making "Smart Power" Work for America - In Japan and Around the World
Japanese Team Wins Pony League Championship
International JASP Membership
PennTecQ 25th Anniversary
Employment Opportunities
An A-Bomb Survivor Story
Welcome New

JASP Members
C
leveland Gallery of Japanese Prints & Paintings
V
olunteer at the JASP
Our Most Popular Facebook Postings
Mark your Calendars for events at the JASP this fall
Pittsburgh Taiko at WaterFire Festival in Sharon, PA
Japan: Land of the Rising Sun Shiner
Reflections from Otakon 2013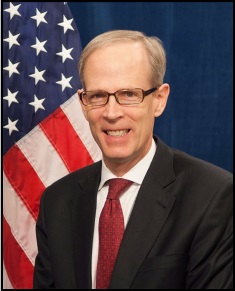 Making "Smart Power" Work for America - In Japan and Around the World

Breakfast Briefing - Tuesday August 27, 8:00 - 9:30 AM

"Smart power," and particularly the fundamentals of strong public diplomacy, are now more important than ever in sustaining American influence. Totaling nearly one-third of the world's entire population, Asia-Pacific countries continue to make their mark on the geopolitical landscape.

Join the World Affairs Council and one of the U.S. State Department's most senior diplomats for an off-the-record discussion about 21st century statecraft.

Japan-America Society of Pennsylvania and World Affairs Council of Pittsburgh members: $15
Non-members: $25

Location: The Rivers Club, 300 Grant St. Pittsburgh, PA

Register by visiting www.worldpittsburgh.org or call 412-281-7970. Please advise in advance of any dietary restrictions. No-shows and cancellations after August 22, 2013 will be charged.


Japanese Team Wins PONY League Championship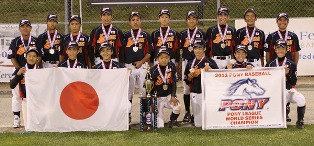 JASP member PONY League Baseball held the annual PONY World Series this month in Washington, PA.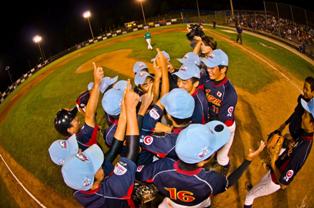 Okinawa, Japan topped Los Mochis, Mexico, 5-4 in the Championship game after an exciting tied score.


International JASP Membership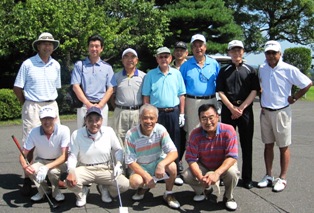 See some familiar faces in this photo? JASP alumni living in Japan have continued their friendships over the years by meeting and golfing together. This photo was taken in Tokyo at their golf outing on July 27, 2013.

Mr. Tim Ichiki, former President of the JASP, was the inspiration for the launch of the JASP International Membership. Thank you Ichiki-san for your help! Welcome back to the JASP!

Front row from left: Takayanagi-san, Seki-san, Tsukii-san, Nagano-san

Back row: Hora-san, Uryu-san, Kanade-san, Yokota-san, Chujo-san, Ichiki-san, Beppu-san (Yamada-san can be found between Yokota-san and Chujo-san)


PennTecQ 25th Anniversary

Congratulations to long time JASP member PennTecQ, Inc. on the celebration of their 25th Anniversary. Bob Nakatani, President of PennTecQ and former JASP board member, hosted customers, associates and members of the Mercer County community at a specia
l celebration last month. The event included a performance by Pittsburgh Taiko, and a luncheon followed by a tour of their factory.
Read the article originally published in the Greenville Record Argus or click on the photo for more pictures and video.


Employment Opportunities
We have quite a few new jobs listed on our employment page. If you're on the market, head over to
http://www.us-japan.org/jasp/employment.htm
!


An A-Bomb Survivor Story by Donna Lee Siple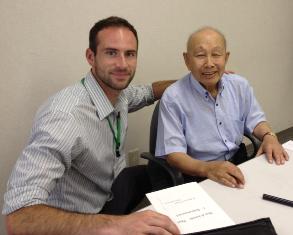 This summer was my fourth time to visit Hiroshima – a somber but hopeful city. It was my second time to meet and hear an eyewitness account from a survivor of the Atomic Bomb. A group of 10 Keizai Koho Center (KKC) American teacher fellows and I encountered Mr. Keijiro Matsushima this July.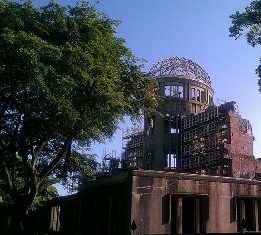 We were all changed in some way by meeting the 84 year old and through reading his essay. KKC Fellow Don Williams said it was "one of the most rewarding and interesting talks I've ever heard from a survivor of the Hiroshima blast."
The KKC will begin accepting applications for the 2014 fellowship next January. The KKC Fellowship enables social studies teachers to experience Japan firsthand and bring it back to the classroom.




Welcome
New JASP Members!
Individual
Haruka Endo

International
Tsunehiro "Tim" Ichiki
Kei Kato
Yoshihiro Koda
Akira Nagano
Shinichi Uryu
Hideki Yamada
Shuichi Yokota
Corporate Members - Gold
Mitsubishi-Hitachi Metals Machinery USA, Inc.
Corporate Members - Bronze
Preservation Technologies, L.P.


Cleveland Gallery of Japanese Prints & Paintings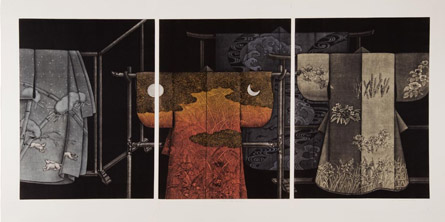 JASP member Etsuko Good, President of Japan Business Center, visited Cleveland's Verne Gallery for a recent opening of a Japanese paper artist. The Verne Gallery features a collection of Japanese and Japanese-inspired prints and paintings with roots dating back to 1953 when the parents of gallery owner Michael Verne lived and collected in Japan.

Today, Verne's Murray Hill gallery displays one of the most significant collections of contemporary and antique Japanese prints; and prints and paintings by Americans who have studied in Japan. Among the artists represented: Koshiro Onchi, Shiko Munakata, Kiyoshi Saito, Umetaro Azechi, Ryohei Tanaka, Katsunori Hamanishi and Toko Shinoda.

Volunteer at the JASP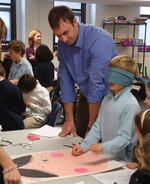 Thanks to all the hard working volunteers for participating in our programs and events in the past program year. Our dedicated volunteers brought our programs to over 3,000 students in the Western PA area.

Our Society depends on you to build bridges between the U.S. and Japan for future generations! A volunteer training will be held in September. You are welcome to bring friends. We always welcome new volunteers. Please contact Katsuko Shellhammer at kshellhammer@us-japan.org if you are interested in volunteering.


Our Most Popular Facebook Postings
Join the over 250 people who like us on Facebook to get postings about job opportunities, articles about Abenomics, Japanese language tests, and to find out what ancient Japanese ate. Our most popular posts this month were the story of passengers
rescuing a woman trapped by a train
, what
archeologists found in ancient Japanese toilets
, and amazing
rice paddy artwork
.
Friend us
for more!


Mark your calendars for events at the JASP this fall!
August 27 - Breakfast Briefing with Mark Davidson and the World Affairs Council
September 25 - One Young World Local-Global Festival @ Market Square 11 AM - 5 PM
October 5 - Morimura Opening @ The Warhol
October 15-19 - Japanese sweets presentation by Handa City
November 3 - Kuro Kiiro Anime Festival
December 13 - JASP Bounenkai


Pittsburgh Taiko at WaterFire Festival in Sharon, PA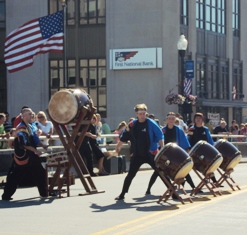 Pittsburgh Taiko performed for over a thousand people on August 3 at Sharon, PA's first city-wide event, WaterFire. Visit the gallery for photos.


Japan:Land of the Rising Sun Shiner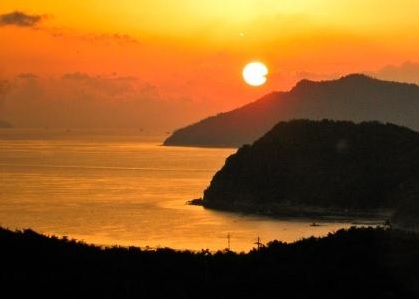 Join Eric Shiner, Director of The Andy Warhol Museum and JASP board member, for a 10-day journey through Japan.
Japan: Land of the Rising Sun Shiner, will take tour participants through Eric's personal favorites from the six years he lived in Japan. Following the 10-day journey, you are invited to join Eric for an optional extension to Koyassan for a stay at a Buddhist monastery complex set in the high hills of Wakayama.

The dates for the trip are March 25 – April 4, 2014 (departure from the United States on March 24, 2014) with the optional extension to Koyassan, April 4-5, 2014. The deadline for registration has been extended to October 31.

Please click here for more information.


Reflections from Otakon 2013
by Angelique Rein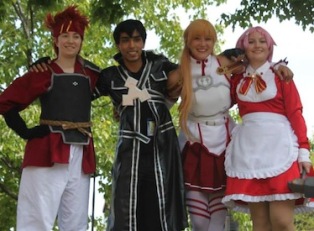 You may have heard of Otakon, one of the largest and longest-running anime conventions in North America. If you haven't, I'm here to bring you up to speed with my latest foray into the world of cosplay, conventions, and everything in between as I recap my experience at the 20th annual Otakon, held August 9-11, 2013 at the Baltimore Convention Center.
Read on...


Find us on Facebook!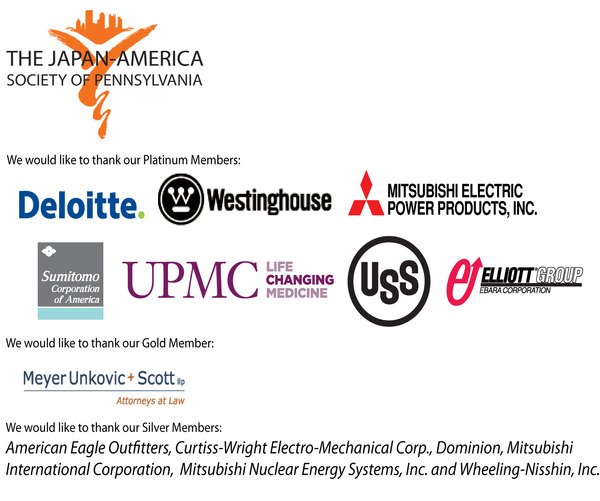 The Japan-America Society of Pennsylvania (JASP), established in 1986, is an association of individuals and corporations actively engaged in bringing the peoples of Japan and America together in understanding, appreciation and cooperation in order to promote a better relationship between the countries.