August Newsletter

In this issue:
- Corporate spotlight – Dominion Resources
- JASP/BBF Japan Relief Update
- Save the Date for the Annual Dinner
- New Member Announcements
- KKC Teacher Fellowship to Japan
- Reflections of an Intern: Kate
- Volunteer at the JASP
- Vibrant Pittsburgh Grant
- Pittsburgh Sushi Experience
- Bill Farrell of NAJAS Receives Award
- Pittsburgh Taiko at the Pittsburgh Three Rivers Regatta
- Yayoi Kusama Exhibition in NY
Corporate Spotlight – Dominion
Resources
Dominion has been a member of Japan-America Society of Pennsylvania since 2001. Funding for the membership today comes through the Dominion Foundation, the company's philanthropic arm. The Dominion Foundation is dedicated to the economic, physical and social health of the communities served by Dominion companies. The Dominion Foundation believes cultural diversity provided by groups such as JASP improves the communities it serves.

Today, Dominion is forging new partnerships with Japanese companies. Sumitomo Corp. and its customer, Tokyo Gas, have a signed a preliminary agreement to buy U.S. natural gas through Dominion's Cove Point, Maryland, shipping facility. After the Fukushima nuclear disaster, Japan is seeking other sources of energy besides nuclear. At the same time, discovery of natural gas in shale formations has created an overabundance of natural gas in the U.S.

The boom in the natural gas business has sparked increased interest from Japan in Dominion's natural gas assets. NHK recently sent a television crew to feature the new supplies and Dominion's natural gas operations, including Cove Point and the new $500 million natural gas processing facility Dominion is building in Natrium, W. Va.

The JASP and the Brother's Brother Foundation (BBF) Japan Relief Update
Through the generous donations of over 2000 individuals, corporations and foundations from Western PA, the JASP and Brother's Brother Foundation's distributed $570,000 in aid to Japan following the tragedy of the earthquake and tsunami. This is a brief update by Executive Director of the JASP, Donna Lee Siple, of the progress that the two aid organizations, Ashinaga Tohoku Rainbow House and the Rotary International Rizuentakada-City Hospital have made in the past few months.

I had the opportunity to visit Japan in July and see areas affected by the devastation of 3/11. Unfortunately, I was not able to personally visit Ashinaga or the hospital in Rizuentakata-city. However, you can click here to view a few photos which give you an idea of what the area looks like now. According to colleagues in Japan who work for the Keidanren (the Economic Federation of Japan), nothing much has happened since they last visited the area in February of this year. Progress is slow but the funds which we distributed are at work. Click here to read the whole report and to see more photos.

On a personal note, it was horrible and overwhelming to see the breadth of the devastation – mile after mile and hour after hour viewed out of the window of a bus. Our colleagues with BBF deal with this type of devastation often but it was the first time for me and it was sobering. How comforting it was to know that so many, through the JASP/BBF donations, had united to make a difference.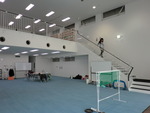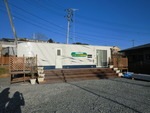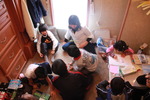 Photos ©Ashinaga Ikueikai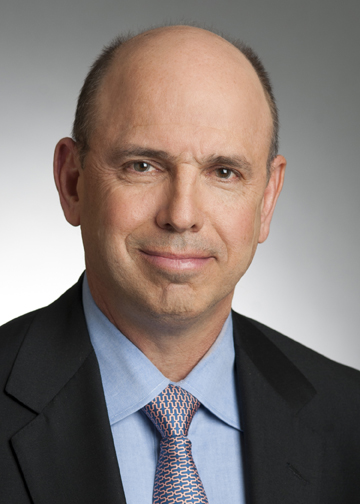 Save the Date! Annual Dinner November 1, 2012

Please join us on Thursday, November 1, 2012 at the Duquesne Club. We are pleased to have John Surma, Chairman and CEO of United States Steel, as our keynote speaker. This special event will be held at the Duquesne Club in downtown Pittsburgh. Invitations to come.

Welcome New Members

We welcome new members Dennis Evans and Steven Valdez.



We thank long time member, Elliott Group, who advanced their membership from the Gold to the Platinum level.

Keizai Koho Center Teacher Fellowship to Japan
The Keizai Koho Center (KKC), Japan Institute for Social and Economic Affairs, held its 32nd fellowship to Japan in Tokyo and the Tohoku area, earlier this summer. Ten North American teachers, who had never been to Japan before, were granted the fellowship. They were accompanied by the JASP Executive Director, Donna Lee Siple, and spent 10 days exploring customs and culture in order to enhance their ability to teach about Japan in their classrooms. Some 2012 fellows received media attention speaking about their experiences. Read about the experience of 2012 Fellows Ellen Georgi and Allen Sylvester.
If you or a teacher you know is interested in applying for the KKC fellowship in 2013, please contact Katsuko Shellhammer at kshellhammer@us-japan.org. You can also visit the KKC booth at the National Convention of Social Studies Teachers in Seattle, Washington from November 15-17, 2012. Click here to learn more.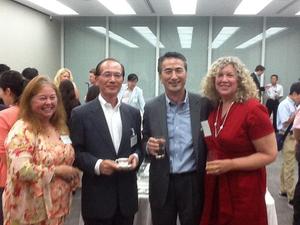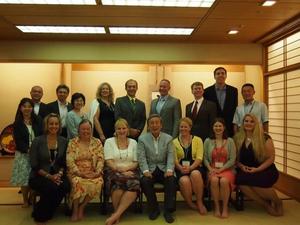 Ellen Georgi, 2012 fellow; Tim Ichiki, former
JASP board member; Kent Hora, former
JASP board member and Donna Lee Siple, JASP
Executive Director

The ten 2012 Fellows and KKC Staff

Reflections of an Intern: Kate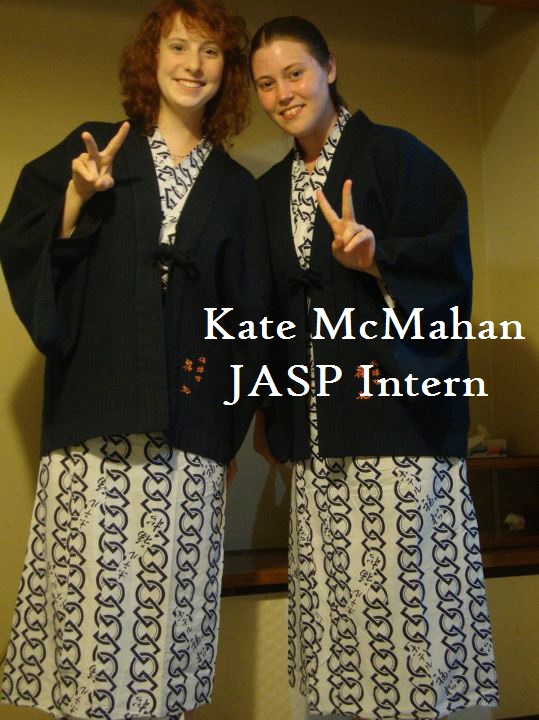 Hello! My name is Kate McMahan and I am an Elizabethtown College student. Over the summer I have been interning at the Japan‐America Society of Pennsylvania. I'd like to tell you a little bit about myself and what I've done during my stay.
The first time I got exposed to Japan was when it was time for me to choose a foreign language. I had a strong desire to learn something completely new and Japanese struck a chord with me. After spending less than two months learning the language, I found myself falling in love with Japan. What fascinated me the most was how different their culture and society was from any other place I've learned about. I quickly developed an interest in Japanese food, music, and even got a little into manga.
Since then, I have been fortunate enough to visit Japan three times—once as a high school exchange student, once on a business trip, and once as a tourist. At college I am continuing my education in East Asian Studies and plan on working under the JET program after graduation. During the school year I also help plan and host a two‐day convention that celebrates Japanese pop culture (Jaycon).
Because I felt that my major was very specific, I was not expecting to find an internship that would fit me as well as the Japan‐America Society. Overall, the organization came to me as a pleasant surprise. Although I chose to intern at a time when there aren't large projects going on, I've been able to help research and brainstorm events that could help the organization become accessible to a wider demographic. I hope to have the opportunity to shape and contribute to this cause more because I have a passion for spreading cultural awareness and appreciation.


Volunteer at the JASP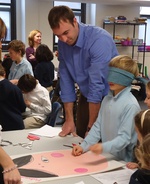 We would like to thank all the hard working volunteers who participated in our programs and events in the past program year. Our Society depends on you to build bridges between the U.S. and Japan for future generations! A volunteer training will be held in September. You are welcome to bring friends. We always welcome new volunteers. Please contact Katsuko Shellhammer at kshellhammer@us-japan.org if you are interested in volunteering.

Vibrant Pittsburgh Grant
The JASP is pleased to announce the awarding of a grant from Vibrant Pittsburgh. The grant for $2500 will be used to support the Japan in the Schools (JIS) program through which over 3000 area students annually learn about Japan. The program uses many authentic Japanese items to give students the opportunity to see, feel, hear, taste and touch Japan. The grant funds will help the JASP purchase replacement items for the JIS, as well as broaden our curriculum by adding new items to the program. Thank you, Vibrant Pittsburgh!

Sushi Experience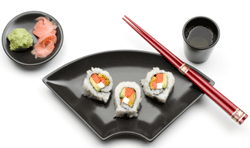 Join us at the next Pittsburgh Sushi Experience on Thursday, September 20th at Taipei Tokyo in Monroeville. The menu for the special $25 meal will be announced closer to the event. Read reviews of the restaurant on Urban Spoon.
Please register online here.


Bill Farrell of NAJAS Receives Award
Conferral of the Order of the Rising Sun, Gold Rays with Neck Ribbon upon Dr. William R. Farrell, Chairman of the National Association of Japan-America Societies.
On November 3, 2011, the Government of Japan announced the foreign recipients of the 2011 Fall Imperial Decorations. Dr. William R. Farrell, Chairman of the National Association of Japan America Societies, is one of 5 Americans who will receive the Order of the
Rising Sun, Gold Rays with Neck Ribbon, in recognition of his significant contributions to the promotion of friendly relations and mutual understanding between Japan and the United States.

Pittsburgh Taiko at the Pittsburgh Three Rivers Regatta
Pittsburgh Taiko had the privilege of being asked to perform at the Pittsburgh Three Rivers Regatta on July 3rd and 4th of July! The group is always open to new members. Click here for more information.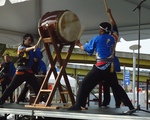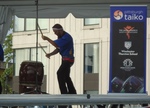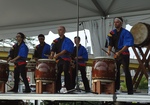 Pittsburgh's Mattress Factory is home to several of Yayoi Kusama's works but if you are in NY City from now until the end of September, visit the Whitney Museum of American Art to see more of this famous Japanese artists works.
Date:Thursday, July 12th - Sunday, September 30th, 2012
Time:All Day
Location:Whitney Museum of American Art, New York, NY
Organized by:Whitney Museum of American Art
Well known for her use of dense patterns of polka dots and nets, as well as her intense, large-scale environments, Yayoi Kusama works in a variety of media, including painting, drawing, sculpture, film, performance, and immersive installation. Born in Japan in 1929, Kusama came to the United States in 1957 and quickly found herself at the epicenter of the New York avant-garde. After achieving fame through groundbreaking exhibitions and art "happenings," she returned to her native country in 1973 and is now one of Japan's most prominent contemporary artists. This retrospective features works spanning Kusama's career.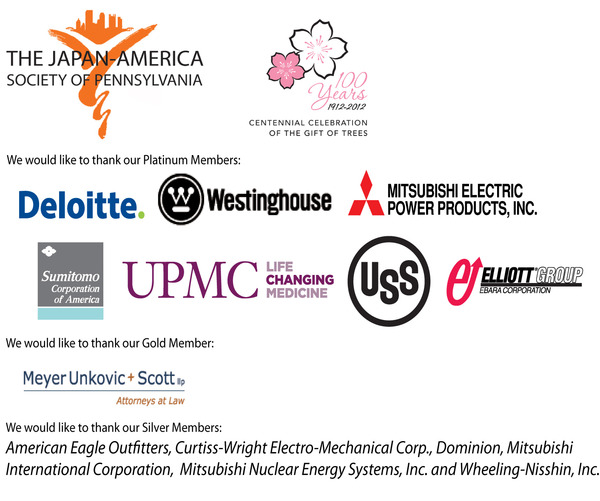 The Japan-America Society of Pennsylvania (JASP), established in 1986, is an association of individuals and corporations actively engaged in bringing the peoples of Japan and America together in understanding, appreciation and cooperation in order to promote a better relationship between the countries.