August 2015 Newsletter
In this issue:
TOMODACHI
Ties Through Taiko Exchange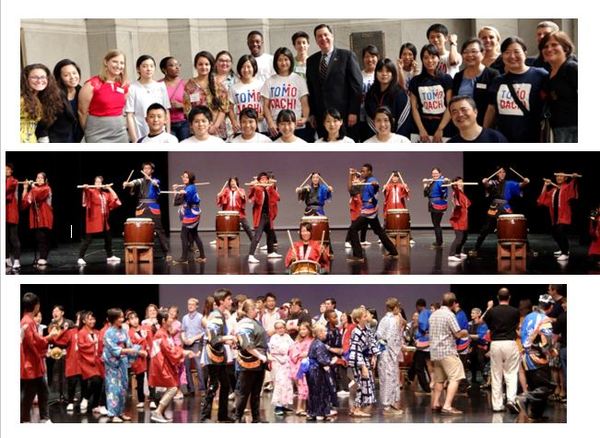 Thank you to everyone who made this fun and fruitful exchange possible!

The TOMODACHI Initiative aims to make a "tomodachi generation" of young people in the U.S. and Japan. Our Pittsburgh program acheived that through a musical exchange centered on taiko drumming. Twelve students from Aichi, Japan arrived on Friday night and were greeted at the airport by their host families. The students, part of their school's Taiko group "Rakko," performed at the Saturday welcome picnic for the hosts, JASP members and board who attended. On Sunday they attended an exciting Pittsburgh Pirates game.

Monday through Friday they practiced with Pittsburgh students and Pittsburgh Taiko members in the morning. The Rakko members built up their leadership skills by leading practice warmups, teaching the Pittsburgh students their joint piece, and demonstrating pieces from their repertoire at the end of each practice.

The afternoon activities included meeting Mayor Peduto, a visit to judge's chambers, a Just Ducky tour and Mt. Washington, visits to cultural organizations downtown, lunch and explanation by Conflict Kitchen, a performance in Schenley Plaza, a presentation by Carnegie Mellon University, a visit to the Carnegie Museums, a performance and craft project at Manchester Craftsmen's Guild, a visit and tour of Mitsubishi Electric Power Products with Japanese expats, and shopping at the Ross Park Mall.

Saturday was the final concert featuring performances from Pittsburgh Taiko, Rakko, and the combined group. The final number was a bon odori dance based on the experiences of Japanese-Americans, with audience participation!

Thanks to the support of UPMC, the six Pittsburgh students were able to participate equally in the week's events. Thank you to the U.S.-Japan Council's TOMODACHI Initiative and support from NAJAS, as well as cooperation with Pittsburgh Taiko and CAPA 6-12.



Upcoming Fall Programs

Get ready for another busy fall at the JASP! We already have a number of school visits scheduled, so tell your teachers to hurry and sign up while there's still space.

September 17: Japanese Language Testing Presentation at the University of Pittsburgh
September 18: Japanese Language Exchange at Kenmawr Apartments
September 22: Introduction to the JET Programme at the University of Pittsburgh
September TBC: Volunteer Training
September 24: Bunjinga Ink Painting Presentation at the Children's Museum
Late October-Early November: Annual Dinner
Early December: Bonenkai

Check out our events page for more information!

JASP Language Exchange Mixer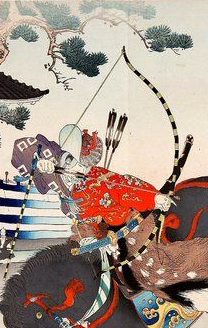 Join us on Friday,
September 18th
from 4:00 - 6:00 PM at the Kenmawr Apartments to practice your Japanese skills! We're holding our sixth language exchange mixer of the year and we want to see you there! Take this opportunity to speak Japanese with both natives and other Japanese students alike. Bring your friends and make new ones too. All skill levels are welcome. Snacks and beverages will be provided.
Kenmawr Apartments, Community Room, Ground Floor
401 Shady Ave
Pittsburgh, PA 15232

Pittsburgh Taiko Beginner Session

Interested in taiko? Come join Pittsburgh Taiko for a FREE Beginners Workshop!
Over the course of 2 hours, you'll learn basic movements and techniques used to play taiko. Drumsticks will be provided, as will earplugs (although you're welcome to bring your own if you have some).
Saturday, September 19, 3-5 PM
Winchester Thurston City Campus Lower School
555 Morewood Ave
Pittsburgh, PA 15213
Please register
- We look forward to seeing you there!

Volunteer with the JASP!



Thanks to all the hard working volunteers for participating in our programs and events in the past program year. Our dedicated volunteers brought our programs to over 3,000 students in the Western PA area.

Our Society depends on you to build bridges between the U.S. and Japan for future generations! A volunteer training will be held in September. You are welcome to bring friends. We always welcome new volunteers. Please contact Katsuko Shellhammer at kshellhammer@us-japan.org if you are interested in volunteering.





The JASP Welcomes New Members



Student Member: International Members:
Mr. Kevin Glenz
Mrs. Fumiyo Iwadachi
​Not a member yet? Join the JASP today!

Member Benefit - Upcoming Program at the World Affairs Council
The World Affairs Council of Pittsburgh is offering member pricing for their Global Engagement and Leadership Cybersecurity Series to JASP members, as these issues also affect Japan.
Their September program titled
"Will the Next World War Start in Cyber Space?"
features P.W. Singer, Cybersecurity and 21st Century Warfare Expert, Strategist and Senior Fellow at the New America Foundation.
Thursday, September 24, 2015
6:00 p.m. VIP Reception
6:30 – 8:00 p.m. Program
Carnegie Science Center, 1 Allegheny Avenue, Pittsburgh
Every day seems to bring news of yet another cyber attack on U.S. interests, some of which have been attributed to foreign governments. These attacks – though perhaps not amounting to acts of war – have nonetheless highlighted the cyber vulnerabilities of the U.S. Could the U.S. withstand a true cyber war? What would such a war look like? Are there rules for cyber combat? Does the availability of cyber weapons alter the balance of power in international relations?
For more information and to register, visit the
World Affairs Council's page
.
See What's Trending on the JASP Facebook Page

Join over 500 people who like the JASP on Facebook to get updates on beloved video game creators, digital-meets-traditional, photos of our events and more!

Like our page today!



We're new to Twitter! Follow us and tweet at us to connect. We will be updating our twitter more and more as we gain followers. Stay on top of JASP news and events as they happen!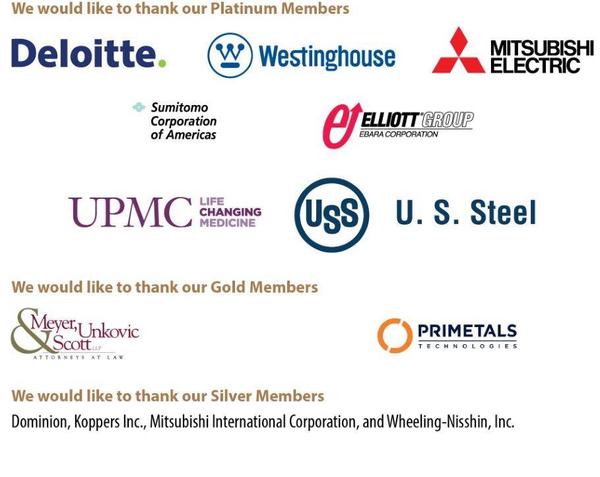 The Japan-America Society of Pennsylvania (JASP), established in 1986, is an association of individuals and corporations actively engaged in bringing the peoples of Japan and America together in understanding, appreciation and cooperation in order to promote a better relationship between the countries.