In This Issue:
Member Spotlight: Residence Inn by Marriott Pittsburgh Cranberry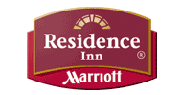 The Residence Inn Pittsburgh Cranberry, a member of the JASP since 2007, is a hotel owned and operated by the Hamister Hospitality Group. It is a 96 room all-suite hotel in the heart of the thriving Cranberry Township area. The hotel boasts a wonderful complimentary breakfast, 24 hour coffee & tea service, a complimentary light dinner reception, Monday, Tuesday and Wednesday evenings. In addition, our guests are offered an indoor pool, fitness center and sport court, a business center and free wireless internet. Business or pleasure, Residence Inn Pittsburgh Cranberry offers all the conveniences of a hotel and the comforts of home.

The Hamister Hospitality group offers four additional hotels in the Pittsburgh area, including the Hampton Inn Pittsburgh Cranberry, Hampton Inn Greentree, Hampton Inn Airport and the Holiday Inn Express Pittsburgh Cranberry.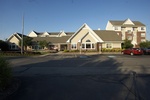 Amy Pack is the Area Director of Sales for the Cranberry Township hotels, and a volunteer for the JASP Annual Golf Outing. She encouraged our hotels to join JASP in attempts to better service the Japanese guests at her hotels. Since joining, she has reached out to JASP to help provide her with translated hotel brochures for Japanese guests, as well as for suggestions or foods and drinks they prefer to make their stay more comfortable. Her ties with her clients at Mitsubishi Electric Power Products Inc. have strengthened year after year, due in part to making the extra efforts for them, made possible by JASP. If you would like to talk with Amy about your business needs, she can be reached at 724-779-1000, ext 520




Sushi Experience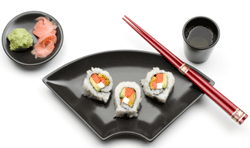 Please join us at Kiku Japanese Restaurant for the JASP Sushi Experience Thursday, September 15th from 7:00 PM. The cost is $25 per person and includes the following menu:
6pc Nigiri and (toro, tuna, salmon, flounder, sea bass, tamago) and 3pc roll. They serve the freshest fish available, so the kind of fish might be changed.

Soba salad
Miso soup


Fresh fruit for dessert
Beer, sake and shochu are available for purchase, but are not included in the price of the meal. Please register online here.




Save the Date for our Special 25th Anniversary Annual Dinner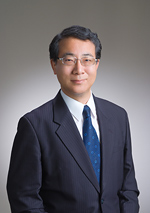 Please join us on Thursday, November 3, 2011 as we celebrate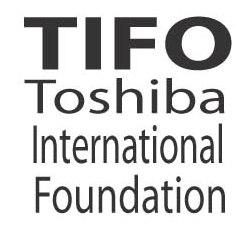 25 years of service to Western Pennsylvania. We are pleased to have Ambassador Shigeyuki Hiroki, Consul General of Japan in New York, as our keynote speaker. This special event will be held at the Duquesne Club in downtown Pittsburgh.

Special thanks to Toshibia International Foundation for being a sponsor of this event.


Dragon Boat Festival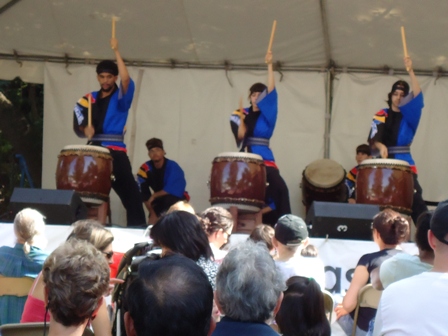 Don't miss the fun! Please plan on spending the day at the 10th Annual Dragon Boat Festival on Saturday, September 17th from 11 AM-7 PM at the South Side Riverfront Park. Pittsburgh Taiko will perform and the JASP volunteers and staff are going to teach a Furoshiki workshop. We will also be selling Furoshiki and T-shirts at the JASP booth.

Please contact kshellhammer@us-japan.org if you are interested in volunteering.




Mark your calendars to join us for these exciting cultural events this fall!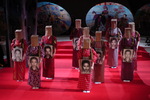 October 2, 2011, "Medea" will be performed by the Shizuoka Performing Art Center at the Pittsburgh School for Creative and Preforming Arts (CAPA) at 2 PM. Click here to buy tickets.

Satoshi Miyagi, celebrated Artistic Director of SPAC and successor to the legendary director Tadashi Suzuki, transforms the Greek masterpiece Medea into a play-within-a-play set in a late 19th-century traditional Japanese restaurant where male members of the establishment call upon the female waitresses for entertainment. Performed to live musical accompaniment, Miyagi's Medea is a visual feast comparable to a kabuki play. With his signature bunraku puppet theater -inspired style that utilizes two actors per role--one to speak and one to move--Miyagi reveals Euripides' poignant story through the lens of Japan's imperialist and male-dominated Meiji era. Pittsburgh will finally be introduced to this stunning and internationally acclaimed production, which has traveled to 20 cities and 11 countries since its premiere in 1999.
In Japanese with English subtitles.
Running time: 80 minutes
October 6th and 7th: Juni-Hitoe presentation and Suiboku-ga workshop. Juni-Hitoe is the highly complex Kimono which was worn by the court ladies in Japan. Ms. Yukie Ikeda from Handa city in Japan will be presenting a demonstration on how to dress in this layered Kimono. This is a rare chance to see this colorful costume in person.
Suiboku-ga is the painting which is painted by brush with India ink. Ms. Koto Muto is going to teach this ancient art.




Membership Update

We welcome new member: Ms. Sarah Oliphant.




Tour of the Japanese Kimono, 1915-1940: From Tradition to Ready-to-Wear exhibit at the Art Institute of Chicago
The Japan-America Society of Chicago is offering this special tour on Thursday, September 15, 2011 from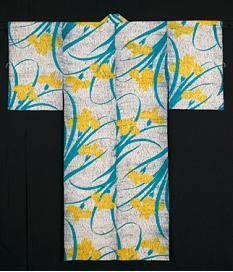 5:50-7:00 PM. The tour starts at 6:00 PM.

Art Institute of Chicgao
111 S. Michigan Avenue
Chicago, IL 60603

$25 Non-Members
(20 maximum)
Tickets wil be passed out the day of the event.
For more information on The Tour of the Japanese Kimono event and to make a reservation, please click here.

* Meet in front of the Art Institute of Chicago museum shop promptly at 5:50 p.m. Please note that unfortunately they will not be able to wait for late comers.




Next Time You're in Chicago...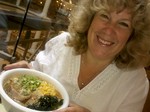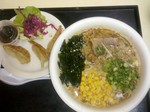 Visit Noodles by Takashi Yaginashi in the Macy's food court on State Street. At the National Association of Japan America Society annual meeting in Chicago this month, Donna Lee Siple our executive director tried an "oishii" bowl. Click here for directions.

If you have a restaurant, activity or something to share with your fellow readers, please feel free to let us know and we'll be happy to publish it in the next newsletter.




Fun Japanese Treats!
Check It Out! These YouTube videos take you to the world of fun Japanese candy and treats. Watch

episodes of Emmy Made In Japan by clicking here.

You can also read Emmy's blog here.




Are you interested in expanding your knowledge of Japan and business? Internships are available this fall at the JASP. Please see the link on our website for more information.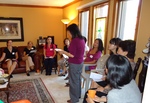 Our Society depends on you to build bridges between the U.S. and Japan for future generations! You are welcome to bring friends. We always welcome new volunteers.
Please contact Katsuko Shellhammer at kshellhammer@us-japan.org if you are interested in volunteering.


Special Exhibition of Mariko Kusumoto at Society for Contemporary Craft
April 15 — October 22, 2011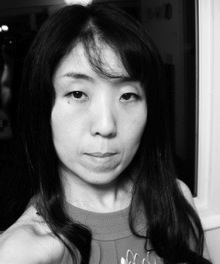 Japanese-born metalsmith, Mariko Kusumoto, creates intimate metal environments that evoke the rich, sensual Japanese culture of her childhood. A brilliant technician, she masterfully fabricates and embellishes boxes using a variety of techniques including etching, electroforming, and patination. With astounding attention to detail she explores interior spaces, deftly transforming each compartment into interactive miniature theaters, revealing figures and objects with dozens of movable parts, rotating gears, and musical mechanisms. She comments, "In my work, I am striving to create a world of shadows, light, silence, spirituality, and my personal memories." Complex in their assembly, each of Kusumoto's featured works are made up of nearly 100 individual pieces. Click here for more information.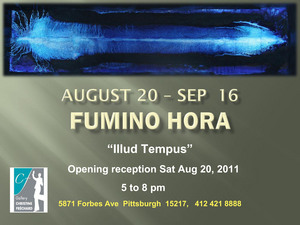 'ILLUD TEMPUS': Art exhibition by Fumino Hora at Christine Frechard Gallery
Through September 16th
ILLUD TEMPUS is a Latin term for 'now and forever'. It refers to the timeless time of mythology. In this atemporal and unconscious conception of time, the past becomes the future and the transience is eternal.
The exhibition shows Fumino Hora's new series of paintings. They area part of the artist's ongoing project, 'Ephemera: The Human Condition through the lens of Japanese aesthetic ideals'.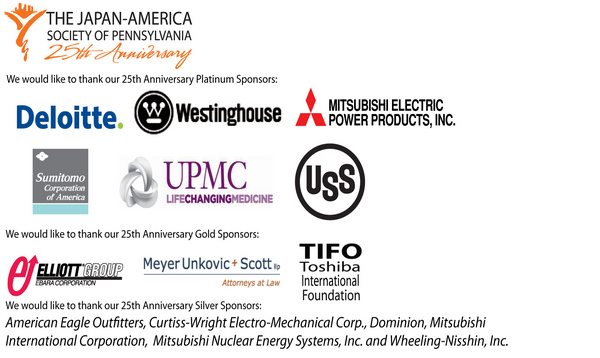 The Japan-America Society of Pennsylvania (JASP), established in 1986, is an association of individuals and corporations actively engaged in bringing the peoples of Japan and America together in understanding, appreciation and cooperation in order to promote a better relationship between the countries.