September 2012 Newsletter

In this issue:
The JASP Annual Dinner
Pittsburgh Gives
Pittsburgh Sushi Experience
Japanese Wedding Kimono Workshop
Soldier Exhibit by Fumino Hora
Japanese Earthquake and Tsunami Survivors to Visit Allderdice
Welcome New Members
Volunteer at the JASP
Time for aroma therapy or relaxing Japanese bath (ofuro)?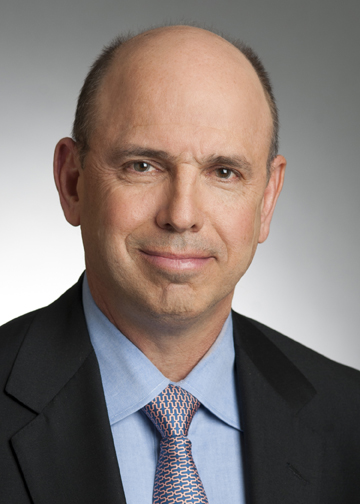 JASP Annual Dinner November 1, 2012

John Surma, Chairman and CEO of United States Steel will be the honored keynote speaker at the JASP Annual Dinner on Thursday, November 1, 2012. This special event will be held at the Duquesne Club in downtown

Pittsburgh. For more details and to register for the event, please click here. Watch your email for details about the gifts and grand prize raffle item before the event. Special thanks to UPMC, our title event sponsor.

Make a contribution to the JASP on October 3, 2012 and your gift will go further!

Tuesday, October 3, all charitable donations made to the Japan-America Society
of Pennsylvania through PittsburghGives.org will receive a portion of The Pittsburgh Foundation's $500,000 matching pool. The day will run from midnight to 11:59:59 on October 3rd and the matching dollars will be pro-rated among any organizations that receive contributions that day. The Pittsburgh Foundation's PittsburghGives web site makes giving to the JASP as easy as one, two, three!
One
Click on the middle Donate Now button at the top of the Pittsburgh Gives page (will be activated at Midnight on October 3rd)


Two


Enter your name, email and phone number in appropriate boxes. From the drop down box select the Japan-America Society of Pennsylvania. Enter in donation amount. Minimum donation is $25.00.
Three
Enter in your credit card information (Visa or Mastercard only) on the secure server and click "Submit". You will receive confirmation that your donation has been received via email – this email will serve as your tax receipt. The donation will appear as "The Pittsburgh Foundation" on your credit card statement. Click on the "Donate Now" bar to make your gift.
Your contribution plus the Japan-America Society of Pennsylvania's portion of the matching dollars will be sent to us as well as your donation information so we will know that you have made a gift. The Pittsburgh Foundation takes no fees for this charitable initiative.
It's that simple. This year is even better than last year! More matching funds – A total of $500,000 in matching funds will be available during the Day of Giving. The entire process has been streamlined and all donation options are secure. No one will be shut out on this day. Every gift will be matched. Thank you for supporting the JASP!

Pittsburgh Sushi Experience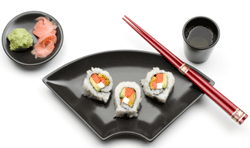 Experience Pittsburgh sushi with the Japan-America Society of Pennsylvania! We visit sushi restaurants to experience Pittsburgh expressions of the popular Japanese cuisine. The evening will include a sampler plate handpicked from the restaurant's menu and green tea. It's a great opportunity to try a new sushi place and network with other JASP members. Don't forget to bring your business cards, because we will hold a drawing for door prizes!
Join us on Thursday, September 20, 2012 at 6:30 PM at Taipei Tokyo in Monroeville.

Taipei Tokyo
304 Mall Boulevard
Monroeville, PA 15146
Our specially prepared menu:
Soup: Miso
Salad: House Ginger Salad
Sushi: 2 pieces of Tuna/Salmon/Red Snapper/White Tuna and a salmon roll.
Green tea and tip included in the $25 price.
Register online here! Deadline to register is Tuesday, September 18th by noon.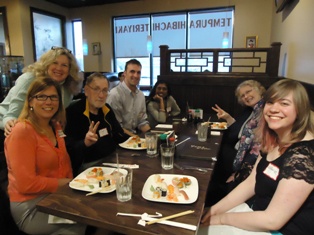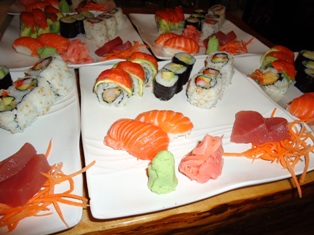 "Love, Luck, & Marriage in Japan" Cultural Workshop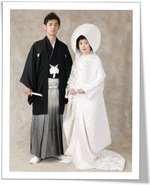 Available at 3 different venues and times.
Thursday, September 27th, Time 6-8 PM, Slippery Rock University Swope Auditorium. Wedding Kimono, Obi Tying demonstration, a short film about Japanese wedding history.
Friday, September 28th, Time 6-8 PM., Manchester Craftsmen's Guild Dining Hall. Wedding Kimono, Obi Tying demonstration, a short film about wedding history, other activities like, Yukata (summer kimono) try-on etc.
Both Free of charge, donation appreciated

Saturday, September 29, 2012 (Registration required)
9:45 AM - 2:00 PM 4127 Sennott Square (Martin Room)
Meet Mrs. Kiyoko Matsumoto of Handa City, Japan, for a special workshop for students & faculty about love and marriage customs in Japan, including a model demonstration with traditional Japanese wedding attire for women and men! This once in a lifetime event includes special talks by University of Pittsburgh Professor of Religious Studies Dr. Clark Chilson and Handa City representative Mrs. Fumiyo Iwadachi.

Email Patrick Hughes at hughespw@pitt.edu with your name. Registration fee: $5.00 at the door (includes lunch).
Deadline for registration is Wednesday, September 26, 2012.
Sponsored by the Asian Studies Center and National Consortium for Teaching about Asia (NCTA) at the University of Pittsburgh, and the Japan-America Society of Pennsylvania.

Soldier Exhibit by Fumino Hora

Maridon Museum
322 N McKean St
Butler, PA 16001

Join us at the Maridon Museum for a private reception celebrating their new "Soldier Exhibit" by Fumino Hora on Friday, September 21, 2012 from 7 PM - 9 PM. RSVP by September 14 at 724.282.0123 or info@maridon.org.

Japanese Earthquake and Tsunami Survivors to Visit Allderdice
Twenty four Japanese students from Hitachi Dai Ni High School in Japan will be visiting Pittsburgh's Allderdice High school from Nov 7- 10 as part of the high school students volunteers exchange program called the Kizuna project. Hitachi city suffered from the Great East Japan earthquake and tsunami.
Allderdice students visited Hitachi Dai Ni School for two weeks, helped the city as volunteers and learned about the earthquake affected area and their people this summer. In exchange Japanese students will visit Allderdice to share the real stories of their lives with at a presentation about their experiences and recovery efforts in the area. The presentation is open to the public and begins at 6:00 p.m. on Thursday, November 8, 2012. Pittsburgh Taiko will be participating in the presentation.
Click here for more information about the project.

JASP New Members
We welcome new family member Clark Munson.

Volunteer at the JASP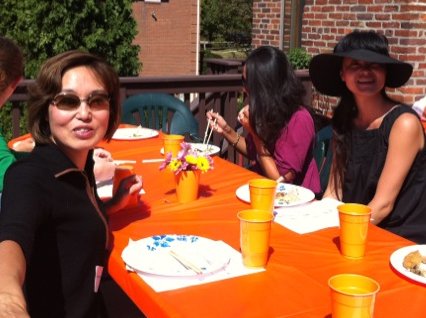 Please join volunteers and staff of the JASP as we kick-off the new school year with a luncheon and training at the home of Sue Neff. The luncheon will be held on September 25, 2012. Please contact Katsuko Shellhammer at kshellhammer@us-japan.org for more information.

Time for aroma therapy or relaxing Japanese bath (ofuro)?
Check out these highly recommended Japan-related spots to relax.

Aroma therapy in Pittsburgh: www.kayumanis.jimdo.com

Japanese bath at a Bed and Breakfast in Virginia: http://pembrokesprings.com/
If you know of a Japan-related spot to recommend, please let us know and we'll be glad to spread the word.

Find us on Facebook!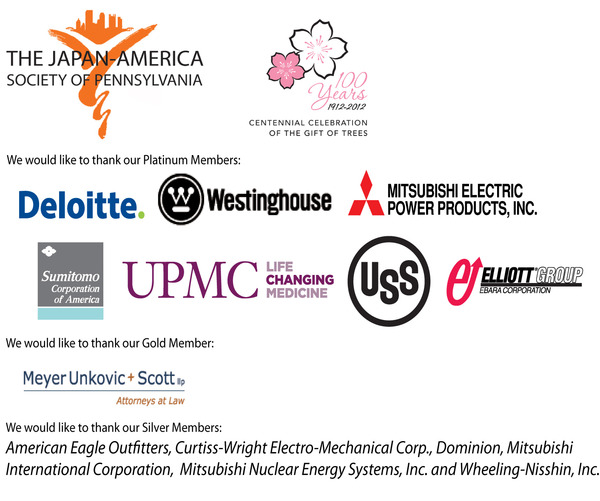 The Japan-America Society of Pennsylvania (JASP), established in 1986, is an association of individuals and corporations actively engaged in bringing the peoples of Japan and America together in understanding, appreciation and cooperation in order to promote a better relationship between the countries.