February 2013 Newsletter

In this issue:
Corporate Spotlight – Deloitte
MEPPI Japan Lecture Series -The Labor of Cute
Anime Film Festival
Seinendan Theater Company @ the Warhol
"Japan is the key…" Asian Art / Modern Pittsburgh, 1900-1920
Tekkoshocon- Japanese Pop Culture Convention
Lenzner Cherry Blossom Tour
Washington D.C. Sakura Matsuri – Japanese Street Festival
EITC – Tax Credits for Companies
Japanese Valentine's Day
New Members
Golf outing on May 13, 2013
Obama Should Woo Japan to Join Pacific Trade Pact

Corporate Spotlight: Deloitte's Connection to Japan

Deloitte, the largest professional services organization in Pittsburgh, has a special bond with the city forged over the past 90 years. They employ more than 600 people who are committed to serving the Pittsburgh marketplace and its communities with distinction.Deloitte has been a member of the JASP since 1991 and Colleen Dimitroff, director, Deloitte Tax LLP, has served as treasurer for over 10 years on the board of directors' executive committee. Click here to read more.

MEPPI Japan Lecture Series- The Labor of Cute: Net Idols, Cute Culture, and the Social Factory in Contemporary Japan

Dr. Gabi Lukacs, Associate Professor of Anthropology, University of Pittsburgh, will examine new labor subjectivities such as the net idols that become famous by posting their photos and diaries on the web, cell phone novelists whose novels have recently come to dominate literary bestseller lists, and entrepreneurial homemakers who conjure wealth from day trading. The subjects of mass culture theory, digital media theory, work and play, consumer culture, and Japan in the twentieth century are also topics for discussion. There will be a cash bar. Registration for this event is required.

Pittsburgh Anime Film Series
The University of Pittsburgh, Carnegie Mellon University, and Toonseum are collaborating to bring an anime film festival to Pittsburgh! Join us for film showings, art exhibits, and lectures on the history and influence of Japanese animation. All films presented in Japanese with English subtitles. All films are free and open to the public!
Monday, February 18: "Memories"; 7:00 PM; Carnegie Mellon University, McConomy Auditorium
Monday, February 25: "Summer Wars"; 7:00 PM; Frick Fine Arts Auditorium
Thursday, February 28: Lecture, Dr. Steven Ridgely, University of Wisconsin-Madison
"Relational Visuality, or, What's the Point of Studying Anime?"; 7:00 PM, Frick Fine Arts Auditorium

For more information and maps of venues, visit www.tinyurl.com/animepgh.

Seinendan Theater Company @ the Warhol
The JASP is proud to support the Warhol Museum and the Japan Society of NY in presenting the Seinendan Theater Company performance of–Robot / Android - Human Theater in Pittsburgh on March 8, 2013. Please click here for more information.

"Japan is the key…" Asian Art / Modern Pittsburgh, 1900-1920
Saturday, March 30, 2013 to Sunday, July 21, 2013
Carnegie Museum of Art
This exhibition is rooted in the historical, visual, and cultural
connections between Carnegie Museum of Art's collection of traditional Japanese prints (
ukiyo-e
) and Carnegie Museum of Natural History's collection of Japanese ivories (
okimono
). Both Pittsburgh collections originated in the early years of the 20
th
century, motivated by the West's acceptance of Japan as an emerging modern power, and the aesthetic appeal of Japanese art to Western artists and collectors. In 1905 Carnegie Institute's department of fine arts (predecessor of Carnegie Museum of Art) mounted its first exhibition of Japanese printsundefined95 examples from the collection of poet and critic Sadakichi Hartmannundefinedand in 1910 it displayed in the Museum a selection of H. J. Heinz's rapidly growing collection of ivories. This exhibition will fulfill Carnegie Institute's original vision for Japanese art: a gallery of the combined collections exemplifying aspects of Japanese culture most relevant to the modern West. More information.

Tekkoshocon - Japanese Pop Culture Convention

April 5-7, 2013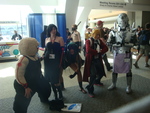 Tekkoshocon is a gathering for fans of anime, tokusatsu, Japanese music, video games, card/board games, and other Japanese popular media, as well as pop culture. It is held at the David L. Lawrence Convention Center in Downtown Pittsburgh, Pennsylvania. The JASP will be hosting a panel discussion during the convention. Check back for more details. Tickets available for sale now. Click here to visit the Tekkoshocon official website.

Lenzner Cherry Blossom Tour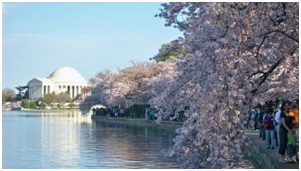 Lenzner Coach Lines is offering a one day tour to Washington D.C. on April 6th. Attendees will first enjoy lunch at Carmines in Penn Quarter and then depart for the guided tour of popular Washington D.C. sites.
For further details and registration please click here. *Please note that this tour is not for the Cherry Blossom Festival.

Washington D.C. Sakura Matsuri – Japanese Street Festival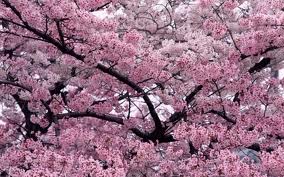 Time: 10:30 AM – 6 PM
Location: 12th Street & Pennsylvania Avenue, NW
Cost: $5 for 13 years of age and older

Presented by the Japan America Society of Washington D.C., Sakura Matsuri is the largest Japanese cultural festival in the United States. On its 53rd year the festival showcases food, JPop, arts, culture and live martial arts, on four stages. The street festival is held every year at the peak of the blossoms that stretch for one mile down the streets of Washington D.C.
Festival Event Page
Cherry Blossom Website

EITC - Education Improvement Tax Cre
dit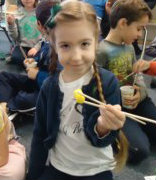 If given a choice of either sending a check to Harrisburg to pay for taxes on your business earnings OR making a donation to the Japan-America Society of Pennsylvania to support students receiving Japan-centered educational programs in area schools, which would you choose?
You have such a choice through the Educational Improvement Tax Credit program (EITC)!
Click here
for more information.

Japanese Valentine's Day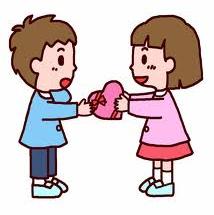 Valentine's Day works a little differently in Japan. On Feb. 14, women typically give chocolate to their boyfriends, male friends and superiors. Called "giri choco" ("giri" for obligation and "choco" for chocolate), a Japanese woman could give as many as 20 obligatory boxes to her colleagues and male friends.

Valentine's Day holiday started in the 1950s when a Japanese chocolate manufacturer saw the opportunity to make some money. Competitors took note and the holiday took off. Today, Japan's Valentine's Day sales account for more than half of the chocolate sold annually in Japan.

Only one month later, on March 14 is White Day when men return the favor by buying white chocolate for the ladies.Click here for more information and to view a video.

JASP Welcomes New Members
Cassie Dawe
Mark Holzer
Jonathan Lui

Golf Outing on May 13, 2013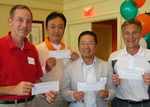 MEPPI golfers Bob Misback, Masahiro Oya, Alex Ukai and Joe Durante from the 2012 Golf Outing.
Please save the date for the Paul J Wilhelm Memorial Golf Outing on May 13, 2013 at Valley Brook Country Club.

Click here to learn more.



This is a great opportunity to spend the day with a client, treat employees on network with industry colleagues while supporting a noble cause.





Proceeds benefit JASP educational programs for students, training for teachers and an annual speech contest held in conjunction with the University of Pittsburgh.

Obama Should Woo Japan to Join Pacific Trade Pact

Dr. Paul Sracic, friend of the JASP, has shared his timely opinion regarding the U.S., Japan and the Pacific Trade Pact. Click here to read more. Dr. Sracic is Professor and Chair of the Department of Political Science and Rigelhaupt Pre-Law Center at Youngstown State University in Ohio. He is a former Fulbright Lecturer in Japan, teaching at The University of Tokyo and at Sophia University. Dr. Sracic holds a Ph.D. and an M.A. in Political Science from Rutgers University, and an A.B. in Political Science and Economics from Albright College.

Find us on Facebook!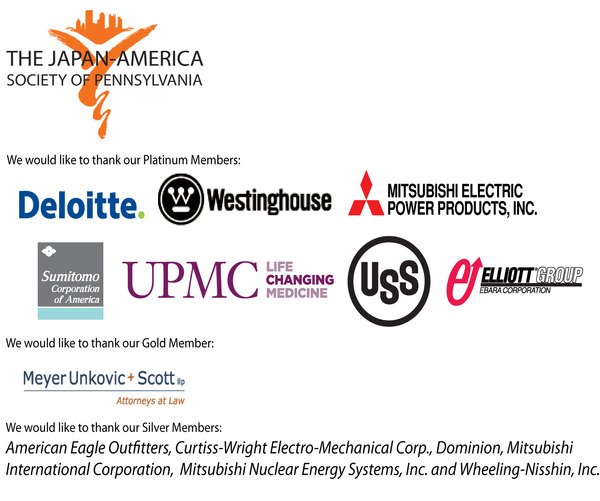 The Japan-America Society of Pennsylvania (JASP), established in 1986, is an association of individuals and corporations actively engaged in bringing the peoples of Japan and America together in understanding, appreciation and cooperation in order to promote a better relationship between the countries.