Member Spotlight: Eric Shiner, JASP Board Member, Appointed Director of the Andy Warhol Museum

JASP board of director, Eric Shiner is the new director of the Andy Warhol Museum. Eric has a long affiliation with the JASP and became an active member of the Board of the JASP in January of this year. Since then, Eric has been the driving force behind the Warhol showing of Yoko Ono's "My Mommy is Beautiful" in celebration of the JASP's 25th Anniversary.
Please follow this link for more information on Eric and the Warhol.

The JASP and the Brother's Brother Foundation (BBF) Japan Relief Update

The JASP board and staff greatly appreciate your generous response to the disasters that overwhelmed Japan on March 11. Just hours after those terrible events, the Society joined with The Brother's Brother Foundation and has been receiving a constant flow of donations, large and small, in support of relief efforts in Japan. Contributions have come from major corporations, from churches and community organizations, and from thousands of individuals all over Western Pennsylvania and have totaled over $440,000.
Together, the JASP and BBF staff and directors and trustees have reviewed several requests for relief support for reconstruction work. We are also expecting to receive a request from the Rotary Club of Japan. Four major projects are currently under additional review. They include the construction of the Tohouku Ashinaga Rainbow house and three satellite houses which would provide long-term care to over 1,500 earthquake/tsunami orphans.

A Letter of Thanks from the Ambassador of Japan to the US

The JASP is a member of the National Association of Japan America Societies (NAJAS). Click on this link to read a letter to NAJAS from former Ambassador of Japan to the US, Yoshio Okawara, expressing his gratitude for NAJAS's joint fund-raising efforts. Okawara-san joined the Ministry of Foreign Affairs in 1942, was Director General of the American Affairs Bureau and served as Ambassador to the US from 1980-1985. He has been a strong proponent of US-Japan relations for many years and is President of The America-Japan Society, Inc. in Tokyo and the National Association of America-Japan Societies (NAAJS), the NAJAS counterpart in Japan. We appreciate Ambassador Okawara's heartfelt letter and his remark that the fund-raising and Operation Tomodachi "braced Japan most profoundly".

Save the Date for our Special 25th Anniversary Annual Dinner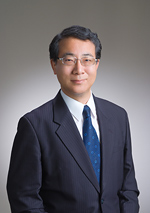 Please join us on Thursday, November 3, 2011 as we celebrate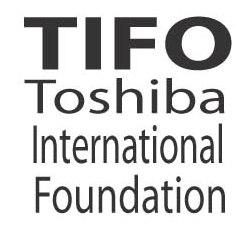 25 years of service to Western Pennsylvania. We are pleased to have Ambassador Shigeyuki Hiroki,Consul General of Japan in New York, as our keynote speaker. This special event will be held at the Duquesne Club in downtown Pittsburgh. Special thanks to Toshibia International Foundation for being a sponsor of this event.

Membership Updates

We welcome new member: Mr. Jordan Bender



We thank long time member: Mitsubishi Electric Power Products International, Inc. advanced their membership from Gold to the Platinum level.

Membership Survey Results
Thanks to JASP members who took part in our recent member survey. The responses and comments were very helpful as we strive to make the JASP a valuable and relevant organization for you. We always appreciate your support and welcome any comments or suggestions you would like to share. Follow this link to view the summary.

JASP Summer Intern Reflections
Shiho Nagai, shares about her experience of working as an intern at the JASP this summer.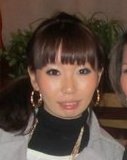 I worked at the JASP for three months as an intern from Point Park University. I learned a lot of things that I could never learn at school and in Japan. I had never had a job in my life before working at the JASP so this was my first time to work with other people and learn real responsibility. I worked on making brochures for corporate and individual members. I also did a marketing research for the members by using Survey Monkey.
The most exciting memory about my internship was that I attended a lunch with Ambassador Hiroki of the NY Consul General. I would never get that kind of chance if I didn't work here. I sometimes helped with office mailings by stuffing and sealing a lot of letters. It was very funny because there was a big gap between meeting an ambassador and preparing a mass mailing in the office. Because of those gaps, I was able to see many different sides of working for a non-profit organization, which makes me more think about society. My three months at the JASP this summer is definitely my valuable memory of my life. I want to thank everyone in the office. I hope I still connect with them and participate in some events sometime in the future again.

Are you interested in expanding your knowledge of Japan and business? Internships are available this fall at the JASP. Please see the link on our website for more information.

Sushi Experience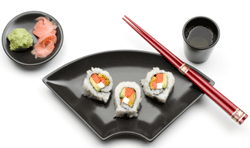 Please join us at Kiku Japanese Restaurant for the JASP Sushi Experience Thursday, September 15th from 7:00 PM. The cost is $25 per person and includes the following menu:
6pc Nigiri and (toro, tuna, salmon, flounder, sea bass, tamago) and 3pc roll. They serve the freshest fish available, so the kind of fish might be changed.
Soba salad
Miso soup


Fresh fruit for dessert
Beer, sake and shochu are available for purchase, but are not included in the price of the meal. Please register online here.

Dragon Boat Festival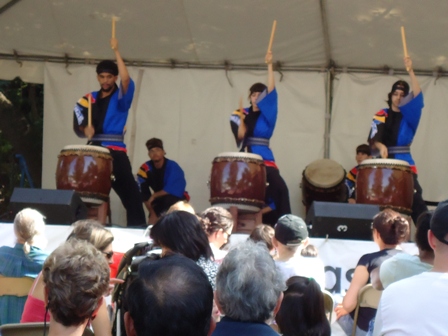 Don't miss the fun! Please plan on spending the day at the 10th Annual Dragon Boat Festival on Saturday, September 17th from 11 AM-7 PM at the South Side Riverfront Park. Pittsburgh Taiko will perform and the JASP volunteers and staff are going to teach a Furoshiki workshop. We will also be selling Furoshiki and T-shirts at the JASP booth. Please contact kshellhammer@us-japan.org if you are interested in volunteering.

KKC Teaching Fellows Reflect on Japan
The Keizai Koho Center (KKC), Japan Institute for Social and Economic Affairs, held its 31st fellowship tour of Japan in Kyoto, Hiroshima and Tokyo, earlier this summer. Ten North American teachers who had never been to Japan before were granted the fellowship. They were accompanied by the JASP executive director, Donna Lee Siple, and spent 10 days exploring customs and culture in order to enhance their ability to teach about Japan in their classrooms. Several of the teachers shared their reflections of the KKC fellowship in their local media. See our website to read the articles. If you or a teacher you know is interested in applying for the KKC fellowship in 2012, please contact Katsuko Shellhammer at kshellhammer@us-japan.org.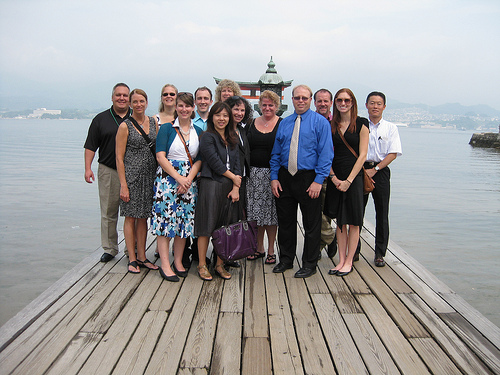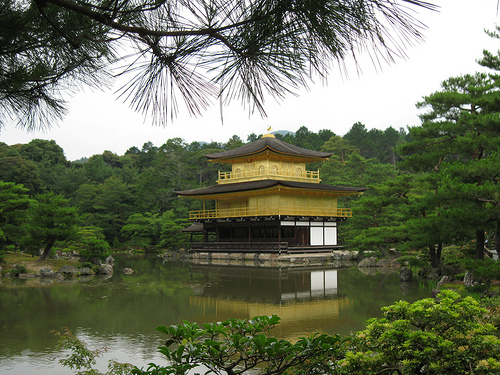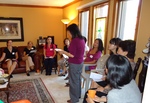 We would like to thank all the hard working volunteers who participated in our programs and events in the past program year. Our Society depends on you to build bridges between the U.S. and Japan for future generations! A volunteer training will be held in September. You are welcome to bring friends. We always welcome new volunteers. Please contact Katsuko Shellhammer at kshellhammer@us-japan.org if you are interested in volunteering.

Mark your calendars to join us for these exciting cultural events this fall!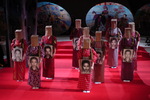 October 2, 2011, "Medea" will be performed by the Shizuoka Performing Art Center at the Pittsburgh School for Creative and Preforming Arts (CAPA) at 2 PM.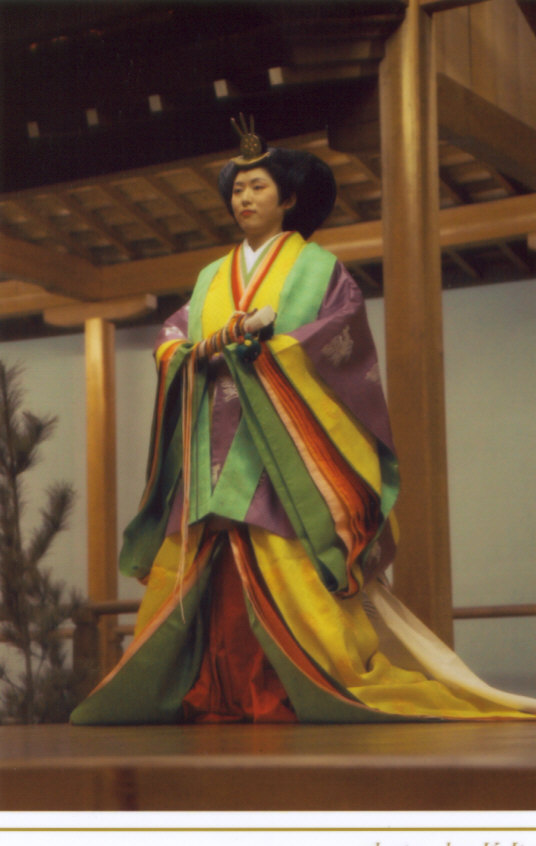 October 6th and 7th: Juni-Hitoe presentation and Suiboku-ga workshop. Juni-Hitoe is the highly complex Kimono which was worn by the court ladies in Japan. Ms. Yukie Ikeda from Handa city in Japan will be presenting a demonstration on how to dress in this layered Kimono. This is a rare chance to see this colorful costume in person.
Suiboku-ga is the painting which is painted by brush with India ink. Ms. Koto Muto is going to teach this ancient art.

Watch for details about these cultural events on the JASP website from September.

Do you want to learn about Japan's hottest trends in fashion, food and lifestyle? Try Web-Japan! Share Japan with your classroom by following the link to Japan Video Topics or clicking here. There you can watch video-clips about various topics in Japanese culture from rice balls to festivals.

Ambassador Hiroki visits the JASP
Newly appointed Ambassador and Consul General of Japan, New York, Shigeyuki Hiroki, honored the JASP with a visit to our office on June 13 while visiting the Pittsburgh area. The Ambassador met with the JASP staff and several JASP Board members taking the time to share fascinating stories about his most recent experience serving as the Japanese Ambassador to Afghanistan. Following the luncheon, he was treated to a private tour of the Warhol Museum by Eric Shiner. While there he was able to see the Toshiba International Foundation (TIFO) sponsored Yoko Ono's "My Mommy is Beautiful" which was on display in celebration of the JASP 25th Anniversary.
| | | |
| --- | --- | --- |
| The Ambassador Hiroki with Board Member Joe Scherrbaum, Executive Director Donna Lee Siple, Saigusa-san, and the JASP Staff in the JASP Office | The Ambassador Hiroki with Board Member Eric Shiner, Executive Director Donna Lee Siple and Saigusa-san. | The Ambassador Hiroki and Board Member Eric Shiner in front of the My Mommy is Beautiful Yoko Ono installation. |

The JASP has recently received a generous donation of kimonos from Mr. McGunigle, a retired State Department officer who, along with his late wife and son, lived in Japan off and on for 11 years. The kimonos belonged to his wife, who fell in love with Japanese fabric and the traditional clothing. Mrs. McGunigle went to school to learn how to properly wear a formal kimono and was one of the few westerners to actually be licensed to teach kimono wearing.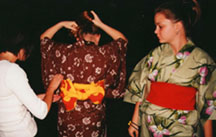 The donation includes three tomesode(formal kimono), one komon, obi, a few yukata and other essential accessories needed to put kimono on properly. These kimonos will enable the JASP to introduce varieties of kimono to students through the Japan in the Schools program and at other JASP events. If you are interested in kimono wearing class or a presentation, please contact us. Thank you, Mr. McGunigle!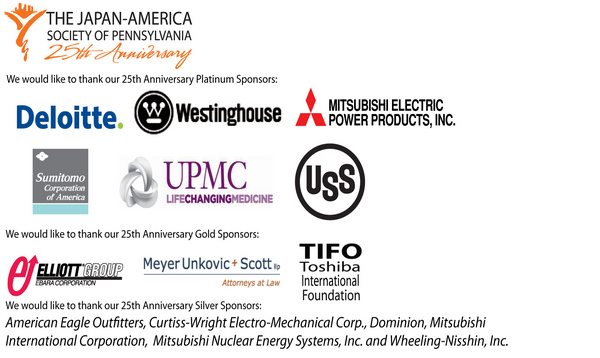 The Japan-America Society of Pennsylvania (JASP), established in 1986, is an association of individuals and corporations actively engaged in bringing the peoples of Japan and America together in understanding, appreciation and cooperation in order to promote a better relationship between the countries.