Thanks to all who attended and supported the JASP Annual Dinner fundraiser. John Surma,

Chairman and CEO of United States Steel was the honored keynote speaker at the November 1, 2012 event.

Click here to see pictures from the event.

We thank Ambassador Shigeyuki Hiroki, Consul General of Japan in New York, for commemorating the event with a special letter. Click here to read the letter.
Corporate Spotlight - Meyer, Unkovic and Scott LLP
Meyer, Unkovic & Scott LLP has been a proud sponsor of the Japan-America Society of Pennsylvania since 1988. The firm has worked closely with many Japanese-headquartered businesses, as well as many United States companies with facilities in Asia, to manage their domestic and international activities.
They are a business law firm whose diverse clientele includes Fortune 100 companies, significant financial institutions, small venture enterprises, and individuals. The business environment today allows companies to have no borders. Their lawyers understand the various challenges businesses face in this type of marketplace. They work with businesses to develop strategic solutions, helping them realize their potential in the worldwide marketplace.
The lawyers of Meyer, Unkovic & Scott LLP are engaged every day - whether in the courtroom or at the conference room table - in providing their clients with creative, insightful, and cost-effective legal advice that is targeted to resolve problems and add value to the bottom line. Areas in which the firm counsels businesses and individuals include a broad spectrum of legal matters such as business transactions and planning, real estate and banking law, bankruptcy and commercial law, employment law, international law and immigration, tax and estate planning, and in various areas of litigation and dispute resolution.
Founded in 1943 and located in downtown Pittsburgh, their hallmark has been in providing dedicated and excellent service to our clients. The firm's founders established a culture for quality and growth by nurturing young attorneys with individualized, highly focused training. The result is a law firm that is progressive but steeped in the "old school" philosophy of community and client service. In addition, the firm is a supporter of many local non-profits, from those involved in community services to the arts, each of which plays a role in our community making the Pittsburgh region a great philanthropic metropolis.
For more information, please visit their website: www.muslaw.com.
America Pivots East - Again: Implications, Images, and Reality in U.S.-Japan Relations Breakfast Briefing with Dr. William Farrell
Thursday, November 29, 2012 8:00 AM - 9:30 AM
Deloitte | 2500 One PPG Place, 25th Floor | Pittsburgh
Register online for this free event.


With nationalism rising throughout Asia, what trends will characterize the future of the U.S.-Japanese relationship? For a complete understanding of America's "Asia Pivot," the history of U.S. involvement withJapan is a good place to begin. Join the World Affairs Council and the Japan-America Society for a perspective on U.S. involvement in the Pacific, and how a look back can predict what lies ahead.
Dr. William Farrell is the former Chairman of National Association of Japan-America Societies. He is currently an Adjunct Professor at the Naval War College. Dr. Farrell served in the U.S. Air Force
for 20 years, and was stationed in Japan for six years as a commissioned officer. After the Air Force, he worked as Executive Director of the American Chamber of Commerce in Tokyo and as Chairman of an Asian-focused consulting company. In June 2012, he was awarded the Imperial Order of the Rising Sun with Gold Rays by the Japanese government for his work to promote strong relations between the U.S. and Japan. Dr. Farrell has a B.A. in History from Fordham University, an M.A. from Florida State University, and a Ph.D. from the University of Michigan.
Register for the Next Pittsburgh Sushi Experience
Join us on Thursday, December 6, 2012 at SUSHI THREE 299 Beverly Road Mt. Lebanon, PA 15216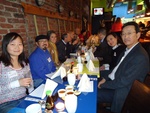 Experience Pittsburgh sushi with the Japan-America Society of Pennsylvania! We visit sushi restaurants to experience Pittsburgh expressions of the popular Japanese cuisine. The evening will include a sampler plate handpicked from the restaurant's menu and green tea. It's a great opportunity to try a new sushi place and network with other JASP members. Don't forget to bring your business cards, because we will hold a drawing for door prizes!
Registration fee of $25 includes your choice of 2 different hand picked meals with green tea and tip included. Learn more and register online.
JASP Bonenkai Celebration at the Warhol Museum
It's the holiday season and JASP members and friends are invited to gather at the Warhol Museum
during their 'Good Friday' social hour from 6:30 - 8:30 pm on Friday, December 14th. JASP members can purchase drinks from the cash bar in the entrance gallery and toast 'Bonenkai' with their friends. The Warhol offers ½ price museum admission during Good Fridays. It's a perfect time to catch up with old friends and meet some new as we 'forget the year'. If you wish to continue the celebration, many restaurants are within walking distance.
The Japan-America Society of Pennsylvania (JASP), established in 1986, is an association of individuals and corporations actively engaged in bringing the peoples of Japan and America together in understanding, appreciation and cooperation in order to promote a better relationship between the countries.