It's been another busy month here at TripIt, and we have lots of improvements to tell you about. Thanks again to the thousands of you who have sent us your suggestions! Please keep the great ideas coming to feedback@tripit.com.
Get Itinerary Details in your Personal Calendar
We are excited to announce that TripIt now includes all your trip itinerary details in the automated feed to your personal calendar. This has been the top-requested feature, so we hope you enjoy it!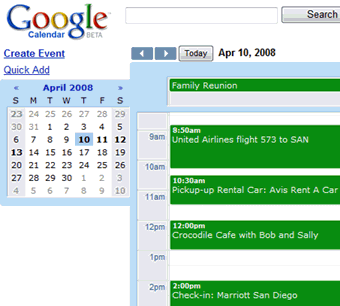 TripIt links to your personal calendar and automatically displays flights, hotels, rental cars, restaurant reservations, and other items from your itinerary in your calendar.
It only takes a minute to set-up a TripIt automated calendar feed to any iCal-compatible calendar (Google, Outlook 2007, Plaxo, others). Then, like magic, you'll see your TripIt itineraries start appearing in your personal calendar. No more hand-entering trip details into your Google calendar. No more hunting for the "Download to Outlook" link on travel booking sites.
Set-up your Automated Calendar Feed and click "More about Calendar Feeds" for step-by-step instructions.
Travel Confirmation PDFs
TripIt can now process travel confirmation emails that you forward to us as attached PDF files. This includes PDF confirmations from popular travel agencies like American Express and Carlson Wagonlit, and airlines like Air Canada and Lufthansa, as well as many popular corporate travel confirmations. Please keep forwarding all your travel confirmation emails and PDFs, and we'll add support for any new ones as quickly as possible.
TripIt Address Book Import
We've made it easier to add your friends and fellow travelers to TripIt. Now when you share a trip or add friends on TripIt, you'll see buttons to access your personal address book in Gmail, Yahoo Mail, Hotmail and others. This saves you time not having to hand-enter email addresses for people who you want to connect to in order to share travel calendars or itineraries.
International Support
TripIt has users all around the world, so we're happy to announce support for names that contain accents, umlauts, and other special characters, as well as displaying temperatures in Celsius or Fahrenheit (and non-U.S. date formats are coming soon). We've also added support for more international travel confirmation emails, including Aer Lingus, Singapore Airlines, Thai Airways, Tiger Airways, Virgin Blue and Avis Europe, as well as our international rail providers Amtrak, Eurostar, GNER, UK Trainline and VIA Rail.
See currently supported booking providers
Apple Safari Support
Apple Users, you're so cool with your iPhones, iPods and iBooks that we just had to improve our support for the Apple Safari Web browser. Thanks for your iPatience!
TripIt is Faster
Like a NASCAR pit crew, our engineers continue to improve the speed of TripIt, so you'll see your TripIt itineraries displayed faster than ever before.
Check-out your next trip itinerary

TripIt News
TripIt has appeared in hundreds of global media and top blogs. Here are just a few from November...

Associated Press (global news)
Bubblicious (review)
Kim Komando (top site)
Microsoft Blog (corporate user)
TechSoup (YouTube video)
UK Times Online (top travel sites)
Yahoo Interface Blog (Andy interview)

More on our Press Page.

TripIt Blog
Check-out the TripIt Blog for the latest insights from our co-founders Gregg, Scott and Andy.

About TripIt
TripIt is an online service that helps travelers organize all their travel plans—no matter where they booked. To get started, travelers just forward their travel confirmation emails to plans@tripit.com. TripIt processes these emails and automatically creates a master itinerary with travel plans, daily weather, local maps, restaurant reservations, city guides and more. With TripIt, it's easy for travelers to print or access their trip plans from anywhere—and to share itineraries and travel calendars with friends and colleagues in their TripIt social network. Visit www.tripit.com to learn more.