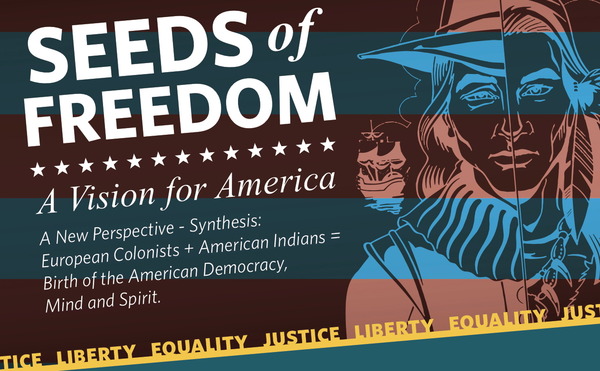 Liberty! Justice! Equality!


Thank you to all who supported our FIRST FIFTY YEARS IndieGoGo crowd-funding campaign and who contributed in other ways to making our film SEEDS OF FREEDOM: A Vision for America a reality!


A new perspective presents a revolutionary look at the syntheses between European colonists and the American Indian in the evolution of the American democracy, mind and spirit.

SEEDS OF FREEDOM: A Vision for America. To watch the 30-minute film Click HERE.

Our work is aimed at moving the conversation between European Americans and American Indians to a level where we explore a synthesis of our two paradigms, enabling something new to emerge.

T

he premiere in Boston on November 10 with a Forum and Call-to-Action was an inspiring evening for all. Special guests Pilgrim Scholar Rev. Gary Marks and Iroquois Elder Tom Porter shared their insights into the Pilgrim vision for humanity and the Iroquois Great Law and their relevance to the present and the future.
SEEDS OF FREEDOM: A Vision for America. Film. Forum. Call-to-Action!
Playlist for Entire Event.
Click
HERE.

Film Synopsis
E

minent philanthropist/historian James Phinney Baxter (1831-1921) believed that America must embody the high ideals of New England's original settlers if it is to become a global exemplar of liberty, equality and justice. In 1921 he left a bequest instructing Boston to build a Pantheon to perpetuate the founding ideals and principles. Baxter's great-great-granddaughter Connie Baxter Marlow adds a missing piece - the role of the American Indian in the evolution of the American democracy, mind and spirit.
O

nce we recognize the role of the American Indian in the evolution of our country, the dream for humanity carried to these shores by the early settlers of New England and Virginia will be realized, and we will lead the world as exemplars of Liberty, Justice, Equality and Abundance for all. Until that time, the United States, like a three-legged stool missing one of its legs, is out of balance without the Native American at the table. CBM as Narrator SEEDS OF FREEDOM film.
W

hen we come together with the indigenous peoples of the world as equals, as family, and we each open our hearts and our minds to the other, the melding of our gifts will bring a new perspective that is invisible at this time. This new perspective will allow us to see the path to true unity, peace and freedom. CBM 1995
B

ozho (Hello) Connie and Andrew! I have often told people that the problems and sins of our nation were not a result of the founding principles, but because of deviation from them. The bar was set very high back then by both our native folks and founding fathers. A goal is no goal at all if it does not demand something of us that is beyond us, and requires us to reach beyond who we are to become who we want and need to be. I believe your project will help people see that truth once again and our nation will be the better for it! God bless you, and I wish you all the best! Blessings to you, Woody Carter. (Native American Flute in SEEDS OF FREEDOM) www.Woody-Carter.com
Want to join the Call-to-Action?
Gather some friends. Screen the film!
Explore the ideas!

Connie and Andrew can join you via Skype or Zoom - anywhere, anytime.
E-mail us at First50Yrs@gmail.com to discuss possibilities.

Our next film project is: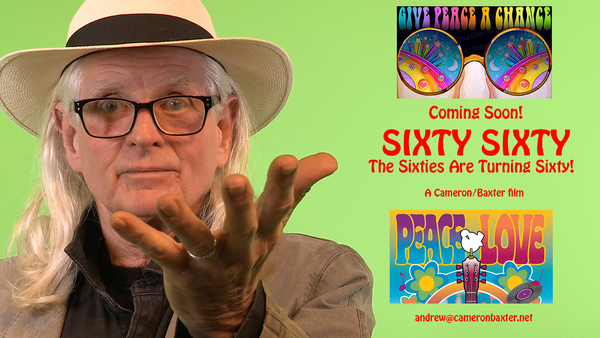 Suddenly, in 1967, everything changed.
A set of high ideals and principles motivated an entire generation to rise up and declare:
"Hell no, we won't go!
No more war, no more racism, no more sexism, no more exploitation, no more pollution..."
...and then what happened?
Did the 60s counterculture falter and fail?
Did we sell out to greed and fear? Did we give up?

Or did we pass these values along to our kids
and now it's the millenials' time to turn the tide and
take the evolutionary leap we envisioned?
Watch for our Crowd-Funding Campaign Coming Soon!

FaceBook - SixtySixtyMovie

Keep the Vision of the Sixties Alive!