From person to person, meeting to meeting, event to event, we move forward. From my recent connections, I want to share with you.
FEAR ERODES—HOW TO ADDRESS OUR MOVEMENT INTO 2017
How ever we seize the opportunities and confront challenges in 2017, its helpful if we can mentally and emotionally prepare ourselves for what we know and some of the unknown. Coming TOGETHER to focus on what is important to us at school, at work, in our nation and in society, matters!
It is imperative that we respectfully have conversations about Our Compelling Purpose and how we want to make a difference—to our families, customers, members, congregations, society. A few leaders have begun addressing these issues by sending letters to their employees.
Two decades ago I began offering workshops for my clients and to the public called "How To Reduce Fear and Build Trust." The attendees discovered a new awareness of the more than 100 kinds of Fear in organizations and the impact that Fear has on people, productivity, and Profits.
In response to our current climate in our organizations, schools and nation, "FEAR ERODES" is the new and current speech and workshop I am delivering. It is a facilitated, interactive dialogue so people can not only express their concerns, but TOGETHER I'll guide your group to help reduce their fears and create some healthy responses for the months ahead.
Call today at 408-398-7220 to schedule your "FEAR ERODES—How Will We Address & Reduce Fear TOGETHER?" for your team or enterprise.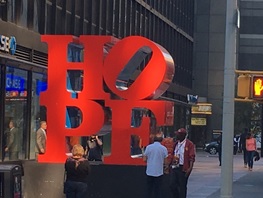 THE LEADER WITHIN—SEEKING ALL NATURAL LEADERS
Some people have titles and positions. That doesn't make them a leader. Most powerful and important is the natural leadership you each have within you. I've seen 1000's of people develop their natural leadership. Some self discover it or fought tough odds to overcome a bad situation. Some have had a loving, supportive, encouraging parent, manager, coach, or mentor who created an environment for them to Blossom. They may have been shy, quiet or not great at Math! But they found their passion, voice, and way to make a difference. Everyone has a natural leader within them. Have you found yours? I can help you.
NYC TRIP
On Dec. 1-6, I'll be in NYC for meetings and to co-sponsor an Investor session for Start-up Entrepreneurs on Dec. 1 hosted by Alley Boost. Find more information at www.alleyboost.com
SURVIVAL IS OPTIONAL:
My NYC book agent is handling the publishing details of my upcoming book . . . that has been upcoming for years. What a lengthy process in the traditional publishing world!
But the message in the book is available today! I deliver my speeches/presentations and facilitate executive retreats to help people discover new thinking and how to apply it. Learn why some leaders grab onto management fads and best practices and struggle and fail. But others challenge current management beliefs, assumptions, and practices (yes, even performance appraisals and ranking/rating employees), continually learn, improve, and innovate for bold success!
Which kind of leader are you? Calendar me to address your team or to consult with you.