SURVIVAL IS OPTIONAL
As a leader (of your home, job, organization), are you choosing to fail or succeed? Failure happens when you follow a path of the "status quo" through struggles and La-La Land! Those who succeed are focused! They have a vision that they continually adapt as they learn (and they are obsessive learners and listeners), ask questions to understand and connect in their relationships and with customers.
Survival takes COURAGE, an openness to learning FOREVER, and challenging thinking. It takes KNOWLEDGE searching for better answers and new cures.
YOUR CHOICE TO SURVIVE—and lead your organization to success! You must be:
VISIONARY, FOCUSED, BOLD, CURIOUS, COLLABORATIVE, INTRIGUING, DARING, FEARLESS, HUMBLE, STRONG, INSPIRING, DISRUPTIVE, PROVOCATIVE, GENUINE, RADICAL, INNOVATIVE—and not arrogant! How are you doing?
WHAT WILL YOUR IMPACT BE TODAY?
Over time I've reflected after hearing many stories from friends, clients, and colleagues about what we do and why we do those things. Why do we have performance appraisals and rank and rate people? Why do we set up organizations as if education and business and non-profit work and government systems are games, where we have internal competition and winners and losers? Why do we fill our days so full of classes and grades, Power Point revisions and obscene work and commute hours, busy work, finger-pointing, blame, and criticism?
There must be reasons. What do we believe? What if we consider:
We are alive to help and support each other. We are here to make a difference and a positive impact (that doesn't give us the right to judge and bully others.) We are here for a short time to experience joy in learning, working, and living TOGETHER.
WHAT ARE THE BELIEFS YOU HAVE? SHOULD YOU RECONSIDER THEM?
One Monday morning, I was talking to a friend. He shared that on the previous Friday he received a shocking performance appraisal. Even though he had met his goals and felt like he was progressing in his organization, he was devastated—for the entire week-end. I listened and then said: "PERFORMANCE APPRAISALS SHOULD BE ABOLISHED (and they should not be replaced.) Organizations that use them show a lack of leadership." Immediately, my friend felt better. But more importantly, I advised:
"When some people go low, you go high."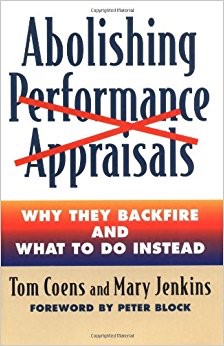 (this is not an original comment, but I heard it and it fits well in many situations.) My friend grabbed it, and his confidence was restored. Though badly harmed and bullied at work, he could stay focused on making meaningful contributions in life. When friends or colleagues are hurt, it's up to you to help them see the meaningful picture in life.
When we take a few moments to reflect, do we really believe that we are on this earth to judge, criticize, and blame each other for the outcomes of the System? Surely we want to have a more meaningful life than that! For more details, see the book ABOLISHING PERFORMANCE APPRAISALS by Coens and Jinkins.
____________________________________________________
A 7-YEAR OLD'S IMPACT (supported by a village)
YOU ARE INVITED FOR REFRESHMENTS:
Sunday, May 7, 11 to 3 p.m.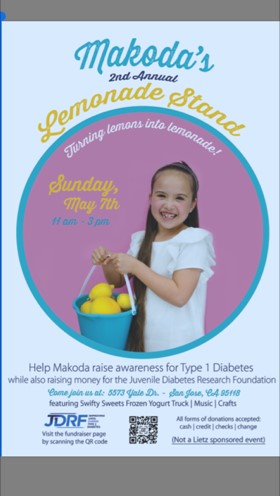 Just over a year ago, my then 6-year old grand-daughter Makoda was diagnosed with T1 Diabetes. I didn't really know much about it, but I quickly learned the causes are unknown, and there is currently no cure. It is manageable on a daily basis, but it is also life threatening on a daily basis. The learning journey begins! (And it is different than Type 2 diabetes which is connected to lifestyle, exercise, and eating habits.)
Miss Makoda with her family (parents Tim and Terri and 10-year old brother, Owen) and her friends kicked off Makoda's ist lemonade stand and raised almost $4000—to support the research for treatments and the cure for T1D. This year, Makoda's lemonade stand will be held May 7 from 11 a.m. to 3 p.m. at 5573 Yale Dr, San Jose, CA. Come for lemonade, and make your impact!
____________________________________________________
SURVIVAL IS OPTIONAL:
How Great Leaders Choose to Disrupt, Pivot, and Adapt for Bold Success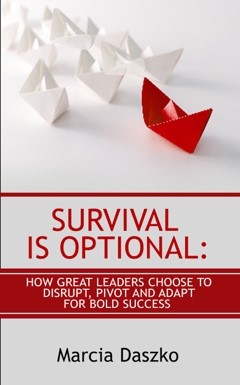 Marcia will present the messages, lessons, and stories that she has developed in her forthcoming book, SURVIVAL IS OPTIONAL at the In2In Thinking Forum, June 7-11, 2017 in Santa Clarita, CA. www.in2in.org She invites you to engage in some mind-opening new thinking in her bold, interactive session on June 10th. www.survivalisoptional.com
She has presented, consulted, and advised leaders in more than 400 local and global organizations, bringing strategic, systems thinking perspectives to audiences committed to learning and improving. From Apple to Pepsi to PBS to the U.S. Navy to Varian Medical, her counter-intuitive and contrarian questions and knowledge open a new lens for leadership never before considered—and she knows how to apply it to help you transform. She was mentored by many great management thinkers, one of whom was Dr. W. Edwards Deming. She is a founder of the largest Deming Study group in the world (BADUG), and a co-founding Board Member of In2In Thinking Forum, and a frequent lecturer in MBA classes at six universities across the nation. Marcia has devoted her career to building the knowledge and relationships needed to transform (achieve results never before achieved.)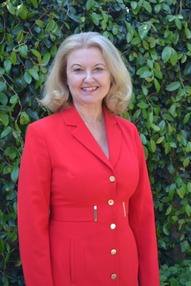 MAKING AN IMPACT WITH NEW KNOWLEDGE THROUGH RELATIONSHIPS
What if . . . .

You wanted to move your company from $30 to $40 million in revenues? (Marcia guided her client from $30 to $300 million!)

You needed to have better control of your business?

You needed to innovate your university practices beyond bureaucratic, silo thinking to better serve students and be regarded as a sought-after educator?

You need to survive and secure a competitive edge?

You need to scale your organization to better serve customers or members?
If you have the desires and need to succeed, Marcia can guide you to greater success.
Call to book Marcia to present to your organization and help accelerate the results you need.
408-398-7220 md@mdaszko.com