The 15th Annual Promise of Hope event welcomed nearly 700 guests to the Ritz Charles in Overland Park on April 5th. This inspiring event was once again held in celebration of CASA's service to children and worked to honor volunteer advocates and others who have made a difference in the lives of those affected by abuse and neglect. This year's Promise of Hope Award recipients included Samantha Wiley, Permanency Supervisor with KVC, as well as 12-year CASA
Volunteer Advocate Kathy Rankin. Board Member Bob Fowler was also recognized for his commitment to CASA, and was presented with a Champion for Children Award. Bob recently completed two terms on CASA's Board of Directors, with nearly all of these years in leadership as part of the Executive Team. As Board Treasurer, Bob has made certain that CASA has remained a very careful steward of its dollars. Today, CASA is a stronger organization due to his efforts.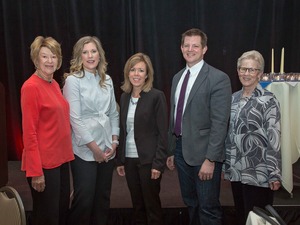 Featured speakers, Jodi and Ryan Fischer, shared a personal story of their family's j​ourney through foster care and adoption. Their journey began years ago when they made the decision to open their home and hearts to a child who needed a family. Jodi and Ryan soon found themselves opening their door to Isaiah, a young boy with a "striking smile and infectious giggle". The Fischers credit CASA advocate Carol Dykman in helping to bring their son permanency. As Jodi and Ryan describe, "Carol was the calming breeze to chase the chaotic storm". Carol worked tirelessly to advocate for Isaiah, helping to ensure Isaiah had the stable and loving home he deserved. Jodi and Ryan shared:

"Carol helped us and helped our children to understand what we meant to Isaiah as a family through heartfelt discussions at our kitchen table. She let us know that Isaiah had a mother who scolded him but also hugged him, who made him eat vegetables but also gave him dessert, and who could be there for the rest of his life. Isaiah had a dad who made him look both ways but also who threw a ball with him; who sent him to his room, but also told him how proud he was of him; and who could be there for the rest of his life. Isaiah had two brothers who would push his buttons, but also protect him; who could make him cry but also make him laugh; and who could be there for the rest of his life".

The Fischers personal story is one of hope and a true testament to how one person can completely change the lives of others.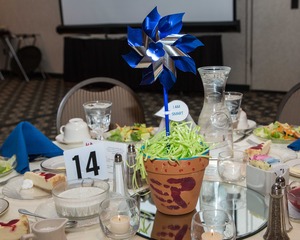 CASA would like to thank our table captains, volunteer planning team, board and staff, as well as our donor family whose participation made this event a success for CASA children. We also thank Christa Dubill of KSHB 41 Action News for serving as event emcee. CASA is so fortunate to have such wonderful people who are willing to get involved and help make a difference for children. This year's event fundraising reached more than $70,000 in gifts received. In addition, thousands more will be donated to CASA throughout the coming year from ongoing gifts to be made by new members of CASA's Hope Society for monthly giving. With financial and volunteer recruitment goals exceeded, the Promise of Hope Luncheon was an outstanding achievement. Proceeds of the event will benefit local child victims of abuse or neglect and those who are in need of a CASA advocate.
Work of Heart Volunteers Recognized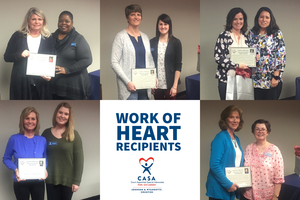 CASA was proud to honor five extraordinary CASA volunteers at the Work of Heart dinner hosted by Friends of CASA.

Nominated by their Program Coordinators, these volunteers have demonstrated superior commitment and service to their children and cases. We are glad to have had an opportunity to express our appreciation for all they do to help CASA children grow up in safe and loving homes. Congratulations to: Carla Revare, Koren Roland, Renee Walczak, Kara Martin, and MJ Borgerding. Thank you for everything you have done to support CASA and our children!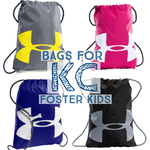 When children enter foster care, they may transport any belongings in a trash bag. Christa Dubill and Joan Charbonneau recently launched Bags for KC Foster Kids, a collection drive designed to provide children in foster care a sling bag used to carry their belongings. As Christa and Joan point out, "Every penny will go to buy bags. No profits involved. No staff to pay. No sponsorship logos. No fundraising fees. Just bags. For kids". The bags are $20 and come in a variety of colors. Christa and Joan are working to donate a sling bag to each child served by CASA of Johnson and Wyandotte Counties and Jackson County CASA, which is a goal of 1,750 bags in 2018. Christa and Joan are both passionate about helping youth in the community " These kids are dealing with so much pain and fear. We'd love to give all of them a bag so they don't also have to put their things in a black trash bag". Visit their website to donate a bag, or make a monetary donation today!
Congratulations CASA Graduates!
Congratulation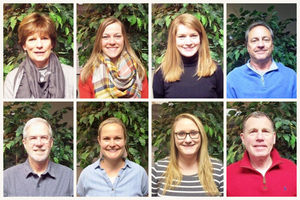 s to our newest CASA Graduates! We wish each of you good luck as you begin your journey to advocate on behalf of children who have been abused and neglected.

If you are interested in joining one of our training classes (which includes online ​sessions at your own pace) contact Alli Zuel at 913.715.4033.
Classes are forming now!



Top Row: Marianne Gray, Kayleigh Hartloff, Anne Rellihan, Robert Rase
Bottom Row: John Leavens, Valerie Moeder, Kyal Hornbaker, Mark Schmid
Not Pictured: David Wilson
Regist
er Now!
2018 CASA SuperHero 5K Run/Walk
Corporate Woods, Overland Park
Sunday, June 24, 2018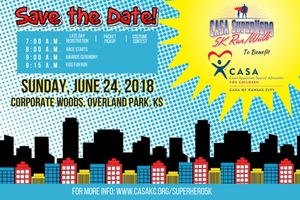 Make plans now to join us for our 5th Annual CASA SuperHero 5K Run/Walk at Corporate Woods in Overland Park! This chip-timed event benefits both CASA of Johnson & Wyandotte Counties and Jackson County CASA, and is a great family-friendly event. We have created a fun event with a 5K run/walk, kids-caped fun run, activities for the kids, vendors, costume contests for both participants and dogs.

All dogs must be current on vaccinations and handled by a responsible adult. Participants must pick up after their dogs.

Register Now! Can't make it or do not like to run? Sign up to be a Virtual Runner for $25!
Questions or want to get involved? Contact Lara Klover at 816.785.4097.
Conversation with CASA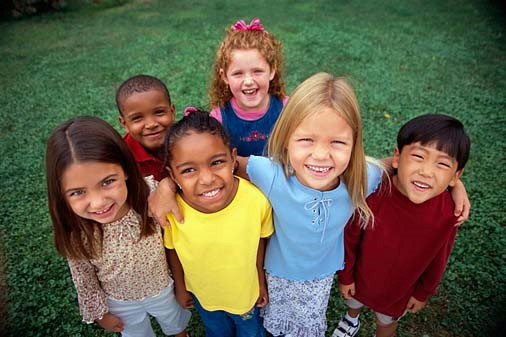 Learn more about our agency at our next Conversation with CASA. This one-hour program includes information on CASA's mission and history, local child abuse statistics, the role of volunteers and a story from an active CASA advocate.

The next Conversation is:
Thursday, May 10th
5:30 to 6:30 pm
This event is free and refreshments will be provided.


If you are interested in joining a training class, we encourage you to attend this Conversation so that you will be well-equipped for the class. RSVP to Alli Zuel or call
913.715.4033.
For CASA Volunteers
---
Thursday, May 24th
2:00 - 4:00 p.m.
CASA Training Room

Dr. Makini L. King will provide a volunteer in-service on Communicating Respectfully in a Diverse World. Dr. King is the Director of Diversity and Inclusion Initiatives at the University of Missouri, Kansas City. The goal of this in-service is to
enhance participant communication skills and help to promote inclusion and respect.
In-service participants will:
Learn to understand the impact of stereotypes and bias statements, even when casually said

Identity the most common reasons people sit silently in the face of bias and stereotypes

Explore skills for speaking up against stereotypes and bias without blame or guilt
Participation will earn 2 hours of in-service credit towards the 4 hour annual requirement for 2018. Please RSVP to Gayle Hathorne at 913.715.4032 no later than May 22nd.
How to Bring Closure When a Case Ends
Wednesday, April 25, 2018
9:30 - 10:30 a.m.
CASA Training Room
Facilitated by: Debbie Siler
You will earn 1.5 in-service credits
Please RSVP to Gayle Hathorne at 913.715.4032 no later than April 23rd.
Back to School Time: What Can You Do to Prepare CASA students?
Monday, May 7, 2018
5:30 - 7:00 p.m.
CASA Training Room
Facilitated by: Amy Fowler
You will
earn 1.5 in-service credits