Ready...Set...Grow!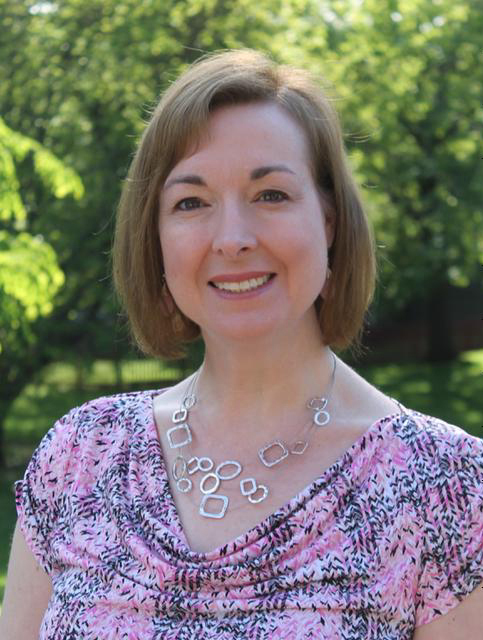 A new year is like a start of a journey. We are at the starting line, having done the preparation, visioning our course, and taking the first steps to get from where we are, to where we want to be. In 2019, CASA looks to build on our momentum of the past year to enter a period of growth – to serve more families, to prepare more volunteers, to develop more data-driven outcomes, and to create more opportunities to engage with our supporters.
We are READY. In 2018, CASA achieved some significant milestones, creating the energy to keep moving forward. We served the highest number of children in a calendar year in agency history – 479. We also trained and certified the highest number of new CASA advocates – 77 – preparing to match even more volunteers with kids in need. We relocated into new office space, creating a more accessible and task-appropriate environment for staff and volunteers.
Getting SET. We are prepping for a big year. In 2019, we launch a new national training curriculum, the first revision in seven years, which includes greater focus on trauma and response and cultural competency. This year, preparations are underway for new community events – our first "Show Your Love" Celebrity Server dinner event with corporate partner, First Watch, and a re-branded SuperHero Kids Fun Run event with corporate partner, Scheels.
And…GROW! Our team is in the starting blocks, ready to take the first steps forward. All we need is…YOU! Our volunteers, our donors, our supporters – Will you take the journey with us? Please consider…
Serving or returning as a CASA volunteer advocate. Or – bring a friend to a Conversation with CASA recruitment event. Our kids need you.
Hosting a table at our growing Promise of Hope luncheon on Thursday, March 28th.
Building a corporate partnership to match with a CASA child.
We are ready to journey forward. Come along!
Celebrity Server Fundraising Event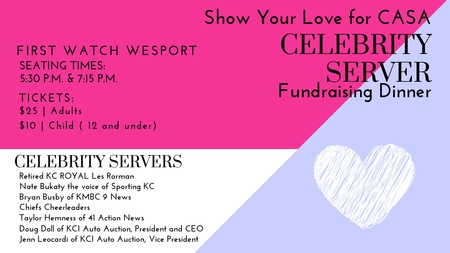 CASA of Kansas City and First Watch Restaurants are excited to announce the first ever "Show Your Love to CASA" dinner, a local celebrity server event. This fundraiser will support the CASA programs of Jackson County, Missouri, and CASA of Johnson and Wyandotte Counties in Kansas. This event will be held on Thursday, February 7, 2019 at the First Watch in Westport. Proceeds of the event will benefit abused and neglected children of the Kansas City metropolitan area. Buy your tickets today!
The Impact of CASA - 2018 Outcomes and Statistics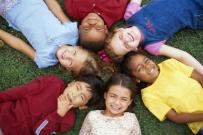 Program outcomes demonstrate the effectiveness of CASA intervention. And, it is the hard work of volunteers, staff and community friends which drive our mission activities. Working together in 2018, and with great help from our family of donors, the following statistics and outcomes were accomplished for the children we together serve.
479 local abused and neglected children were served, an increase from last year. Each child matched to a volunteer advocate who championed the child's best interests while working to protect their safety and potential for a bright future.

232 CASA volunteers provided services to 280 families.
Resources, support and encouragement offered.

77 new CASA volunteers were trained and certified.
More than 2,300 initial volunteer training hours.

22,884 casework hours offered by all active advocates.
Time spent with assigned children, families, professionals and the court.

Child Safety - 98% of the children were safe from additional abuse and neglect.

Stable Presence - 98% of children served had the same CASA advocate during their court involvement.

Benefit to Court - 96% of court hearings addressed concerning information from the CASA court report.
Let's continue the work - gifts of any amount are needed and greatly appreciated! You may make a secure online donation or mail your check to the CASA office. Thank you for your continued support!
Welcome To The CASA Team, Christy!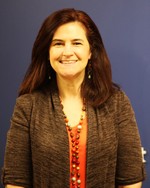 Hello, my name is Christy McCulloch, and I have recently joined the CASA staff as the new Administrative Assistant. I'm really excited to be here; I've been a volunteer advocate in the divorce/custody program since 2004 and have joked that I figured if I hung around long enough I could convince them to finally hire me! On a more serious note, I've been so impressed by this organization and the work they do I decided it was time to move on from Corporate America and join the incredible community CASA has created.
I am originally from the Pacific NW, and after being here 25 years I'm starting to get used to the winters….so when I'm not complaining about the weather, I'm outside as much as possible and enjoying time with my husband and our extended family. I look forward to working with you and/or seeing you in the near future! If I can assist you in anyway, please reach out to me at CMcCulloch@casajwc.com.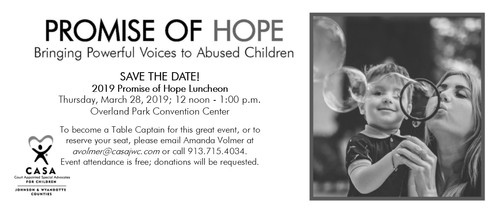 Overland Park Convention Center
12:00 - 1:00 p.m.; early networking at 11:30
Conversation with CASA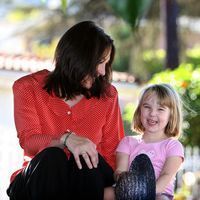 Learn more about our agency at our next Conversation with CASA. This one-hour program includes information on CASA's mission and history, local child abuse statistics, the role of volunteers and a story from an active CASA advocate.

The next Conversation is:
Thursday, February 7th
5:30 to 6:30pm
This event is free and refreshments will be provided.
If you are interested in joining a training class, we encourage you to attend this Conversation so that you will be well-equipped for the class. RSVP to
Alli Zuel
or call 913.715.4033.
---
Join us for an opportunity to share stories, brainstorm, and find solutions to the problems challenging you as a CASA volunteer.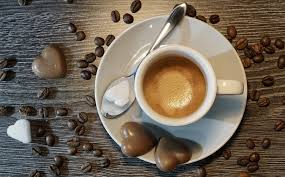 Defining Success on a Case
Wednesday, February 27, 2019
9:30 - 11:00 a.m.
CASA Training Room
Facilitated by: Sheri Rice
You will earn 1.5 in-service credits
Please check your email for your Evite to RSVP. If you need to update your email address, contact Christy by email or at 913.715.4032.