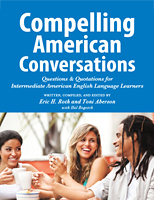 Dear Valued Customer,
Chimayo Press is very pleased to announce the release of Compelling American Conversations: Questions & Quotations for Intermediate American English Language Learners (ISBN: 978-0-9826178-9-2), designed to help American immigrants and international students develop their American English fluency skills and academic vocabulary through conversation exercises.


Compelling American Conversations was specifically written for US immigrants who wish to improve their English speaking skills, explore philosophical questions, and learn about life in America. Each chapter is filled with questions, quotations and proverbs. In response to requests from teachers, we expanded the vocabulary section to include definitions, added numerous exercises, photos, chapter notes and great links to ESL online resources.

For more information and free sample chapters please see our website: www.CompellingConversations.com, or email us: Eric@CompellingConversations.com. Compelling American Conversations can also be purchased directly through Amazon.com.
ARTICLES OF INTEREST
TO ENGLISH TEACHERS & CONVERSATION LOVERS
The flight from conversation, by Sherry Turkle, New York Times, 4/21/12
Have we "sacrificed conversation for mere connection" through our electronic devices? Sherry Turkle thinks so in this thought-provoking op-ed. What do your students think? How have their lives changed? How do they relate to one another these days?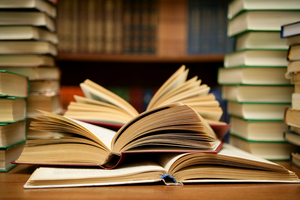 Talking feedback, by Russell Stannard, The Guardian, 1/10/12
Giving video feedback via webmail is the latest trend in ESL teaching. Screen capture software enables a teacher to give voice comments on a student's work. Students enjoy receiving this personalized feedback.

No force more powerful than English, by Rep. Steve King (R-Iowa), THE HILL'S Congress Blog, 2/6/12
Thirty-one states in the USA have passed into law legislation that make English the official language of their state and 87 percent of the public supports such an effort. At the federal level, Representative Steve King (R-Iowa) is taking the lead to make English the official language of our country.

BBC Radio 4 to record and broadcast thousands of conversations across the UK, by John Plunkett, The Guardian, 3/8/2012
In the United States, StoryCorps, has recorded nearly 40,000 stories from 80,000 participants, which are available at the American Folklife Center at the Library of Congress. A similar project is now underway in the UK between the British Library and BBC local radio.
---
WE'D LOVE TO HEAR FROM YOU!
Do you have any comments or suggestions? Any ideas you wish to share? What do you think of Eric's latest blog? Or our latest book?

FREE SAMPLE CHAPTERS
AND
REPRODUCIBLE WORKSHEETS

Did you know more and more ESL teachers and students of English are using the original - Compelling Conversations: Questions & Quotations on Timeless Topics (ISBN: 978- 1 4196-5828-0) to supplement their teaching and studying?

You can find out why by downloading free sample chapters and worksheets from our website at: www.CompellingConversations.com.
And now also available on Kindle!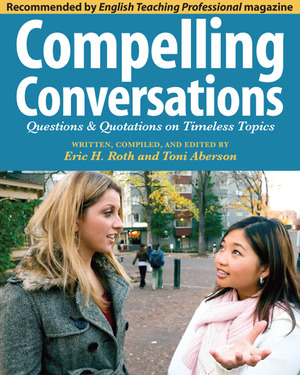 Toll Free 24/7: 1-855-ESL-Book (1-855-375-2665)
Outside US 24/7: 01-310-904-6998