In This Issue

♦ What's New

♦ Of Special Interest

♦ Event Listings
♦ The Sebastians
♦ Parthenia
♦ The Saint Andrew Chorale & Orchestra
♦ Abendmusik
♦ Teares of the Muses
♦ Empire Viols
♦ Melodeon
♦ The Western Wind
♦ Church of the Resurrection

♦ Early Music Festival: NYC

♦ Midtown Concerts
♦ Other events
Useful Links


Disabled Access Info

Find out how to include your event in Notes on the Scene

Find us on the web...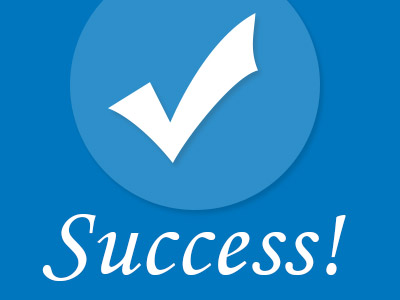 We are pleased to announce that we have surpassed our spring appeal goal of $10,000, securing an equal amount in matching funds! THANK YOU to the 122 individuals who made this possible. A full list of the donors will be up on our website soon.

We are excited about our new plans for next season, which will be announced over the summer. If you did not get a chance to donate and would still like to do so, it's not too late! Just click here, and thanks!
Of Special Interest
This Saturday, May 17 there are three (!) concerts of interest so everyone should head out to enjoy some music for spring. The Sebastians (David Ross, Daniel Lee, Arnie Tanimoto, and Jeffrey Grossman) perform music of Jean-Philippe Rameau on the 250th anniversary of his death, at All Angels' Church on West 80th Street. Parthenia joins forces with Robert Mealy and Shira Kammen for a program spanning 300 years, moving from improvisational medieval genres to the more modern Baroque aesthetic of increasing compositional control, and through various incarnations of bowed string instruments, from vielles to viols to violins at the Church of St. Luke in the Fields on Hudson Street in the West Village. And Polyhymnia performs vocal music by Franco-Flemish composer Jacob Vaet, one of the best unknown composers of the 16th-century, having been neglected both by being overshadowed by his more famous best friend Orlande de Lassus, and his tragically short life, at St. Ignatius of Antioch Church on West 87th Street and West End Avenue. And that's just on Saturday!
[Back to the top]
Event Listings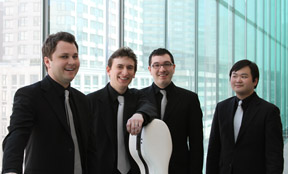 The Sebastians
Rameau's Tale
Commemorating the 250th anniversary of Jean-Philippe Rameau's death, the Sebastians perform music from Rameau's operas, and by his contemporaries Arcangelo Corelli, François Couperin, Louis-Antoine Dornel, Jean-Baptiste Lully, and Georg Philipp Telemann.

Saturday, May 17 at 7:30 pm Tickets: $10-$15
All Angels' Church, 251 West 80th Street (between Broadway and West End Avenue), Manhattan

Click here for full details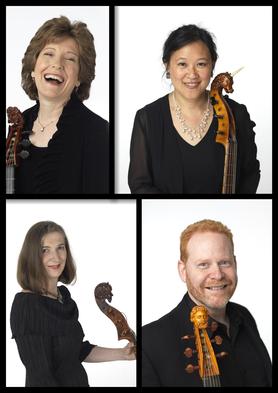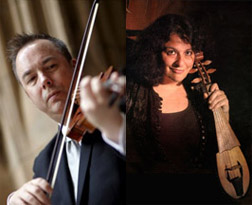 Parthenia
Musical Games: Three Centuries of Music for Strings
with Shira Kammen & Robert Mealy, violins & vielles
The best music for string ensemble from the very early Renaissance to the mid-Baroque, performed on varying combinations of viols, violins and vielles, with lots of improvisation. Works by Dufay, Machaut, Ockeghem, and Ruffo, and 17th-century extravagances by Brade, Lawes and Scheidt, including Scheidt's Ludi Musici, or "Musical Games."

Saturday, May 17 at 8 pm Tickets: $10-$40
Get $5 off any ticket with coupon code GAMBA
The Church of Saint Luke in the Fields, 487 Hudson Street (just south of Christopher Street), Manhattan

Click here for full details, including the complete program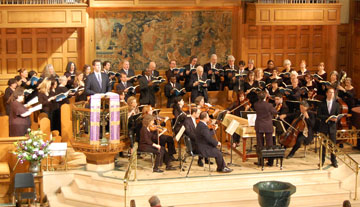 The Saint Andrew Chorale & Orchestra
Bach Cantatas & A Concerto
Three of Bach's lovliest cantatas (numbers 147, 156, and 73) coupled with the Violin Concerto in E major with Jorge Ávila on violin.

Sunday, May 18 at 3 pm Tickets: $20-$25


Followed by a post-concert reception


Madison Avenue Presbyterian Church, 921 Madison Avenue (at East 73rd Street), Manhattan

Click here for full details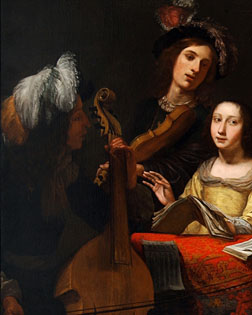 Abendmusik
Poland's Golden Age
Around the year 1600 King Zygmunt III of Poland imported 23 Italian musicians to form the core of his royal chapel. Native Poles were also active, and many of the instrumental works from this period incorporate folk idioms exclusive to Polish culture such as dances and popular songs.

Thursday, May 22 at 7:30 pm Tickets: $10-$20
Holy Trinity Lutheran Church, West 65 Street and Central Park West, Manhattan

Click here for full details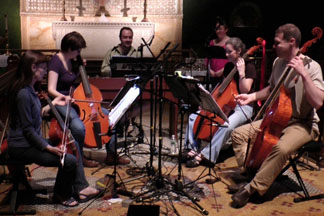 New York University FAS Music presents
The Teares of the Muses
Revecy Venir du Printans
French 17th-century secular and sacred music with singers Kathleen Cantrell and Campbell Rightmyer

Thursday, May 22 at 7:30 pm Tickets: $15-$20
St. Michael's Church, West 99th Street & Amsterdam Avenue, Manhattan

Click here for full details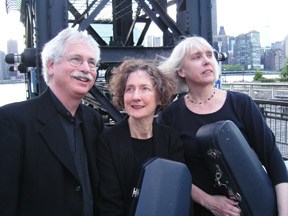 Empire Viols
ISLAND MUSIC : English Tunes of Summer
Selections from English viol-superstar Christopher Simpson's Months and Seasons. Also featuring pieces by Simpson for the rare combination of violin, lyra viol and continuo with trios, duos and harpsichord music by his countryman Matthew Locke.

Friday, May 30 at 8 pm
Tickets: $10 suggested donation
Second Presbyterian Church, West 96th Street & Central Park West, Manhattan

Click here for full details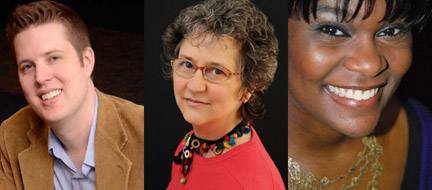 Melodeon
American Intimates: Music for Private Pleasure
Featuring 4-hand piano duos by the New Orleanian composer, Louis Moreau Gottschalk, contemplative 19th C. pieces for the antique American reed organ, a song cycle by the African-American composer, William Grant Still called From the Hearts of Women, and songs and piano pieces by the American composer, Dana Suesse, who was called "The Girl Gershwin."

Sunday, June 1 at 4 pm Tickets: $15-$20
Church of the Epiphany, 1393 York Avenue at East 74th Street, Manhattan

Click here for full details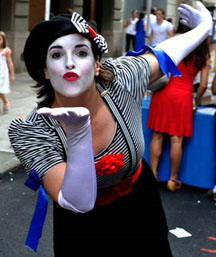 The Western Wind
L'Amfiparnaso
A madrigal-comedy from 1594 by Orazio Vecchi
with Catherine Gasta, mime
Staged by Gama Valle
Help The Western Wind celebrate their 45th anniversary!

Friday June 6 at 8 pm Tickets: $15-$150
Saturday June 7 at 4 & 8 pm
Sunday June 8 at 4 pm (Benefit dinner reception following the concert)
Theater for The New City, 155 First Avenue (between 9th & 10th Streets), Manhattan

Click here for full details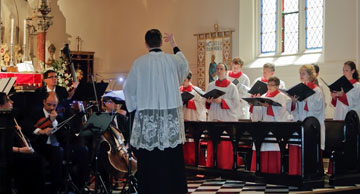 Resurrection Choir & Orchestra
Jaume Casellas, Catalan composer, 1690-1764
Missa 'Pange Lingua' and Lauda Sion
New York Premieres, in the original context of Solemn High Mass & Procession for Corpus Christi

Thursday, June 19 at 7 pm
Tickets: Free, donations accepted
Church of the Resurrection, 119 East 74th Street between Park and Lexington Avenues, Manhattan

Click here for full details
[Back to the top]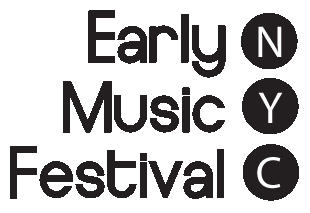 Early Music Festival: NYC
June 13-19, 2014

The Early Music Festival: NYC is less than one month away! We are so excited about all of the fantastic upcoming programs for 2014's inaugural offering. We hope you've made plans to join us!

We also hope to inspire you to volunteer! Would you like to usher for a concert? Do you have a secret passion for photography? Are you able to host an out of town artist during the festival week? Many hands make light work, and we hope you will consider lending us a hand as we build and bring this wonderful week of events to NYC! Email us if you're interested.

Please follow us on Facebook and Twitter to stay current on festival info as well as learn about our upcoming Kickstarter Campaign that has fabulous rewards for sponsors!



See you this June,
Jolle Greenleaf and Donald Meineke
Co-Directors of EMF: NYC

Midtown Concerts
Thursdays at 1:15 pm
October 10, 2013 through June 12, 2014
Chapel at St. Bartholomew's Church
325 Park Avenue at 51st Street
Manhattan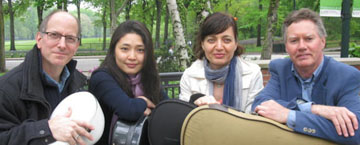 May 22: New York Classical Quartet
String Quartets of Franz Joseph Haydn
Judson Griffin, violin
Margaret Ziemnicka, violin
ChiuChen Liu, viola
David Bakamjian, cello

A selection of Franz Joseph Haydn's string quartets on period instruments. The Quartet aims to share the riches of the string quartets of Joseph Haydn, the first master of the form, a giant of of western culture, a musical Shakespeare or Michelangelo.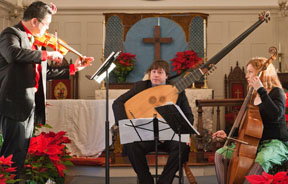 May 29

: Corda Nuova
Pour la Gloire du Roi
Edmond Chan, baroque violin
Amy Domingues, viola da gamba
Anthony Harvey, theorbo

A program exploring the vast musical riches of the court of the Sun King, Louis XIV. Under his patronage, composers such as Leclair, Lully, and Marais created a quintessentially French musical idiom which influenced composers across Europe in the century to follow.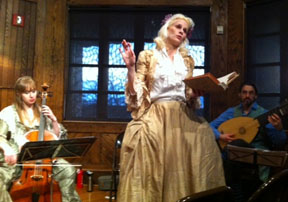 June 5: Skid Rococco
From Pastoral Idylls to Hangovers
Brett Umlauf, soprano
Daniel Swenberg, baroque guitar & baroque lute
Leah Nelson, baroque violin
Anneke Schaul-Yoder, baroque cello

This program explores late Rococo music from France and Sweden. The Greek and Nordic goddesses of Love and the god of wine were at the center of Carl Bellman's sublime and subversive poetry and his cult of Bacchus.
Looking ahead:
June 12

: Musica Nuova - Men, Maids and Mischief
Voices, lute
Other Upcoming Events... (click on the date for more info)

Thursday, May 15 at 8 pm - The New York Continuo Collective, Church of Saint Luke in the Fields, NYC
Saturday, May 17 at 8 pm - Polyhymnia, St. Ignatius of Antioch Episcopal Church, NYC
Saturday, May 24 at 7:30 pm - New Vintage Baroque, Greenwich House Music School, 2nd Floor, NYC