Published 1st and 3rd Thursdays of every month to over 6,300 subscribers. ♦ Naomi Morse, Editor
Gotham Early Music Scene, Inc., New York, New York ♦ October 16, 2012

SPECIAL EDITION
In This Issue

Useful Links


Disabled Access Info

Find out how to include your event in Notes on the Scene

Find us on the web...




Only performance in the New York City area!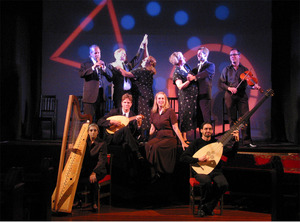 ARTEK's brilliant dramatization of Monteverdi madrigals in a fully-staged performance

I'll Never See the Stars Again

Saturday, October 20 at 8 pm

Presented by Peak Performances
Kasser Theater, Montclair, NJ

Tickets: $15
Available only through the Peak Performances website or by phone at (973) 655-5112

The Kasser Theater at Montclair State University is one of the most active and creative performing arts venues in the greater New York area, offering extraordinary productions from around the world. Curated by longtime arts manager Jed Wheeler, the Kasser's season rivals that of BAM, Lincoln Center, or Miller Theatre, yet tickets are VERY affordable. AND.. it's easy to get there: a short drive through the Lincoln Tunnel, or catch the charter bus at Port Authority (order your round-trip ticket for only $10!).

Support this great series, and New York's own ARTEK ensemble by joining us in Montclair this Saturday!

In I'll Never See the Stars Again, the lush music of Claudio Monteverdi and his contemporaries, is re-imagined as a theater piece staged by Martin Platt, founding artistic director of the Alabama Shakespeare Festival. A group of Italian refugees expresses the comedy of love and the despair of betrayal in a series of vignettes performed by seven singers and five instrumentalists. I'll Never See the Stars Again proves that, in life, the journey is just as important as the destination.

"ARTEK provides a stark reminder of just how rich and passionate, as well as achingly sad, Monteverdi's music can be." – The Stage (UK)
Judy Tarling coming to New York - November 14 & 15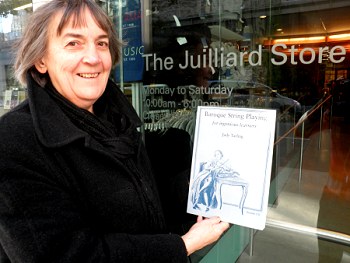 You may not have heard of British performer, lecturer, and scholar Judy Tarling (L.R.A.M., Hon. A.R.A.M.) unless you're a professional musician, actor, or fan of the Hanover Band where she was principal viola for 20 years... she is one of the world's leading experts on musical style and on rhetoric in general. But you'll never forget her once you hear her speak.

Her lecture at Juilliard two years ago was attended by many of the City's foremost performers and teachers of music and drama, several of whom brought along their well-thumbed copy of Judy's book, The Weapons of Rhetoric: a guide for musicians and audiences, for signing by the author.

As part of GEMS's Fifth Anniversary Celebrations, we are proud to join with Juilliard to sponsor lectures and demonstrations by Ms. Tarling during the afternoons and evenings of Wednesday and Thursday, November 14 and 15. Exact details are being arranged now as part of her tour of the Northeast, and space for these invitation-only events will be limited. So mark your calendars, save the date(s), and watch the GEMS website and this newsletter for details!
[Back to the top]