Season Preview 2016 - 2017 Part 3

Below you will find our Season Preview announcing the concert seasons of churches and independent presenters. Some of these feature early music exclusively; some include repertoire from all time periods. This continues the large number of offerings for the coming season listed in our Previews of August 18th and September 1st.

We continue to be thrilled at the large number of early music concerts throughout our City. All of us who love this genre are very fortunate.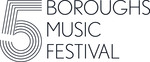 Five Boroughs Music Festival


Opening Concert: September 24


Five Boroughs Music Festival invites you to journey around NYC with our 10th Anniversary Season offerings! Our 2016-17 season features five unique programs in concerts all over the city, including performances by the internationally renowned vocal ensemble NEW YORK POLYPHONY in the Bronx and Staten Island this September; world music ensemble EAST OF THE RIVER in a program of Medieval works this March in Brooklyn; and the Baroque masters of QUICKSILVER in Queens and Brooklyn this May. More...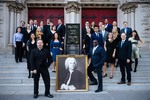 The Bach Choir of Holy Trinity
Opening Concert: October 9


Specializing in sacred music of the 16th - 18th centuries, with a particular focus on the North German Lutheran tradition, the twice Grammy-nominated Bach Choir of Holy Trinity opens the 49th Season of Bach Vespers with music of the Altbachisches Archiv in collaboration with the English viol consort, Fretwork. Season highlights include motets and cantatas of J. S. Bach, Kuhnau, Bruhns, Tunder, Buxtehude, and many others. More...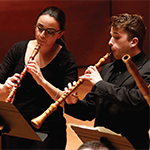 Juilliard Historical Performance
Opening Concert: October 9
Juilliard Historical Performance celebrates its 8th season with performances featuring several esteemed guest artists. Juilliard415, Juilliard's primary period-instrument ensemble, welcomes Kristian Bezuidenhout, William Christie, Laurence Cummings, David Hill, Ton Koopman, Rachel Podger, and Masaaki Suzuki, including collaborations with Yale Schola Cantorum and The Royal Conservatoire of The Hague. More...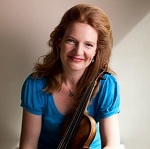 Music Before 1800
Opening Concert: October 16


There are eleven concerts in the 42nd season: 13 centuries of music from 9th-c. German incantations to a new motet by James Bassi. More composers include Bach, Buxtehude, Byrd, Mendelssohn, Rameau and Rosenmüller. Texts feature Hercules and other heroes and suicidal queens, Dido and Cleopatra. We welcome our first ensemble from Cuba and artists from Milan, Montreal, Paris and NYC. There will be 8 Sunday concerts at Corpus Christi Church and 3 Thursday concerts at the Kosciuszko Foundation. More...

Carnegie Hall
Opening Concert: October 20


Carnegie Hall is presenting 19 early music concerts this season, featuring the world's finest artists including Trio Medieaval, Kristian Bezuidenhout, Richard Egarr, Venice Baroque Orchestra, Tallis Scholars, Jordi Savall and Hespèrion XXI, Cappella Mediterranea, Akademie für Alte Musik Berlin, The English Consort, and others. The special La Serenissima festival concentrates on the music of Venice, and includes New York ensembles Quicksilver and TENET. More...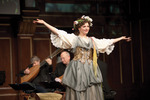 The Morgan Library & Museum
Opening Concert: October 20


The Morgan Library & Museum presents a range of internationally renowned early music artists. The 2016-2017 season includes a partnership with the Boston Early Music Festival, featuring the semi-staged production of Charpentier's Les Plaisirs de Versailles & Lalande's Les Fontaines de Versailles (November 28 & 29), and performance by the London Hadyn Quartet (January 12). My Lord Chamberlain's Consort will perform A Renaissance Christmas concert (December 16 & 23) in the Morgan's Gilbert Court. More...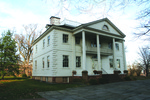 Music at Morris-Jumel
Opening Concert: October 22


Music at Morris-Jumel, now in its 17th season, presents four chamber recitals in the Morris-Jumel Mansion's intimate 1765 Octagon Room, once visited by such luminaries as Washington, Jefferson, Hamilton, Adams, and Burr. This season: Shakespeare 400 in Verse and Music, Holiday Concert with baritone Michael Maliakel and Brooklyn Baroque, Viols of Swan Street, and the New York Classical Quartet. Experience 18th-century music in the 18th-century parlor of Manhattan's oldest surviving house. More...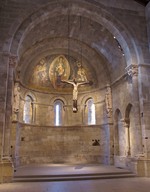 The Met Cloisters
Opening Concert: October 23


For Fall and Winter concerts, vocal music from medieval Jerusalem, holiday favorites and a new, fully-staged production of the 12th century "Play of Adam". For Spring, songs of personal devotion, music for Passiontide and Easter, and works connected to Martin Luther on the occasion of the 500th anniversary of the Reformation. Concerts take place in the 12th century Fuentidueña chapel at The Met Cloisters. Tickets and information: 212-570-3949. More...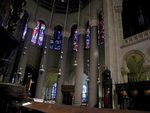 Great Music in a Great Space at St. John the Divine
Opening Concert: October 25


The Cathedral of St. John the Divine presents its sixth season of Great Music in a Great Space under the direction of Kent Tritle. Opening with an intimate performance of the world-music ensemble Rose of the Compass, this season features a broad spectrum of choral and instrumental music in the Cathedral's grand and inspiring Gothic interior, located at 1047 Amsterdam Avenue (at 112th Street). More...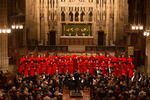 Concerts at Saint Thomas
Opening Concert: October 27


The Saint Thomas Choir of Men & Boys opens the 16/17 season with Haydn's masterpiece The Creation oratorio later followed by Handel's Messiah at Christmastime. Daniel Hyde offers a recital of Venetian keyboard music in February and the St. John Passion by CPE Bach with New York Baroque Incorporated is scheduled during Lent. Benjamin Sheen commences the Holy Week Musical Meditations with music by J.S. Bach, followed by selections from Carlos Gesualdo's Tenebrae Responsories performed by TENET. The Royal Chapel Choir from Copenhagen performs Palestrina's Missa Papae Marcelli in April and the season closes with a program inspired by songs of faith, hope and love. More...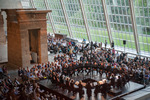 The Metropolitan Museum of Art


Opening Concert: December 9


The groundbreaking live arts series at The Metropolitan explores performance through the lens of the Museum's exhibitions and unparalleled gallery spaces with singular performances. Early music concerts in the 2016-17 MetLiveArts season include "Flemish Holiday with Friends and Family," featuring compositions by Leonora Duarte performed by Sonnambula; the Lorelei Ensemble with repertoire from Medieval, Renaissance, and Baroque eras; and the "Monteverdi Vespers of 1610 by Handel + Haydn Society. More...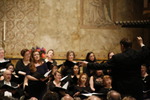 Voices of Ascension Chorus & Orchestra
Opening Concert: December 20


VoA welcomes you and your guests to another choral journey, one that starts musically in the Renaissance and ends in the 20th century. Over the course of five concerts, we will take our audience to Austria, Spain, Germany, and Italy, with brief stops in other countries, with Bach, Haydn, Mozart, Allegri, Palestrina, Casals, and Granados, among others, as our guides. More...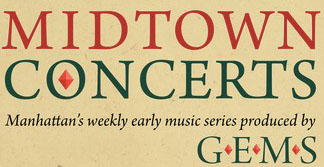 Don't forget GEMS' own Midtown Concerts series of FREE 40-minute concerts every

Thursday at 1:15

at the Chapel of St. Bart's Church, Park Avenue at 50th Street. From solo recitals to costumed opera excerpts and dance, Midtown Concerts presents the full range of talent from New York City and beyond. This season includes 41(!) concerts: our performers were chosen from an applicant pool of over 70 ensembles to ensure a high-quality, diverse offering. More...