In This Issue

♦ What's New

♦ Of Special Interest

♦ Event Listings
♦ Sinfonia Players with Rufus Müller
♦ Trinity Choir
♦ Other events
Useful Links


Disabled Access Info

Find out how to include your event in Notes on the Scene

Find us on the web...




Join the party tomorrow (Wednesday) night...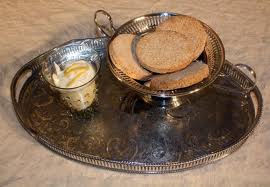 Hie over to Abigail Adams Smith Auditorium by 6:30 PM for "A Musical Feast in Georgian Palaces." An affable crowd will be enjoying music by the Sinfonia Players (baroque string ensemble plus Dongsok Shin on harpsichord and fortepiano) with tenor Rufus Muller, a slideshow with commentary by architect John Kinnear, and delicious goodies prepared by hostess-extraordinaire Jacqueline Algon including syllabub, trifle, and Shrewsbury cakes (all 18th-century treats). Not to mention wine, cheese, fruit, and Heather Rose Welty's famous tea sandwiches! Only $35 ($15 students) for the whole package. Purchase your guaranteed reservation online below, or call (212) 866 - 0468, or arrive at the Auditorium (61st between First and York Avenues) starting at 6:00 pm. Purcell, Handel, Haydn, Mozart, Schubert, Beethoven, great architecture, beautiful song, good company, delicious food... what's not to like?
Of Special Interest
Correction: The venue for Trinity Choir's St. John Passion event was incorrect in last week's newsletter. The correct venue is St. Paul's Chapel, on Broadway at Fulton Street. Presented in its original liturgical context, the congregation/audience will have the opportunity to sing the four-part Chorales alongside the Trinity Choir and Trinity Baroque Orchestra.
[Back to the top]
Event Listings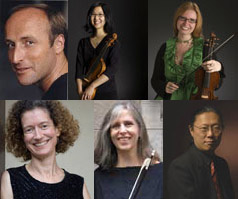 The Sinfonia Players with Rufus Müller, tenor
A Musical Feast in the Palaces of the Georgian Era
Comments and slideshow by John Kenyon Kinnear,


architect
Musical works by Purcell, Bach, Handel, Haydn, and Mozart

Wednesday, March 21 Tickets: $15-$35
doors open at 6, program at 6:30, reception at 8
Abigail Adams Smith Auditorium, 417 East 61st Street (between First and York Avenues), Manhattan
Co-sponsored with the Colonial Dames of America, the American Friends of the Georgian Group, and the St. George's Society of New York.

Click here for full details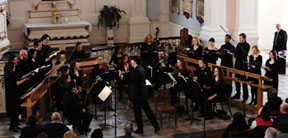 Trinity Choir and Trinity Baroque Orchestra
Passion According to St. John by J.S. Bach
Presented in its original liturgical context with a sermon by The Rev. Canon John Andrew OBE, DD, Rector Emeritus, St. Thomas Church, Fifth Ave

Sunday, April 1 at 3 pm Tickets: FREE
[Corrected venue] St. Paul's Chapel, Broadway and Fulton Street, Manhattan

Click here for full details
[Back to the top]
Other Upcoming Events... (click on the date for more info)

Tuesday, March 20 at 8 pm - Musica Nuova, Church of St. Mary the Virgin, NYC
Thursday, March 22 at 8 pm - Music Before 1800 Hell's Kitchen, Paul Leenhouts and Gabe Shuford,
DiMenna Center, NYC
Friday, March 23 at 8 pm - Salon/Sanctuary Concerts with Rufus Müller, The Liederkranz Club
Concert Hall, NYC
Saturday, March 24 at 8 pm - The Queen's Chamber Band, First Moravian Church, NYC
Sunday, March 25 at 2 pm - Les Violons du Roy, Bach's St. John Passion, Stern Auditorium/Perelman
Stage, Carnegie Hall, NYC
Sunday, March 25 at 1 and 3 pm - Blue Heron, The Cloisters, Fort Tryon Park, NYC
Sunday, March 25 at 4 pm - Melodeon, Church of the Epiphany, NYC
Thursday, March 29 at 11:30 am - Deadline to support The Caldwell Collection of Viols on Kickstarter
Friday, March 30 at 7:30 pm - Tallis Scholars, St. Bartholomew's Church, NYC
Friday, March 30 at 7:30 pm - The Teares of the Muses, St. Michael's Church, NYC
Sunday, April 1 at 3 pm - Choir of Madison Avenue Presbyterian Church, Madison Avenue
Presbyterian Church, NYC
Tuesday, April 3 at 6 pm - Kristin Olson, baroque oboe, The Juilliard School, Paul Hall, NYC
Saturday, April 21 at 7:30 pm - Sebastian Chamber Players, All Angels' Episcopal Church, NYC