GEMS
News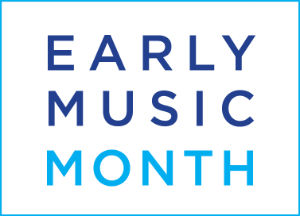 #EarlyMusicMonth
Early Music America has declared that March is now Early Music Month! Their goal is to help the world become aware of the vitality of the early music community in North America. Let's join them and do our part from this corner of the country. Share this newsletter with a friend, post about your favorite ensemble or GEMS on social media, play some early music on a subway platform, go to as many concerts as you can. Be sure to use hashtag #EarlyMusicMonth when communicating on social media. Let us know how you are celebrating this music that we all love!
Of Special Interest
Spring must be around the corner... there are so many wonderful concerts this month! Be sure to have a good look at all of the listings below; you won't want to miss any of them.
---
Event Listings
---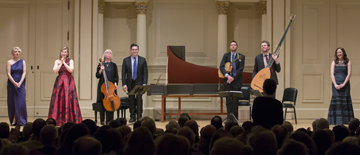 TENET and ACRONYM
Johann Heinrich Schmelzer's Le Memorie Dolorose
This hybrid opera/oratorio tells the story of the Virgin Mary after the death of Christ, as she interacts with Angels, Apostles, and others. TENET's singers will perform the cast of characters in collaboration with ACRONYM to offer an exciting, modern-day American premiere of the work. ACRONYM has devoted much energy to unearthing, transcribing, performing, and recording many of these long-forgotten gems from the baroque.

Friday, March 2 at 7 pm Tickets: $35-$55
Pre-concert lecture 6 - 6:45 (Laughlin Hall)
Church of St. Luke in the Fields, 487 Hudson Street (just south of Christopher Street), Manhattan

Click here for full details
---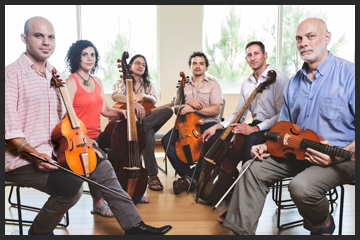 Music Before 1800 presents
LeStrange Viols
Hold Fast: Music of the Elizabethan Avant-Garde
The manuscript A booke of In nomines & other solfainge songes contains a wealth of esoteric music—a perfect vehicle for the imaginative LeStrange Viols. William Munday's In Æternum is followed by many rarities such as Osbert Parsley's Spease Noster. Other better known and much beloved pieces are interspersed: In nomine "Crye" by Christopher Tye and William Byrd's The Leaves be Greene.

Thursday, March 8 at 7:30 pm
Tickets: $10 student rush - $30
Kosciuszko Foundation, 15 East 65th Street, Manhattan

Click here for full details
---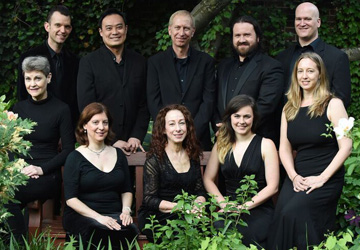 Choir of St. Luke in the Fields
with Baroque in the Fields, an ensemble of period instruments
The Birth of the Oratorio
Seventeenth-century Italy witnessed the birth of a new dramatic music genre, the oratorio. This concert includes two oratorios by Giacomo Carissimi, "Jepthe" and "Jonas", Marc-Antoine Charpentier's "Filius prodigus" (The Prodigal Son), and "Maria Magdalena stabat" by the Benedictine nun Chiara Margarita Cozzolani. David Shuler, Director



Thursday, March 8 at 8 pm

Tickets: $25-$35
Lecture by Dr. Eric Bianchi at 7 pm
The Church of St. Luke in the Fields, 487 Hudson Street (just south of Christopher Street), Manhattan

Click here for tickets Click here for more info
---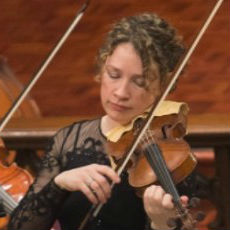 ARTEK
Bach-Bruhns-Buxtehude
Lübeck, Germany, on the Baltic Sea coast, was the home of Buxtehude (the teacher of Bruhns) and where J. S. Bach walked 250 miles to learn about his art. ARTEK presents a program of North German cantatas, chamber music, and organ music with soloists Cynthia Freivogel, violin, Andrew Fuchs, tenor, and Peter Becker, bass-baritone.

Friday, March 9 at 8 pm Tickets: $15-$50
The best seats are filling quickly!
Pre-concert lecture at 7 pm with Sara Ruhle Kyle
Holy Trinity Church, Central Park West and West 65th Street, Manhattan

Click here for full details
---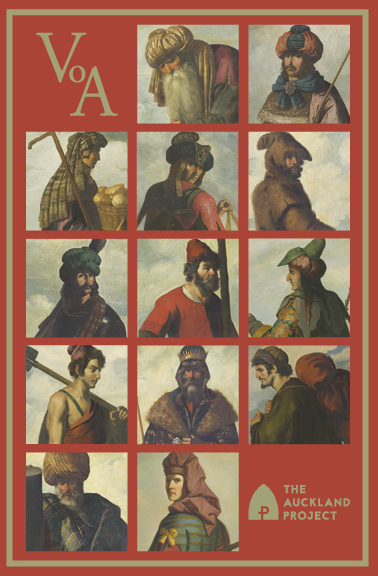 Voices of Ascension Chorus & Orchestra
Renaissance and Baroque Masterpieces
Celebrating the magnificent paintings of Francisco Zurbarán, Joseph and his Twelve Sons, on exhibition at the Frick Collection, this concert features seldom-heard works of the Renaissance and Baroque: masterpieces by Morales (Lamentabatur Jacob) and Lobo (Sanctus from Missa Maria Magdelene), and Guerrero, Roque Ceruti's Dixit Dominus for orchestra and four choruses, and excerpts from Handel's oratorio Joseph and his Brethren.

Tuesday, March 13 at 7:30 pm Tickets: $10-$85
Madison Avenue Presbyterian Church, 921 Madison Avenue (at 73rd Street), Manhattan

Click here for full details
---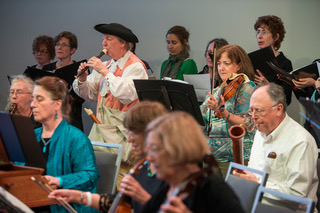 Grounds For Sculpture presents
The 2018 Festival of the Guild for Early Music
A Celebration of J.S.Bach's 333rd Birthday
An afternoon of mini-concerts of music from the 12th to the 18th centuries on two indoor stages at Grounds For Sculpture, the 42-acre sculpture garden, museum, and arboretum. The performers include 12 different ensembles from the New Jersey area. Weather permitting, there could also be music performances outdoors in the beautifully landscaped contemporary sculpture park.

Sunday, March 18, 12:30 to 5:30pm
Admission to the festival is free with park admission
Grounds For Sculpture, 80 Sculptors Way, Hamilton, NJ

Click here for full details
---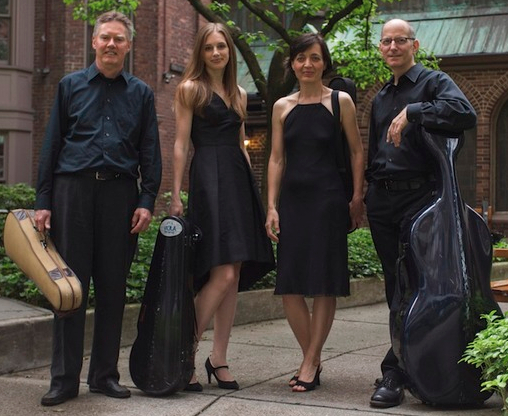 The New York Classical Quartet
Franz Joseph Haydn: Quartets Op. 71
The three quartets of Op. 71, from 1793 by Haydn. During his first sojourn in London in 1791-92, Haydn heard his earlier quartets being played in public concerts, rather than for the intimate gatherings for which they were intended. In preparation for his second trip, he decided to compose this new set with an exuberant, public face. These quartets show Haydn in full, effortless mastery of every aspect of composition. Each facet of his personality seems magnified in these festive, substantial, otherworldly, earthy, humorous, magical, confident, consoling, surprising masterpieces.

Sunday, March 18 at 3 pm Tickets: $15-$30
The Church of The Transfiguration, 1 East 29 Street, Manhattan

Click here for full details
---
Collectio Musicorum
in conjunction with The American Theatre of Actors
The Dream of the Rood
One stormy night in the 8th century, a solitary monk had a terrifying dream – he saw the crucifixion of Jesus firsthand and then the cross itself began to talk to him. Based on this vision, he composed a lengthy poem, now called The Dream of the Rood. Come experience a theatrical version of the poem, interspersed with music from the Middle Ages. The production is directed by Jeff S. Dailey, who also translated the poem.

March 21-25 & March 28-April 1 Tickets: $15
Tickets also available through tdf.org
The American Theatre of Actors, 314 West 54th Street, Manhattan

Click here for full details Call 212-581-3044 for tickets
---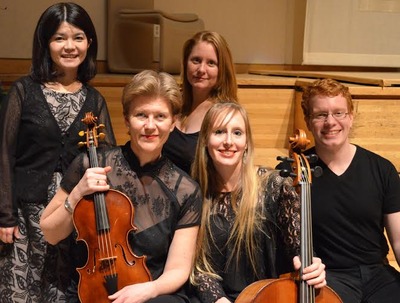 Musica Reginae Production Concert Series presents
The Queens Consort
Dance Music for the Sun King
An elegant and engaging evening of Baroque dance music for strings and harpsichord composed for the court of Louis XlV. Works by Lully, Marchand, Charpentier, Rebel and others.
Claire Smith Bermingham, violin; Dan McCarthy, violin; Margrét Hjaltested, viola; Anneke Schaul - Yoder, cello; Aya Hamada, harpsichord
with special guest artist: Emily Hale, violin

Saturday, March 24 at 7:30 pm Tickets: $10-$20
This is a one hour concert with no intermission
The Church-in-the-Gardens, 50 Ascan Ave, Forest Hills, Queens

Click here for full details or call 718-894-2178
---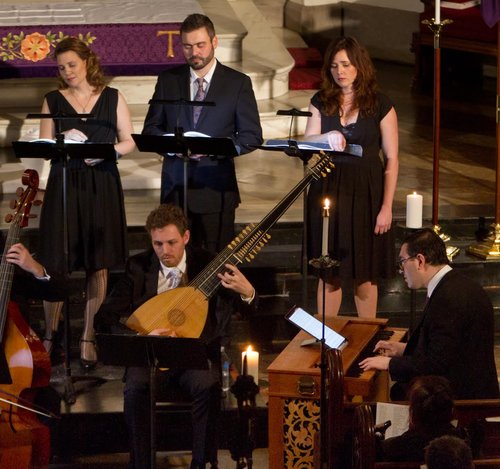 TENET and the Sebastians
TENEbrae: Pathway to Light
The Sebastians and TENET, following last season's acclaimed St. John Passion, are thrilled to join forces again for a transcendent concert of sublime sacred cantatas by the German baroque composer Dieterich Buxtehude and instrumental works by his contemporaries Handel, Biber, and Kerll. This stirring program is an invocation of spring, calling forth hope from despair and light from darkness.
Jolle Greenleaf, soprano; Molly Quinn, soprano; Mischa Bouvier, bass; Daniel Lee, violin; Nicholas DiEugenio, violin; Ezra Seltzer, cello; Charles Weaver, theorbo; Jeffrey Grossman, chamber organ.

Saturday, March 24 at 8 pm Tickets: $40–$60
The Church of St. Vincent Ferrer, 869 Lexington Avenue, Manhattan

Click here for full details
---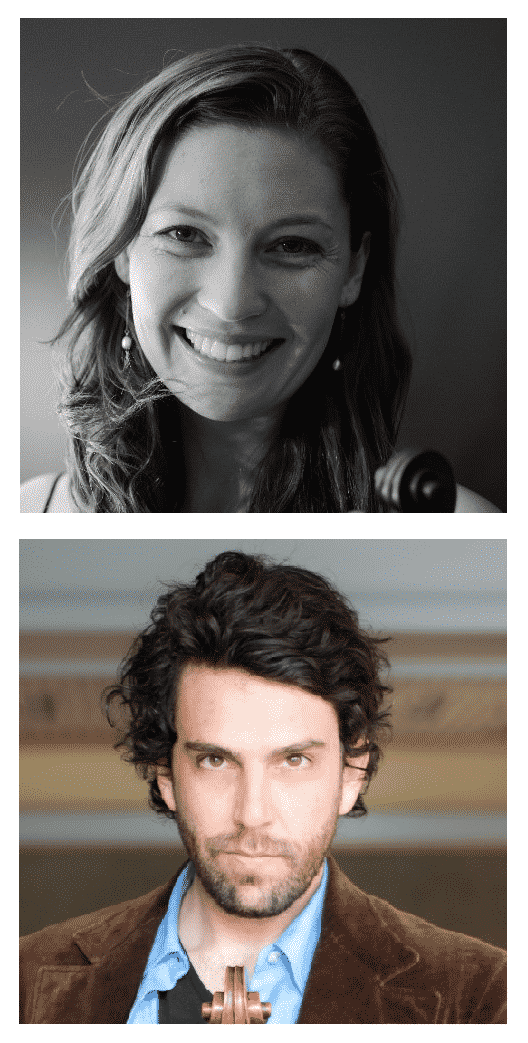 Anthony Albrecht, cello and Simone Slattery, violin
Where Song Began
Inspired by leading ornithologist Tim Low's award-winning book, this performance explores the Australian origins of songbirds, 'the birds that can sing'. This work encourages the audience to contemplate the origin of birdsong and the importance of Australia's rich and colourful bird history. The program includes music spanning 300 years, enhanced by a film of evocative landscape stills, moving images and bird call field recordings sourced from the Cornell Ornithology Lab.

Saturday, March 24 at 11:30 am
Followed by a festive reception
Private Residence, Wilton, CT

Sunday, March 25 at 12:30 pm
Metropolis Ensemble, 1 Rivington Street, Manhattan

Tuesday, March 27 at 9 pm
following a set by David Rothenburg (Author of 'Why Birds Sing')
Spectrum, 70 Flushing Avenue, Brooklyn

Click here for full details
---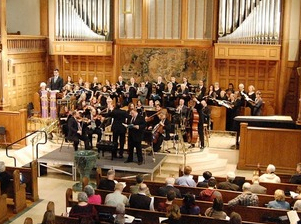 Saint Andrew Chorale & Orchestra
with the New York City Childrens Chorus
Bach: St. Matthew Passion
The Saint Andrew Chorale and Orchestra will conclude their 53rd Season with a Palm Sunday performance of Bach's monumental St. Matthew Passion. The gospel account of Christ's passion and death from Matthew's gospel is presented through dramatically conceived recitatives and movements for double chorus, with moments of lyrical and poignant reflection in the solo arias and chorales.
Marc Molomot, tenor - Evangelist
Kevin Deas, bass - Jesus

Sunday, March 25 at 3 pm Tickets: $25-$30
Followed by a post-concert reception
Madison Avenue Presbyterian Church, 921 Madison Avenue (at East 73rd Street), Manhattan

Click here for full details
---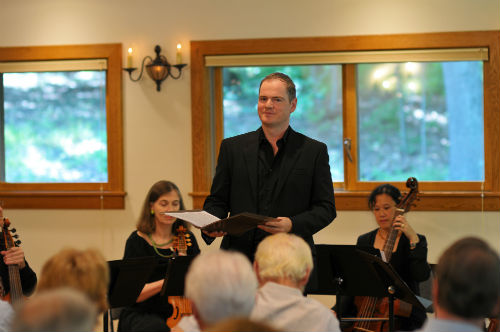 Parthenia
Tomb Sonnets: Voice and viols from across the centuries
With guest Ryland Angel, tenor and countertenor,

Parthenia

presents the world premiere of Martin Kennedy's Tomb Sonnets, along with song, fantasia and spoken word from the Italian Renaissance, the age of the sonnet.



Sunday, March 25 at 2 pm


(Note time change from earlier publicity!)
Tickets: $25
The Secret Theatre, 44-02 23rd Street, Long Island City, Queens

Click here for full details
---
[Back to the top]

Midtown Concerts
Thursdays at

1:15 pm
Chapel at St. Bartholomew's Church
325 Park Avenue at 51st Street
Manhattan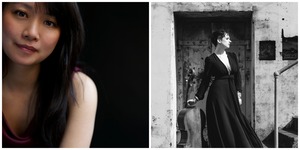 March 8

: Juliana Soltis & Yi-Heng Yang
In History's Shadow: Forgotten Female Virtuosi
Juliana Soltis, historical cello
Yi-heng Yang, fortepiano

A child prodigy. A brilliant performer championed by Haydn. An entertainer of tzars and kings. The stories are familiar, but the names are not: though Hélène Liebmann, Marianna von Auenbrugger, and Maria Szymanowska were celebrated in their day, history marginalized their music. Rediscover the dazzling works of these forgotten virtuosi. More...
March 15
: Pomerium
Musical Games, Puzzles, and Riddles of the Renaissance
Alexander Blachly, choir director
The singers of Pomerium
Sung by one of the world's most celebrated vocal ensembles, this program was designed to complement the exhibit of Renaissance playing cards mounted at The Met Cloisters in early 2016. As an example of popular medieval and early Renaissance games, playing cards provide a window into an intellectual culture that delighted in games. All of the sets showed ingenious ways to illustrate numbers, suits, and face cards, reminding us that the late Middle Ages was a period fascinated by games and puzzles. This fascination extended to music. More...
The full schedule for this season can be seen on the Midtown Concerts website.
See you there!

www.midtownconcerts.org
Community News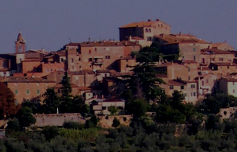 Juilliard Summer program
Juilliard is thrilled to announce Juilliard at the Piccola Accademia, a full-scholarship summer Baroque chamber music program in Tuscany starting this June. This tuition-free workshop is an exceptional opportunity for advanced students and emerging professional musicians of period-instruments to work closely with internationally-renowned members of Juilliard's Historical Performance faculty and harpsichordist Skip Sempé to expand their knowledge of Baroque style, ornamentation, and repertoire.
More information here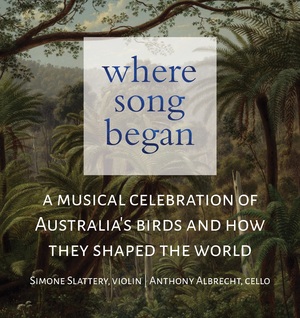 Where Song Began


Simone Slattery is one of Australia's foremost period violinists and Anthony Albrecht is a graduate of The Juilliard School's Historical Performance program. The two musicians

are touring the area with an innovative new program (see listing above). Here's a little more information about the project. 'Where Song Began' was conceived after reading Tim Low's best-selling book, which tells the story of the evolution of songbirds. The aim was to create an evocative, informative, and moving performance piece that would resonate with a much wider audience than the traditional format of classical music concerts. The work is set to a 50-minute long film, featuring wonderful footage of birds and landscapes, including murmurating budgerigars in the Australian outback and audio recordings of lyrebirds and nightingales. This film is accompanied by musical excerpts from Arvo Pärt, Vaughan Williams, Johann Heinrich Schmelzer, and Australians Ross Edwards and Chris Williams, along with a newly commissioned work for solo violin by Adelaide composer David Lang, bird-inspired improvisations by Slattery and a musical dawn chorus. 'Where Song Began' will appeal to nature-lovers of all ages. More information here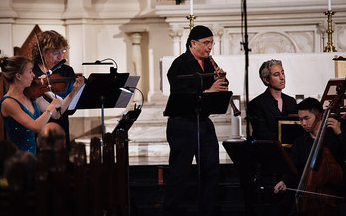 House of Time on tour and in NYC
House of Time has just returned from the gambling capital of the world, where they performed some of the great baroque hits at the Las Vegas Baroque Festival. Master classes were given at the University of Nevada Las Vegas by oboist Gonzalo X Ruiz and flutist Stephen Schultz. The group has upcoming concerts this weekend, March 4th at 2 and 5pm (click here to reserve a seat) and on the series Music Before 1800 on March 22 in a program of Mozart and Classical Czech composers.
Other Upcoming Events...
(click on the date for more info)
Friday, March 2 at 8 pm

- VOCES8, Church of St. Vincent Ferrer, NYC

Saturday, March 3 at 8 pm - Polyhymnia, The Church of St. Ignatius of Antioch, NYC

Saturday, March 10 at 7:30 pm - The Academy of Sacred Drama, Corpus Christi Church, NYC