Useful Links


Disabled Access Info

Find out how to include your event
in Notes on the Scene

Find us on the web...




We just received news that an Anonymous donor has offered GEMS a $10,000 year-end challenge grant through the Rockefeller philanthropic fund.

The money is ours if we can raise a matching amount within the next 60 days. Please click here to help!

Does GEMS really need the money?? Yes! We cannot survive without your help.

"Early music in New York needs a devoted chamption, and for the last five years, GEMS has been it," wrote The New Yorker earlier this fall. In this short time, we have:

presented 91 New York ensembles in concert (including our annual series showcasing both established and emerging NYC artists)
provided adminstrative, marketing, and logistical services to 144 NYC cultural organizations and artists including Trinity Wall Street Church, Carnegie Hall and the Metropolitan Museum of Art and many small emerging ensembles

maintained a large, informative website chronicling relevant activity in our field (

www.gemsny.org

), a semi-monthly electronic newsletter ("Notes on the Scene") sent to over 6,300 subscribers, front-of-house production services (ushers, CD sales, ticketing), on-line ticketing and box office, a cooperative mailing list of over 26,000 audience members, and a press release writing and distribution service targeting our personalized list of over 300 media contacts

exhibited at 14 national arts conferences and booked over 120 paid nationwide engagements for NYC musical ensembles via our GEMS Live!

agency

provided well-paid engagements under Local 802 union contracts to dozens of professional musicians based in the City

se

rved thousands of audience members (more than 1,800 of whom received free tickets)

helped launch several new ensembles and organizations including 4x4 Baroque, Salon/Sanctuary Concerts, Sinfonia New York, Quicksilver, and New York Baroque Incorporated
taught more than 920 children the basics of music through Nina Stern's S'Cool Sounds semester-long elementary school teaching programs, a project of GEMS
We can do this thanks to our large corps of volunteers and a very lean office staff. We depend on charitable support to be able to provide our services to ensembles, presenters, and audiences at affordable prices. Please help us continue.

Correction: APAP showcase on Saturday, January 12

Each year, GEMS Live! (our booking agency) produces a showcase concert in conjunction with the Association of Performing Arts Presenters (APAP) annual conference in New York. Our goal is to promote New York-based early music ensembles to secure touring engagements with presenters around the country attending the conference. This season, the concert is on Saturday, January 12, at 7:00 pm at the usual venue, the Chapel of Fifth Avenue Presbyterian Church at 7 West 55th Street. Hear six of the City's best ensembles performing 25-minute sets for a voluntary donation of only $20 (or more if you can). Support the home team by filling the hall, demonstrating to visiting presenters from the hinterlands that New York City groups are indeed crowd-pleasers.

Happy New Year!

Of Special Interest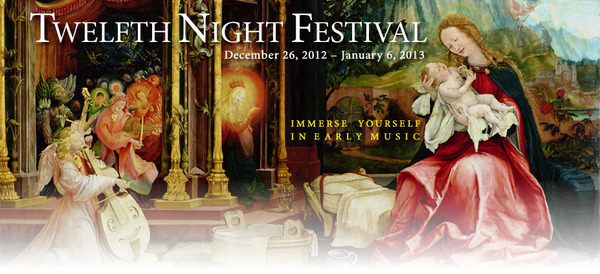 GEMS is proud to be collaborating with Trinity Wall Street on the second "Twelfth Night Festival of Early Music," from December 26 to January 6. We're producing two of the many concerts and events including A Christmas Concert for All Ages presented by Sinfonia Players, members of the Trinity Choir, and actor Steven Hauck. Sinfonia's concert, held on a Saturday afternoon (the 29th) at 3pm is designed to engage young people as well as adults with the repertoire and historical performances we love. This is your opportunity to introduce friends and relatives to early music! Children 18 and under are admitted FREE. Check the listings below for more information and tickets. The complete Festival program book, including introductory essays on early music by GEMS Executive Director Gene Murrow and Trinity Director of Music and the Arts Julian Wachner, is available for download here.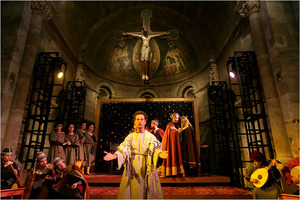 Celebrating its 75th anniversary year, The Cloisters is reprising the production of The Play of Daniel commissioned and presented by Concerts at the Cloisters under the leadership of Museum Educator Nancy Wu. Produced by GEMS and directed by Drew Minter and Mary Anne Ballard, the fully staged, costumed production will run for twelve performances on the weekends of January 11-13 and January 18-20. The 12th century music drama featuring music and dance tells the timeless story of "speaking truth to power" as Daniel reveals warnings to the King, suffers the consequences, and is redeemed. Click here for more information and tickets. Watch a video excerpt here.
[Back to the top]
Event Listings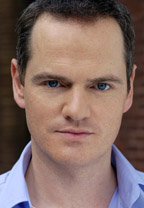 Trinity Wall Street's Twelfth Night Festival presents
Ryland Angel, countertenor
Our Lady II
Works by Sances, Leopold I, O'Regan, and Wachner

TONIGHT: Friday, December 28 at 7:30 pm Tickets: $25
Trinity Church, Broadway at Wall Street, Manhattan

Click here for full details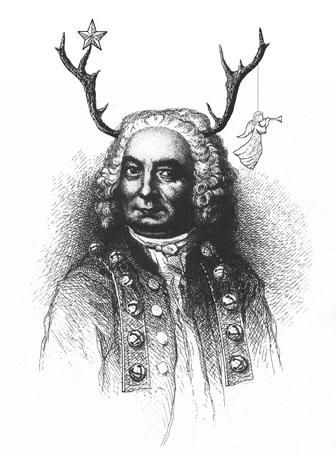 Trinity Wall Street's Twelfth Night Festival and GEMS present
The Sinfonia Players
A Christmas Concert for Children of All Ages
An hour in length, this program includes carols, chamber music, two Bach choral movements, a trumpet fanfare and a reading of "Twas the night before Christmas."



Saturday, December 29 at 3 pm Tickets: $25
Under 18 FREE!
Trinity Church, Broadway at Wall Street, Manhattan

Click here for full details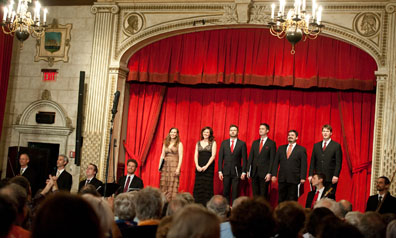 Trinity Wall Street's Twelfth Night Festival presents
TENET
Madrigals of Love and War
Claudio Monteverdi's Madrigals, Book VIII

Saturday, December 29 at 7:30 pm Tickets: $25
Trinity Church, Broadway at Wall Street, Manhattan

Click here for full details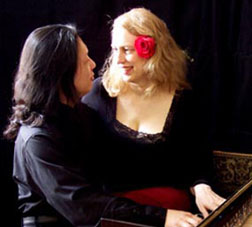 The Art of the Early Keyboard Series presents


ARTEK


Mozartian Masterpieces
A program format direct from Mozart's own time, featuring his Symphony #40 in G minor, K. 550 and the rarely heard Concerto #7 for 2 fortepianos in F major, K. 242

Saturday, December 29 at 8 pm Tickets: $15-$25
Immanuel Lutheran Church, 122 East 88th Street at Lexington Avenue, Manhattan

Click here for full details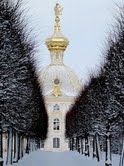 Trinity Wall Street's Twelfth Night Festival presents
Clarion Music Society
A Russian Christmas
In the Russian Orthodox Church the 30th of December is just approaching the height of Advent. Clarion explores centuries of Russian settings of mystical and celebratory Christmas texts, from the earliest Kievan and Byzantine plainchant to 16th-century Russian polyphony, works for the court of Catherine the Great, and to Slavonic motets by Tchaikovsky, Rachmaninoff, Stravinsky, Pärt and Tavener.

Sunday, December 30 at 4 pm Tickets: $25
Trinity Church, Broadway at Wall Street, Manhattan

Click here for full details
Trinity Wall Street's Twelfth Night Festival and TENET p

resent
Green Mountain Project
Claudio Monteverdi's Vespers of 1610
What has become a beloved annual event. The antiphons, responses, motets, hymn and canticle that Monteverdi shaped into the Vespers of 1610 represent the pinnacle of 17th century sacred music, performed by over 30 musicians.

Wednesday, January 2 at 7:30 pm Tickets: $10-$100
Thursday, January 3 at 7:30 pm
Church of St. Mary the Virgin, 145 West 46th Street, Manhattan

Click here for full details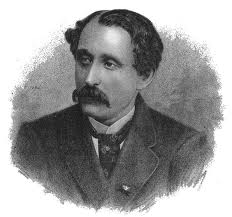 Melodeon
Treemonisha Suite
A new arrangement of the ragtime opera by Scott Joplin plus vocal and keyboard music of 19th and early 20th Century America. Played on an 1864 Melodeon and folding Preacher's reed organ.

Sunday, January 6 at 4 pm Tickets: $15-$20
Church of the Epiphany, York Avenue at East 74th Street, Manhattan

Click here for full details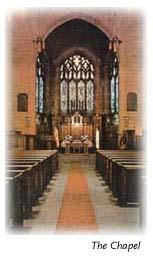 APAP Showcase
A gala showcase featuring Repast, New York Baroque Dance Company, ALBA, Parthenia, Asteria, and East of the River
Produced by GEMS Live!, in association with APAP, the premiere gathering of arts presenters in the nation.

Saturday, January 12, 7-10pm Tickets: $20 at the door
Fifth Avenue Presbyterian Church (Chapel), 7 West 55th Street, Manhattan

Click here for full details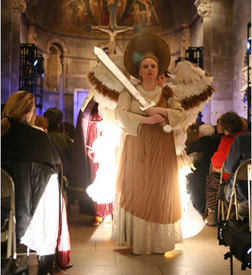 Concerts at The Cloisters GEMS presents
The Play of Daniel
Mary Anne Ballard and Drew Minter, directors
A return engagment for the 12th-century play of the story of Daniel in the lion's den. Sung entirely in Latin, the GEMS production includes dance and performances by many of New York's finest period instrumentalists and singers.

Friday, Saturday, Sunday, January 11-13, and January 18-20
1 pm and at 3 pm Tickets: $25
The Cloisters Museum and Gardens, a branch of The Metropolitan Museum of Art, Fort Tryon Park, Manhattan

Click here for full details
[Back to the top]

Midtown Concerts


Thursdays at 1:15 pm


Saint Peter's Church
619 Lexington Avenue at 54th Street (entrance on 54th Street)
Manhattan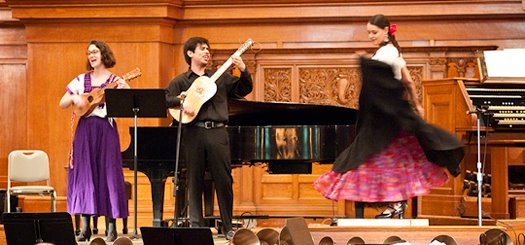 January 3 - Emericus Ensemble
Mundus Novus
Elise Figa, soprano
Carlos Cuestas, guitar
Julia del Palacio, dancer
"Mundus Novus" follows voyages of the 7th century Spanish explorers to Mexico, uniting the two cultures through music and dance. Drawing on historical traditions from both countries, Emericus takes audiences on a journey from the streets of Madrid to the Atlantic coast of Mexico with songs of lost love, longing, and travel.