Published 1st and 3rd Thursdays of every month to over 6,500 subscribers. ♦ Naomi Morse, Editor
Gotham Early Music Scene, Inc., New York, New York ♦ June 20, 2013
In This Issue

♦ What's New

♦ Of Special Interest

♦ Event Listings
♦ Brooke Bryant & Sally Sanford
♦ Bach Performer's Workshop

♦ Midtown Concerts
♦ Other events
Useful Links


Disabled Access Info

Find out how to include your event in Notes on the Scene

Find us on the web...




What's New at GEMS....

Many of us New York fans attended the Boston Early Music Festival last week, enjoying the stunning production of Handel's first opera, Almira, and scores of concerts and recitals. We at GEMS were especially pleased by James R. Oestreich's laudatory review in The New York Times celebrating the strength of the many talented artists on the Boston-New York axis who comprise the "home tearm." Right! Special praise was given to Robert Mealy, Concertmaster of the BEMF Orchestra, and John Scott of St. Thomas Church.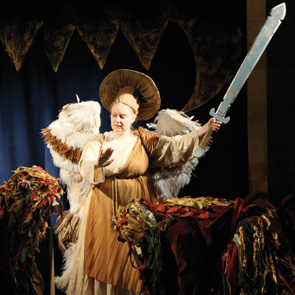 This week, the GEMS production of The Play of Daniel is on tour, thanks to a grant from the National Endowment for the Arts (NEA) and the generosity of many of you who contributed to our recent campaign for Daniel.

This newsletter entry is being written at the Shalin Liu Performance Center in Rockport, MA. Performances are on Friday, June 21 at 8pm at the Rockport Chamber Music Festival and on Sunday, June 23 at 4pm the Connecticut Early Music Festival.
Event Listings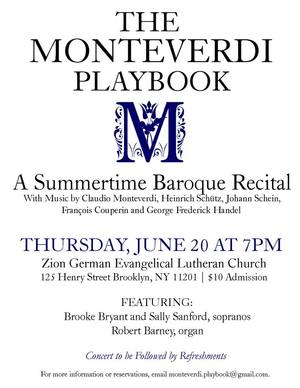 Brooke Bryant and Sally Sanford, sopranos and Robert Barney, organ


The Monteverdi Playbook: A Summer Recital




Music by Monteverdi, Schein, Praetorius, Schütz, Buxtehude, Couperin, and Handel

Concert to be followed by refreshments



TONIGHT! Thursday, June 20 at 7 pm Tickets: $10
Zion German Evangelical Lutheran Church, 125 Henry Street, Brooklyn, NY 11201

Third annual "Rethinking Bach: A Performers' Workshop"
Raymond Erikson, director
A program for professionals and advanced students wishing to be brought up-to-date on leading edge information concerning Bach performance and interpretation through lectures, intensive practice in Baroque dance, and daily coaching with internationally acknowledged artist-teachers. Especially appropriate for studio teachers and performers on modern instruments. Singers, conductors, and players of all instruments are welcome to apply.





August 5-10, 2013

Tuition: $650


Application Deadline:

July 1, 2013

, but early applications are encouraged.
The Aaron Copland School of Music, Flushing College, CUNY 65-30 Kissena Boulevard Flushing, Queens

Click here for more details
[Back to the top]
Midtown Concerts
Planning is nearly complete for the 2013-14 season of Midtown Concerts, our ongoing series of 35-minute early music concerts in midtown Manhattan. We've had a flurry of applicants from dozens of exciting early music talents: established ensembles and soloists, both local and from across the reaches of the Atlantic. We expect to have the final schedule by mid-July.

The concerts are still to be held every Thursday at 1:15, with free admission, beginning in early October. The location for the concerts will be announced in the coming weeks. We'd like to thank you for your ongoing support of Midtown Concerts, and we anticipate putting on a fantastic series in the coming year!

Many thanks to Francesca Galesi, our capable and energetic Manager of the Midtown Concerts, who is beginning her second season in that role.