In This Issue
♦ What's New

♦ Event Listings
♦ Sebastians & dell'Arte Opera
♦ Sebastians
♦ New Vintage Baroque
♦ Metropolitan Museum of Art

♦ Midtown Concerts

Useful Links
MTA Trip Planner

Support our work


Disabled Access Info

Find out how to include your event in
Notes on the Scene

Find us on the web...




What's New at GEMS...

New season, new ticketing system!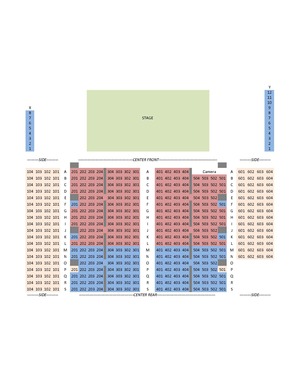 We are delighted to announce that GEMS is implementing a new ticketing system beginning next month for the many ensembles who use our services for advance-sale tickets. The system has been in use at many prestigious concert halls and similar facilities around the country for many years, and has been proven to be thoroughly reliable.

The new system makes it easy to create reserved seating plans for even the smallest halls. This means that more ensembles can avail themselves of the advantages of reserved seating, enabling patrons to choose their seats in advance from an actual seating chart. A reduced-size sample is shown at right; actual charts are large and easily readable. Pricing, location, possible obstructions, etc,. will all be clearly indicated.

With reserved seating, you need not worry about arriving extra early to secure a good seat, and long lines before the concert starts will be a thing of the past!

As always, you can order tickets online, by telephone, or by mail.

Once you have chosen your seats, you may have tickets mailed to you if there's time, have them waiting for you at the concert "will call" desk, or your may print them yourself on your own computer and printer (this works just like the airline boarding pass system).

We will also be offering the usual General Admission seating as appropriate.

Fees for ticket ordering will change and will be assessed per ticket rather than per order. For the lower-priced tickets, the total fees will be slightly lower than present rates; orders for higher-priced tickets will have a slightly higher fee.
Event Listings
The Sebastians with dell'Arte Opera Ensemble
17th Century Music from Venice and Rome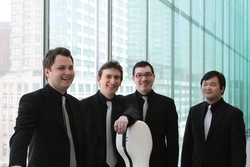 The

Sebastians, Audience Prize winners in last season's EMA Baroque Competition, are collaborating with

dell'Arte Opera Ensemble

to present virtuoso Italian music of the early baroque. Their joint concert focuses on two musical centers: Venice, home of masters like Dario Castello, Bernardo Storace and the titan Claudio Monteverdi; and Rome, where Lelio Colista and Alessandro Stradella set the stage for Arcangelo Corelli, one of the most influential composers of the baroque. Special appearances by vocal soloists from 2013 dell'Arte Opera Ensemble casts, including Anna Farysej, Noelle McMurtry, Nacole Palmer and Briana Sakomoto

singers from dell'Arte Opera Ensemble.





August 19, 2013, 7:30pm


The East Thirteenth Street Theatre, NYC
136 East 13th Street

$20 General Admission, $10 Student/Senior

Advance sale tickets available online
The Sebastians

Bach by Popular Demand:
Trio sonatas, concertos, and suites by Bach and his contemporaries
The
Sebastians
return in early September to present a program featuring J.S. Bach's famed Orchestral Suite No. 3 in D Major, trio sonatas by Arcangelo Corelli and William Boyce, and concertos by G.F. Handel and Antonio Vivaldi.
Saturday, September 7 at 7:30 pm
All Angels' Church
251 W. 80th Street
Manhattan
(between Broadway and West End Avenue)
Tickets:
$15 general admission, $10 students & seniors
Tickets available at the door, online at www.gemsny.org or call 212-866-0468.

For more information, contact:
212-362-9553, or
music@sebastians.org, or visit the website.
New Vintage Baroque
Diane, Goddess of the hunt and moon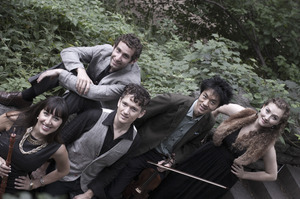 New Vintage Baroque is a new vocal and instrumental

ensemble of young virtuosi

that seeks to explore the intersection of music, song, and story. Fusing together new commissions with music of the high baroque, New Vintage weaves together verses, arias, and instrumental pieces to explore themes and characters through new perspectives.




This concert will focus on Diana, goddess of the hunt, as seen through the eyes of her victims, nymphs, and lovers. In addition to instrumental music by Rebel and Charpentier, the concert will feature never-before recorded arias by Andre Campra and Nicolas Bernier. Ending the program will be a retelling of Diana and Actaeon featuring a new work from the composer and monologist Doug Balliet.

Friday, September 13 at 8pm

Saturday, September 14 at 8pm

The Gershwin Hotel

7 East 27th St.
Manhattan


$20 at the door

http://www.gershwinhotel.com/

Sunday, September 15 at 3pm

121 Ludlow St.
Manhattan


$10 at the door

http://www.spectrumnyc.com/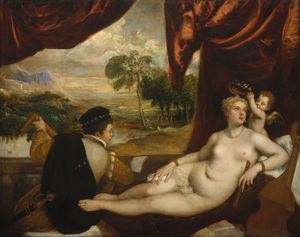 The Metropolitan Museum of Art


The Grand Tour

Go after-hours gallery-hopping in the reinstalled New European Paintings Galleries, 1250–1800, for an unprecedented encounter with music and art. Experience four different concerts in four different galleries by some of the world's leading Renaissance and Baroque musicians, including Tenet, Dark Horse Consort, QuickSilver, and harpsichordist Jory Vinikour. The music illuminates the paintings (and vice versa) in this once-in-a-lifetime experience, revealing the magic and power of these galleries in a wholly unique way.
Image: Titian and Workshop (Italian, ca. 1485/90?–1576)
Venus and the Lute Player (detail), ca. 1565–70
Oil on canvas; 65 x 82 1/2 in. (165.1 x 209.6 cm)
The Metropolitan Museum of Art, New York, Munsey Fund, 1936 (36.29)
Tuesday, September 17 at 8:00 pm
Wednesday, September 18 at 8:00 pm
The Metropolitan Museum of Art
Concerts and Lectures
1000 Fifth Avenue
Manhattan
For information and tickets please visit the special gallery concert
website
.
[Back to the top]

Midtown Concerts
Thursdays at 1:15 pm
October 10, 2013 through June 12, 2014
Chapel at St. Bartholomew's Church
325 Park Avenue at 51st Street
Manhattan

Full schedule coming soon!