In This Issue

♦ What's New

♦ Of Special Interest

♦ Event Listings
♦ Queens College Baroque Opera Workshop
♦ East of the River
♦ Sonnambula
♦ BAM: David et Jonathas
♦ ARTEK
♦ GEMAS
♦ Parthenia & Blue Heron

♦ Midtown Concerts
♦ Other events
Useful Links


Disabled Access Info

Find out how to include your event in Notes on the Scene

Find us on the web...




What's New at GEMS...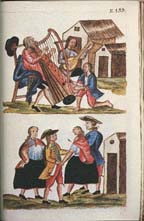 Thanks to a leadership gift to of $5,000 from Tony Elitcher and Andie Taras, plus the generosity of several other donors to our new series "GEMAS: Early Music of the Americas" (see the web page for a complete list of donors) we're well on our way to fully funding "The Bishop's Band," our third concert in the series. Held on April 20th at 8pm at The Hispanic Society, the concert will feature an all-star cast of 20 instrumentalists, singers, and dancers under the direction of Nell Snaidas and Tom Zajac, with accompanying images from the "Codex Trujillo," an extraordinary 18th-century manuscript from Peru.

Tickets to the concert are a very affordable $25 (thanks to our donor-angels and the contributions of our co-producers and collaborators, The Hispanic Society and Americas Society), and are available here. Our effort still needs charitable support, so please consider being an angel yourself, and make a contribution towards the GEMAS series. Thank you.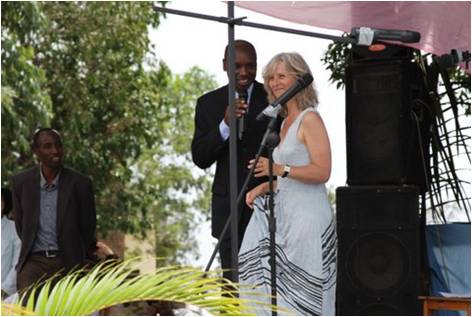 There's a wonderful illustrated article on the web by noted author, Professor of English, and New York early music enthusiast Wendy Steiner chronicling the recent S'Cool Sounds teaching trip to the Village Health Works clinic in Kigutu, Burundi. Wendy learned of VHW and the clinic while researching a book about their work, and was made an educational and cultural advisor. In that capacity she recommended the S'Cool Sounds program and made all the arrangements for the residency at the clinic earlier this year. In the photo Wendy is pictured with Deogratias Niyizonkiza, the founder/director of Village Health Works, and the subject of Tracy Kidder's best-selling book "Strength in What Remains."
GEMS congratulates Wendy, S'Cool Sounds director Nina Stern, the other music teachers who accompanied them on the trip (Matilda Giampietro, Reine-Marie Verhagen, and Lynn Waickman), and Cross-Cultural Thresholds for harnessing the power of recorders, percussion, and early music to enrich the lives of children. We are proud to be the fiscal sponsor and adminstrator for S'Cool Sounds, and to be associated with innovators, humanitarians, and activists like Wendy and Nina.
Of Special Interest
On April 18 and 20, ARTEK performs Anthony Stradella's (1639-1682) oratorio masterpiece San Giovanni Battista, led by noted Italian baroque violinist Enrico Gatti. Although the piece is well-known in Europe, these performances are thought to be only the second time the work has been performed in North America, the last time being in the 1970s. ARTEK will use Mr. Gatti's personal edition of the score and will perform the oratorio in Roman pitch (A=392), which changes the overall tone color of the piece significantly.
The Five Boroughs Music Festival last concert of the season is a collaboration between the viol consort Parthenia and the Boston-based vocal ensemble Blue Heron on Sunday, May 5 at 4 pm. Blue Heron is directed by Scott Metcalfe, who many of us here in New York know as one of the co-directors (with Jolle Greenleaf) of the annual Green Mountain Project performances of the Monteverdi Vespers. In addition to directing his singers in this concert, he will also play violin.
[Back to the top]
Event Listings
Queens College Baroque Opera Workshop
A one-week, intensive training program in baroque opera. The week's work will culminate in a performance of highlights from Claudio Monteverdi's late masterwork, L'Incoronazione di Poppea (Venice, 1643) directed by Drew Minter. In addition, there will be classes in baroque gesture, baroque vocal ornamentation and style, and a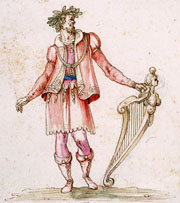 baroque string program including the study of baroque repertoire, period ornamentation, and improvisation in accompaniment for players of basso continuo.
Christa Patton, Co-Director, Music Director
David Ronis, Co-Director, Stage Director
Daniel Lee, String technique and repertoire
Julianne Baird, Baroque Vocal Style Specialist
Drew Minter, Guest Stage Director
Arthur Haas, harpsichord
Pat O'Brien, lute

Application Deadline: April 10, 2013
Tuition: $595-$695; Auditors: $60 per day

Click here for application info Click here for full details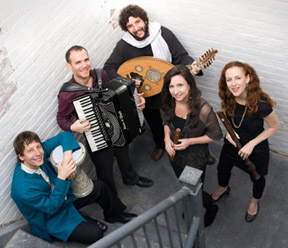 Bargemusic's There and Then Series presents
East of the River
Levantera
Haunting melodies, ancient songs, and brilliant dances from the Mediterranean, the Balkans, and the Middle East.

Sunday, April 14 at 2 pm Tickets: $15-$35
Bargemusic, Fulton Ferry Landing near the Brooklyn Bridge, Brooklyn

Click here for full details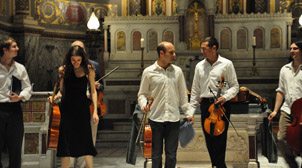 Early Music Columbia presents
Sonnambula Viol Consort
Armada: Renaissance Music of Spain & England
with Anonymous 4's Jacqueline Horner-Kwiatek, mezzo-soprano and James Kennerley, tenor
Intimate Spanish canciones, joyful villancicos, and courtly English consort songs

Wednesday, April 17 at 8 pm
Tickets: Free-will donation
St. Paul's Chapel, Columbia University, 1157 Amsterdam Avenue (just north of West 116th Street), Manhattan

Click here for full details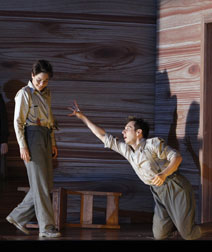 BAM presents
Marc-Antoine Charpentier's David et Jonathas


Les Arts Florissants


An Aix-en-Provence Festival production
Conducted by William Christie
Directed by Andreas Homoki
Featuring Charpentier's stately choruses, dances, and airs, this Baroque gem unfolds with Christie's trademark rhetorical flair. Melodies heave and sigh with gossamer elegance, transforming an Old Testament parable into a ravishing musical account of incorruptible love, undying to the end.

April 17–20 at 7:30 pm; April 21 at 2 pm
Tickets start at $30
Howard Gilman Opera House, 30 Lafayette Avenue, Brooklyn

Click here for full details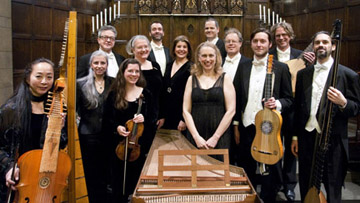 ARTEK
Alessandro Stradella's San Giovanni Battista
Stradella's greatest masterpiece: The timeless biblical drama of Salome, St. John the Baptist, and Herod

Thursday, April 18 at 8 pm
Saturday, April 20 at 8 pm Tickets: $10-$40
Teatro at Casa Italiana, Columbia University, 1161 Amsterdam Avenue (at West 118th Street), Manhattan

Click here for full details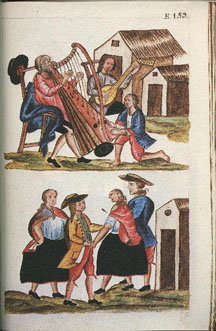 GEMAS, Early Music of the Americas, presents
The Bishop's Band
Music of late 18th-century Peru from the Codex Trujillo del Perú
Tom Zajac, co-director and winds
Nell Snaidas, co-director and soprano
along with an all-star cast of singers, instrumentalists and dancers

Saturday, April 20 at 8 pm Tickets: $25
Hispanic Society of America, Broadway between 155th and 156th Streets (visitor entrance on Audubon Terrace), Manhattan

Click here for full details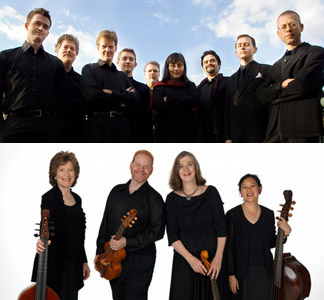 Five Boroughs Music Festival presents
Parthenia & Blue Heron
Songs for a Parisian Spring
A new program of 16th-century French sacred and secular works, featuring music by Claude Le Jeune, André Pevernage, Eustache Du Caurroy, Jan Pieterszoon Sweelinck and others.

Sunday, May 5 at 4 pm Tickets start at $25
The Church of St. Luke in the Fields, 487 Hudson Street (just south of Christopher Street), Manhattan

Click here for full details
[Back to the top]

Midtown Concerts


Thursdays at 1:15 pm


Saint Peter's Church
619 Lexington Avenue at 54th Street
(entrance on 54th Street)
Manhattan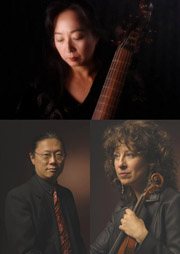 April 11

- Tableau Vivant
Upon a Ground
Karen Marie Marmer, violin
Motomi Igarashi, viola da gamba
Dongsok Shin, harpsichord
Tableau Vivant celebrates the power and beauty of the passacaglia with works for violin, viola da gamba and basso continuo by Marin Marais, Johann Caspar Ferdinand Fischer and Dietrich Buxtehude.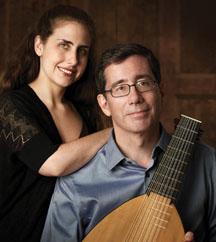 April 18

- Well-Tuned Words
The Dowland-Campion Collection
Amanda Sidebottom, soprano
Erik Ryding, lute
Well-Tunes Words offers jewels from three song masters of Shakespeare's era. John Dowland was the greatest songwriter of the day, and his First Book of Songs (1597) inspired others to follow his lead, including his prolific friend Thomas Campion and John Danyel, who left one book of superb ayres.
Other Upcoming Events... (click on the date for more info)

Thursday, April 4 at 8 pm - Nina Stern, Daphna Mor & John Hadfield, The DiMenna Center, NYC
Saturday, April 6 at 4 pm - Rachel Evans & Rebecca Pechefsky, Morris-Jumel Mansion, NYC
Saturday, April 6 at 8 pm - Les Délices, Miller Theatre at Columbia University, NYC
Sunday, April 7 at 4 pm - Melodeon, Church of the Epiphany, NYC
Saturday, May 18 at 8 pm - Canticum Novum, The Church of Saint Jean Baptiste, NYC