Click here if images do not display --- Forward this message to a friend


Published 1st and 3rd Thursdays of every month to over 7,600 subscribers. ♦ Naomi Morse, Editor
Gotham Early Music Scene, Inc., New York, New York ♦ September 19, 2016
Season Preview 2016 - 2017 ADDENDUM to Part 3

As a result of a cascading failure (you engineers out there know what we mean), we inadvertently omitted the season listing for the Church of St. Luke in the Fields, provided to us weeks ago by their administrator, Elissa Weiss. This was an especially painful error in that St. Luke's not only offers beautiful and innovative concerts by their choir and music director, David Shuler, but they have been very generous in making their intimate and well-located venue available for many other early music groups in town. We regret the ommission, and encourage you to review their offerings below.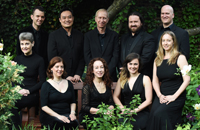 The Choir of St. Luke in the Fields
Opening Concert: November 3


The Choir of St. Luke in the Fields presents its 18th season: five Thursday concerts, including choral music of Vivaldi, H.I.F. Biber's monumental Requiem, British Renaissance Christmas music by Thomas Tallis and John Sheppard, and music from the Sistine Chapel with a newly edited version of Allegri's famous "Miserere". The January concert will include solo organ works, solo cantatas and violin works by North German composers. More...
Forward this message to a friend --- (212) 866-0468
---
If you no longer wish to receive our newsletter, please reply to this message with "Unsubscribe" in the subject line or simply click on the following link: Unsubscribe
---
Gotham Early Music Scene, Inc.
340 Riverside Drive, Suite 1-A
New York, New York 10025
US


Read the VerticalResponse marketing policy.