Published 1st and 3rd Thursdays of every month to over 6,700 subscribers. ♦ Naomi Morse, Editor
Gotham Early Music Scene, Inc., New York, New York ♦ August 21, 2014
In This Issue

♦ What's New

♦ Event Listings
♦ 4X4 Baroque Festival
♦ TENET
♦ Opera Lafayette

♦ Midtown Concerts
♦ Other events
Useful Links


Disabled Access Info

Find out how to include your event in Notes on the Scene

Find us on the web...




What's
New...
We hope you have had a wonderful summer. Let's get geared up for a new season of early music concerts and events!

Tickets for 2014-2015 Season
Tickets are now on sale on our website for Trinity's Messiah performances in December, and ARTEK's Season. We are adding ticket sales for Parthenia and other ensembles soon so check back on our website in the next weeks to get your fill of tickets for this season. Of course, many ensembles do not use our online ticketing services, so check your favorite ensemble's website for the latest season and ticket information. Buy your tickets early and often!
Event Listings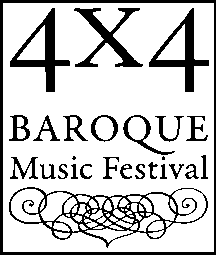 4x4 Festival
Four concerts of baroque music



Thursday, September 11 at 7 pm

- The Grand Overture
Orchestral suites by Bach and his contemporaries


Friday, September 12 at 7 pm

- Zimmerman's Coffeehouse
Chamber music by Bach, Handel, Zelenka and others


Saturday, September 13 at 7 pm

- Concerts Spirituels
Chamber music by Rameau, Marais and Clerambault


Sunday, September 14 at 4 pm

- From Darkness to Light
Cantatas of J. S. Bach

All Concerts:
Free admission, suggested donation $20
St. Paul's Chapel, 209 Broadway at Fulton, Manhattan (NEW VENUE!)

Click here for full details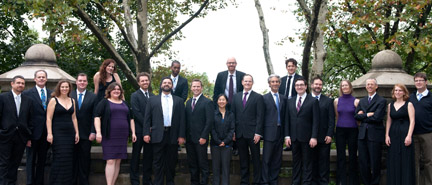 TENET
with
The Sebastians
The Motets of J.S. Bach
Scott Metcalfe, guest conductor
One-singer-to-a part renditions performed with instrumental doublings of strings and winds. Featured motets include "Komm, Jesu komm," "Singet dem Herrn ein neues Lied," and "Fürchte dich nicht, ich bin bei dir."

Saturday, September 20 at 7 pm Tickets: $30-$50
Holy Trinity Lutheran Church, 3 West 65th Street at Central Park West, Manhattan

Click here for full details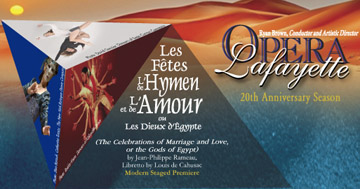 Opera Lafayette
Rameau's Les Fêtes de l'Hymen et de l'Amour, ou Les Dieux d'Égypte
Opera Lafayette opens its 20th season with the modern staged premiere of the last of Rameau's large-scale opéras-ballets to be revived and performed in recent times. Three critically acclaimed dance companies – representing Egyptians, Amazons, and Gods of the Nile – weave this romantic tale into seven magnificent ballets, complementing the musicality of cast and chorus.

Thursday, October 9 at 7:30 pm Tickets start at $20
Jazz at Lincoln Center's Frederick P. Rose Hall, Broadway at West 6oth Street, Manhattan

Click here for full details
[Back to the top]

Midtown Concerts
Chapel at St. Bartholomew's Church
325 Park Avenue at 51st Street
Manhattan


Thursdays at 1:15 pm starting October 2, 2014



Announcing the 2014-2015 Season of Midtown Concerts!

We are excited to bring you a great season with some fantastic new ensembles, and some old favorites too. The season starts on October 2 at 1:15pm with a concert by Abendmusik with music from Poland's Golden Age. Click here to see this season's concert schedule.
Other Upcoming Events... (click on the date for more info)

Saturday, August 23 at 8 pm - dell'Arte Opera Ensemble with The Sebastians, The East 13th Street Theater, NYC
Saturday, August 30 at 5 pm (Free!) - Lucine Musaelian, viola da gamba & Joyce Chen, harpsichord, St Illuminator's Cathedral, NYC