In This Issue

♦ What's New

♦ Of Special Interest

♦ Event Listings
♦ Brooke Bryant and Sally Sanford
♦ The Canby Singers
♦ Amuse
♦ Opera Lafayette
♦ Jessica Gould, Daniel Swenberg, Bradley Brookshire, & The Rose of The Compass Ensemble
♦ Choir of Corpus Christi Church
♦ The Sinfonia Players
♦ ARTEK
♦ Abendmusik
♦ Other events

Useful Links


Disabled Access Info

Find out how to include your event in Notes on the Scene

Find us on the web...





Conferences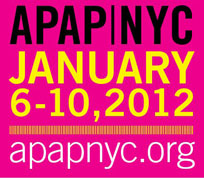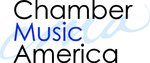 Our GEMS Live! booking agency exhibited at both the Association of Performing Arts Presenters (APAP) and Chamber Music America (CMA) annual national conferences this month. The 3-hour showcase concert GEMS produced on January 7th in conjunction with the APAP conference featured 6 ensembles, and was filled to capacity for the entire show. Our sincere thanks to those of you who attended to support our local artists! Wendy Redlinger, our Senior Artist Representative, reports that she made valuable contacts with over 30 presenters at the APAP booth and showcase, and dozens more at CMA. All of this translates to paying engagements for our ensembles throughout North America.

Challenge Grant
Thanks again to donors whose generosity enabled us to meet the challenge of raising $20,000 to match a grant from the LaSalle Adams Fund. You are all "gems!" The list is here.

An International Early Music Website


We'd like to draw your attention to a website devoted entirely to early music-- EarlyMusicNews.org. The site was created in July 2005 and publishes early music news and related items from all over the world. News items are submitted by the editorial staff or through the site's membership; they have been posting news from our e-newsletter for almost a year. We encourage you to submit your own news items, use the site as a reference for early music when traveling around the world, or just browse their extensive database of early music links.
Of Special Interest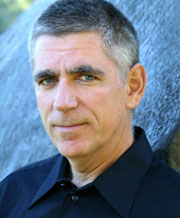 Nathaniel Watson was an active participant in New York's vocal scene in the 1980s and 90s, appearing with major symphony orchestras, opera companies, and period instrument ensembles before moving to Montreal. He returns to the City for an unusual and profound program crafted from bass arias and recitatives, with continuo and cello obbligato, by J.S. Bach on Friday, February 3rd. The program was inspired by Franz Schubert's great two-part song cycle, Die Winterreise (Winter Journey), in which the poet/protagonist is a young man struggling with unrequited love. The texts of Bach's sacred cantatas also speak of the journey of the soul, and the difficulty of living life free from earthly challenges. The hope is for rest and recompense in heaven. In both Bach and Schubert, release is only possible in death. The music, however, rewards both musicians and listeners alike with its beauty and deep humanity. Join Nat and the Sinfonia Players-- cellist Christine Gummere, and organist John Scott-- for this extraordinary Winter's Journey.
[Back to the top]
Event Listings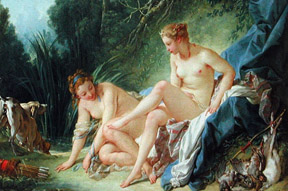 Brooke Bryant and Sally Sanford, sopranos
with Rosamond Morley, viola da gamba
Alexandra Snyder Dunbar, harpsichord
Les Nymphes de Diane: French Baroque Duets for two sopranos
Music of Couperin, Bernier, Marais, and D'Anglebert

Sunday, January 22 at 2 pm Tickets: $15-$20
303 Bond Theatre, 303 Bond Street (at Union Street), Brooklyn
Click here for full details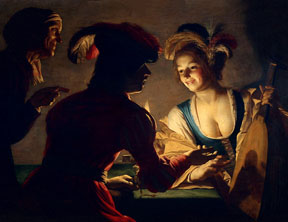 The Canby Singers
Chiaroscuro: Darkness and Light in Renaissance Works
Music of Monteverdi, Lassus, Schein and Hassler
Sheila Schonbrun, director

Sunday, January 22 at 4 pm Tickets: $10
Church of St. Charles Borromeo, 21 Sidney Place, Brooklyn Heights

Saturday, January 28 at 7:30 pm Tickets: $15-$20
Reception to follow concert
Church of St. Joseph, 371 6th Avenue (between Waverly Pl. and Washington Pl.), Manhattan

Click here for full details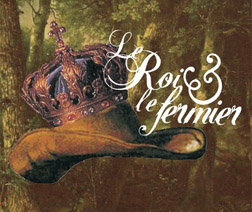 Opera Lafayette
Le Roi et le fermier
Ryan Brown, conductor
Didier Rousselet, director and actor
Modern World Premiere production
Thursday, January 26 at 7:30 pm Tickets: $25-$65
Post-concert reception with the artists - $300
Frederick P. Rose Hall, Home of Jazz at Lincoln Center, 33 West 60th Street (at Broadway), Manhattan

Click here for full details or call 202-546-9332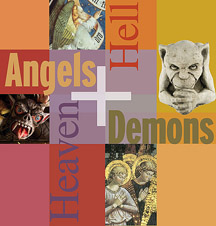 Amuse
Robert Isaacs, conductor
Angels + Demons: From Heaven to Hell (and back again?)
Come on a musical journey from damnation to salvation through the music of Lassus, Palestrina, Praetorius, Aichinger, Victoria, Byrd, Caplet, Montoya, Barber and more.

Saturday, January 28 at 7:30 pm Tickets: $15-$25
Reception to follow concert
St. Ignatius of Antioch Episcopal Church, 552 West End Avenue at West 87th Street, Manhattan

Click here for full details or call 212-877-6898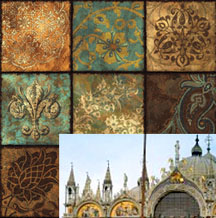 Salon/Sanctuary Concerts presents
La Serenissima: Music of Venice and Her Others
Jessica Gould, soprano; Daniel Swenberg, theorbo; Bradley Brookshire, organ
and The Rose of The Compass Ensemble - Nina Stern, recorders & chalumeau; Ara Dinkjian, oud; Glen Velez, percussion
Motets of Monteverdi, Strozzi, and Rigatti performed in alteration with music of the Turkish, Armenian, and Dalmatian communities.

Sunday, January 29 at 3 pm Tickets: $15-$25
The Chapel of St. Bartholomew's, 325 Park Avenue (at East 51st Street), Manhattan

Click here for full details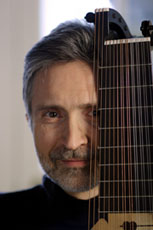 Music Before 1800 presents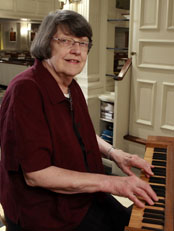 the Choir of Corpus Christi Church


Cantate Domino


Louise Basbas, director and organ
Ronn McFarlane, lute

Sunday, January 29 at 4 pm Tickets: $10-$45
$10 student rush tickets at the door
Corpus Christi Church, 529 West 121st Street between Broadway & Amsterdam Avenue, Manhattan

Click here for full details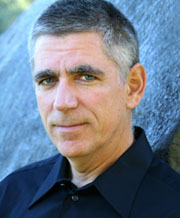 The Sinfonia Players
A Bach Winterreise
Bass arias and recitatives from various cantatas tracing the soul's journey through life.
Nathaniel Watson, baritone
Christine Gummere, cello
John Scott, organ

Friday, February 3 at 8 pm Tickets: $12-$20
Corpus Christi Church, 529 West 121st Street between Broadway and Amsterdam Avenues, Manhattan

Click here for full details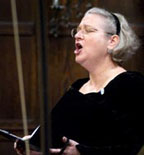 ARTEK
Winter Mini-Festival: Music of Johann Rosenmüller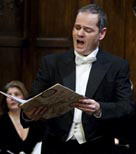 Solo Cantatas and Instrumental Music


Friday, February 10 at 8 pm


Featuring Barbara Hollinshead, mezzo-soprano; Ryland Angel, countertenor; Cynthia Freivogel, violin leader

Vespers in the Grand Venetian Style


Saturday, February 11 at 8 pm


Eight singers, strings, historical brass and winds
With members of Piffaro and guest Michael Collver, cornetto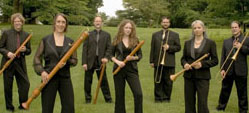 Both concerts at St. Ignatius of Antioch Episcopal Church, 552 West End Avenue at West 87th Street, Manhattan

Plus Chant Camp with Susan Hellauer of Anonymous Four


Saturday, February 11 at 11 am


Immanuel Lutheran Church,122 East 88th Street (undercroft), Manhattan

Click here for full details
Abendmusik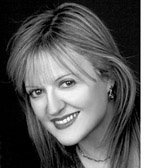 Germany Finds its Voice in the 17th Century
Featuring Jacqueline Horner Kwiatek, mezzo soprano
with Judson Griffin, Małgorzata Ziemnicka, Patricia Ann Neely, Carlene Stober, Elizabeth Weinfield, and Rick Erickson

Thursday, February 16 at 7 pm Tickets: $10-$20 suggested donation
Holy Trinity Lutheran Church, 65th Street and Central Park West, Manhattan

Click here for full details or call 212-877-6815
[Back to the top]
Other Upcoming Events... (click on the date for more info)

Friday, January 20 at 8 pm - Empire Viols, Second Presbyterian Church, NYC
Thursday, January 26 at 8 pm - ARTEK Series, Gwedolyn Toth, fortepiano, Immanuel Lutheran
Church, NYC