In This Issue

♦ What's New

♦ Of Special Interest

♦ Event Listings
♦ The Western Wind
♦ Juilliard Baroque
♦ The Sebastians
♦ TENEbrae
♦ Pomerium
♦ Clarion Masked Ball

♦ Midtown Concerts
♦ Other events
Useful Links


Disabled Access Info

Find out how to include your event in Notes on the Scene

Find us on the web...




S'Cool Sounds in Africa and on Facebook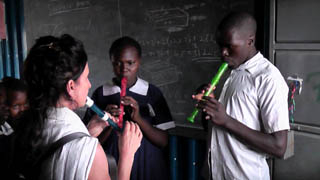 Just this past Tuesday, S'Cool Sounds Artistic Director Nina Stern flew to Africa to continue her work in Kenya and start a new project in Burundi. You can read about this exciting project on the
S'Cool Sounds facebook page
, and if you are a part of the social network, please "like" the page so you can continue to get updates about Nina's travels.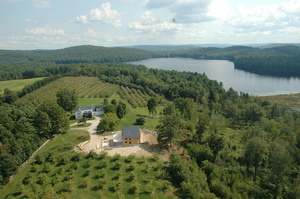 Retreat for Professional Ensembles
Opening in Boscawen, New Hampshire in the Summer of 2013, the Avaloch Farm Music Institute will provide a unique opportunity for chamber music ensembles at all stages of development to have the time and space to work intensively on repertoire, prepare for recordings, concerts or competitions, and forge or reconnect to a group musical identity. All accommodations, including meals, are provided at no charge. Founded by philanthropist and committed musician Alfred Tauber, the Institute joins the rich tradition of American institutions created to suport the inspiration and vision of our artists. At long last musicians will have their own such institution.

Professional early music ensembles are encouraged to apply for residences of one to six weeks. More information and application details may be found on the Avaloch website. [P.S. The Institute's executive director, Deborah Sherr, is also the director of the venerable Greenwood Music Camp, and an old friend and high-school classmate of GEMS executive director Gene Murrow.]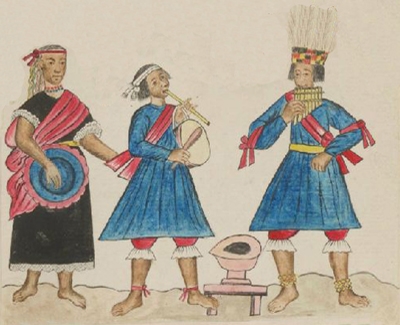 Save the Date!


Our new GEMAS series showcasing the early music of the Americas presents a unique con

cert dedicated to Martínez Compañón's book, the Conjunto Compañón, an extraordinary collection of watercolors, music, and dances. It will be directed by multi-instrumentalist and early music specialist Tom Zajac and will feature New York's celebrated soprano Nell Snaidas. April 20, 2013 at 8:00 pm at the Hispanic Society, 613 West 155th Street. More information and tickets here.
Of Special Interest
Three venerable early music series are presenting local talent in the next month! One of the goals of GEMS has been to facilitate more work for New York-based groups, so we are very pleased with this trend. Bargemusic presents the Western Wind on Saturday, February 9, performing their "Shakespeare in Love" program, including songs from the Plays. Music Before 1800 presents Juilliard Baroque on Sunday, February 10, an ensemble consisting of the faculty of Juilliard's Historical Performance program. And Sacred Music in a Sacred Space will present Pomerium on Wednesday, February 27.
In addition, Trinity Wall Street and TENET are working together to bring a whole month of Lenten music to downtown Manhattan. The TENEbrae series consists of 7 concerts, beginning on February 17, each showcasing works by leading renaissance and Baroque composers.

Today (Thursday)'s audience at our Midtown Concerts series were awed by the tasteful and exciting virtuoso playing of the Sebastian Chamber Players. Everyone can hear the Sebastians in their full glory on Saturday, February 16.
[Back to the top]
Event Listings
B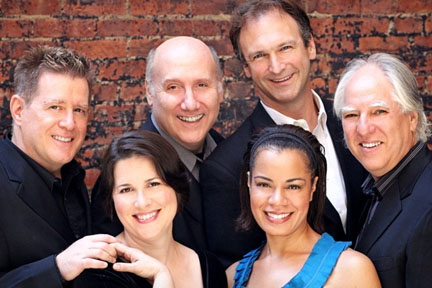 argemusic's There and Then series presents
The Western Wind
Shakespeare in Love

Saturday, February 9 at 8 pm Tickets: $15-$35
Bargemusic, Fulton Ferry Landing near the Brooklyn Bridge, Brooklyn

Click here for full details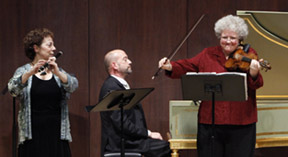 Music Before 1800 presents
Juilliard Baroque
Selections from François Couperin's Les Nations

Sunday, February 10 at 4 pm Tickets: $10-$45
$10 student rush tickets at the door
Corpus Christi Church, 529 West 121st Street between Broadway & Amsterdam Avenue, Manhattan

Click here for full details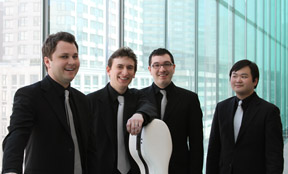 The Sebastians
The Lenten Violin
Sonatas by Corelli, Bach, and Biber

Saturday, February 16 at 7:30 pm
Tickets: $10-$15
All Angels Church, 152 West 80th Street (between Broadway and West End Avenue), Manhattan

Click here for full details
TENEbrae
TENET joins forces with Trinity Wall Street to present impassioned early music during Lent, the season of darkness and self-reflection. The series is named after the somber Tenebrae service that marks the time just before the transition to light and takes place during Holy Week.
Jolle Greenleaf, TENET artistic director
Julian Wachner, Director of Music and the Arts, Trinity Wall Street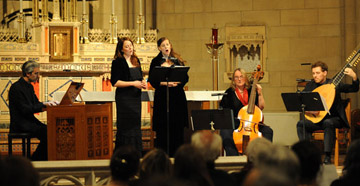 Dietrich Buxtehude: Membra Jesu Nostri
Sunday, February 17 at 5 pm Tickets: $25

François Couperin: Leçons de Ténèbres
Sunday, February 24 at 5 pm Tickets: $25

Thomas Tallis: Lamentations of Jeremiah
Sunday, March 3 at 5 pm Tickets: $25
All concerts at Trinity Church, Broadway at Wall Street, Manhattan

Click here for full details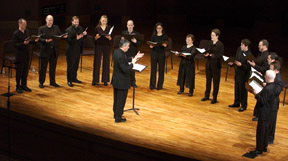 Sacred Music in a Sacred Space presents
Pomerium
Timor et Tremor: Renaissance Motets for Lent
Alexander Blachly, conductor

Wednesday, February 27 at 7 pm Tickets: $30-$50
Church of St. Ignatius Loyola, 980 Park Avenue at East 83rd Street, Manhattan

Click here for full details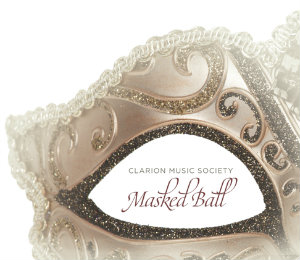 Clarion Music Society
Masked Ball
Join Clarion at the elegant Cosmopolitan Club for a full evening of cocktails, Clarion performances, dinner, and Baroque dancing led by members of the Balam Dance Theatre.
David Daniels, countertenor and honoree
Steven Fox, artistic director

Friday, March 8 Admission: $175-$300
7 pm Cocktails & Hors d'oeuvres, 8 pm Dinner & Program
The Cosmopolitan Club, 122 East 66th Street, between Lexington and Park Avenues, Manhattan

Click here for full details
[Back to the top]

Midtown Concerts


Thursdays at 1:15 pm


Saint Peter's Lutheran Church
619 Lexington Avenue at 54th Street (entrance on 54th Street)
Manhattan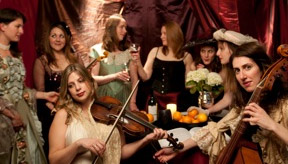 February 14 -

SIREN Baroque


Women All-Stars of the Baroque Era
This program highlights both known and unknown women composers from the late Renaissance to High Baroque eras. This program offers a diverse and wide range of styles, which illustrates how women contributed to the formation of the baroque era from inside convent walls to king's courts.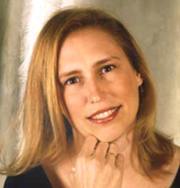 February 21 - Gwendolyn Toth, organ
Organ Recital
Gwendolyn Toth will play chanson and madrigal intabulations and Renaissance dances from 16th and 17th century keyboard manuscripts. Gwendolyn Toth is director of the early music ensemble ARTEK and has concertized extensively as a soloist in the US and Europe.
Other Upcoming Events... (click on the date for more info)

Thursday, February 7 at 8 pm - Choir of St. Luke in the Fields, Church of St. Luke in the Fields, NYC
Sunday, February 10 at 5 pm - Seattle Baroque Soloists, The Frick Collection, NYC