In This Issue
♦ What's New

♦ Of Special Interest

♦ Event Listings
♦ 4x4 Baroque Festival
♦ Sebastians & dell'Arte Opera
♦ dell'Arte Opera 13-14 Season

♦ Midtown Concerts

Useful Links
MTA Trip Planner

Support our work


Disabled Access Info

Find out how to include your event in
Notes on the Scene

Find us on the web...




What's New at GEMS...



Our founding GEMS Live! booking agent, Wendy Redlinger, is preparing for retirement after six oustanding years securing prestigious engagements for New York-based early music ensembles. Thanks to her efforts, local ensembles have performed at the National Gallery in Washington, Morgan Library and Museum, Rockport Chamber Music Festival, Folger Shakespeare Theatre, Bargemusic, as well as numerous colleges, universities, festivals, museums, and community concert series throughout the United States and Canada.

We are seeking an enthusiastic and ambitious person to lead and manage the future growth of GEMS Live! Our company and technology is structured so that one may work primarily from home, and keep flexible hours. If you or someone you know is interested in this exciting opportunity in the field we all love, please contact us. Full details including job description, skills requirements, compensation details, and how to apply may be found here.
Of Special Interest
Collaborations often produce the most exciting art. The listings of summer concerts in today's edition of Notes on the Scene all feature colalborations among some of the City's finest singers, instrumentalists, and directors, and are further evidence that "New York City is an early music festival, every week, every year!"
[Back to the top]
Event Listings
4x4 Festival
4 Concerts of Baroque Music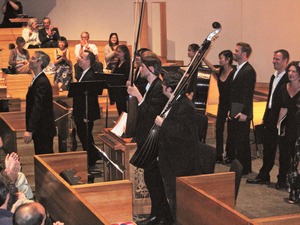 The last two of this season's 4x4 concerts are tomorrow (Friday) and Saturday evenings at 7 pm! The 4X4 Festival presents concerts of baroque music showcasing works by well-known composers such as J.S. Bach, G.F. Handel and Henry Purcell while shedding light on some of their unjustly neglected contemporaries. Participating musicians include the violinist Robert Mealy, soprano Jolle Greenleaf, and many of New York's finest musicians of this repertoire. The project is directed by Avi Stein who teaches at the Juilliard School, Yale University and the Longy School and is the director of music at St. Matthew & St.Timothy Church, and the music director of OperaOmnia.

All concerts Free Admission with a suggested donation of $20
Tuesday July 30th, 7 pm – Concerto a 5
Wednesday, July 31st, 7 pm – "Sonata, What do you want of me?"



Friday, August 2nd, 7 pm

– Handel's Apollo and Daphne


Saturday August 3rd, 7 pm

– Bach and Before

Saint Peter's Lutheran Church, 54th Street and Lexington, Manhattan

Click here for full details
The Sebastians

17th Century Music from Venice and Rome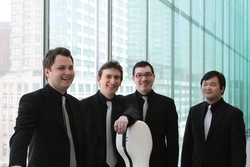 The Sebastians, Audience Prize winners in last season's EMA Baroque Competition, are collaborating with dell'Arte Opera Ensemble (see full season listing just below) to present virtuoso Italian music of the early baroque. Their joint concert focuses on two musical centers: Venice, home of masters like Dario Castello, Bernardo Storace and the titan Claudio Monteverdi; and Rome, where Lelio Colista and Alessandro Stradella set the stage for Arcangelo Corelli, one of the most influential composers of the baroque. Special appearances by vocal soloists from 2013 dell'Arte Opera Ensemble casts, including Anna Farysej, Noelle McMurtry, Nacole Palmer and Briana Sakomoto

singers from dell'Arte Opera Ensemble.





August 19, 2013, 7:30pm


The East Thirteenth Street Theatre, NYC
136 East 13th Street

$20 General Admission, $10 Student/Senior

Advance sale tickets available online
dell'Arte Opera Ensemble
2013 Tenth Anniversary Season: Smoldering in Rome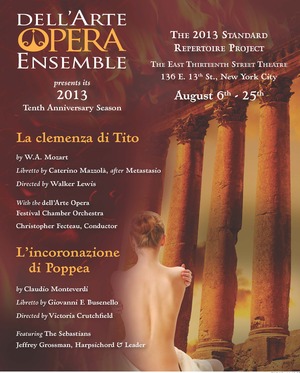 In addition to the special concert noted above, the ​The Sebastians ensemble will be accompanying six performances by the dell'Arte Opera Ensemble of Monteverdi's L'incoronazione di Poppea with harpsichord, two lutes/theorbos, baroque harp, two violins and cello. Join the dell'Arte Opera Ensemble for 7 performances of Mozart's La clemenza di Tito and and evening of "arias to die for."

L'incoronazione di Poppea


by Claudio Monteverdi




August 15, 17, 20, 21 and 23 at 8 pm




and August 25 at 3 pm



La clemenza di Tito, by W.A. Mozart
August 10, 14, 16, 22, 24 at 8 pm
and August 11 and 18 at 3 pm

"Arias to Die For"


August 6 at 8 pm.



PLUS the special concert on August 19th at 7:30 pm with The Sebastian (see listing above).

All performances at the East Thirteenth Street Theatre, 136 East 13th Street, New York, NY 10003.

TICKETS:

For Poppea:
$30 General Admission, $20 Students/Seniors tickets
online and at the door

For Clemenza:
$30 General Admission, $20 Students/Seniors tickets
online and at the door

For Arias to Die For: $15 at the door only

For the joint concert with The Sebastians on August 19:
$20 General Admission, $10 Students/Seniors
online on August 19:

For more information, visit the dell'Arte website or contact Karen Rich by email
[Back to the top]

Midtown Concerts
Thursdays at 1:15 pm
October 10, 2013 through June 12, 2014
Chapel at St. Bartholomew's Church
325 Park Avenue at 51st Street
Manhattan

Full schedule coming soon!