In This Issue

♦ What's New at GEMS...

♦ Event Listings
♦ Big Apple Baroque
♦ Play of Daniel
♦ APAP Showcase
♦ Sonnambula
♦ Rasputina
♦ Nell Snaidas & Daniel Swenberg
♦ Musica Nuova
♦ Parthenia
♦ L'Orchestre des Portes Rouges
♦ Jordi Savall

♦ Midtown Concerts
♦ Other events
Useful Links


Disabled Access Info

Find out how to include your event in Notes on the Scene

Find us on the web...




What's New at GEMS...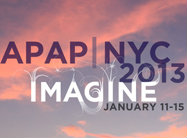 Support the Home Team!
Join us for three hours of wonderful music on Saturday, January 12, 7-10 pm for our sixth annual APAP showcase at Fifth Avenue Presbyterian's beautiful chapel, 7 West 55th Street. GEMS produces this concert in conjunction with the Association of Performing Arts Presenters (APAP) national conference in New York. Our goal is to promote New York-based early music ensembles to secure touring engagements with presenters from around the country attending the conference. Hear six of the City's best ensembles (see listing below) performing 20-minute sets for a voluntary donation of only $20 total (or more if you can!). Your favorite groups need your presence to fill the hall, thereby demonstrating to visiting presenters from the hinterlands that New York City groups are indeed crowd-pleasers!

Last week we received news that an Anonymous donor has offered GEMS a $10,000 year-end challenge grant through the Rockefeller Philanthropy Advisors fund. The money is ours if we can raise a matching amount within the next 60 days. We're off to a good start... Please click here to help!


Housing needed
We received the following note from Robert Mealy, Artistic Director of Juilliard's historical performance program:

"One of our students is seeking a room for the spring. He's in a difficult situation, since he's discovered he will have to be out of his current sublet on January 15. His name is Patrick Jones; he's a talented and very friendly harpsichordist (an Oberlin graduate). Any leads you might have for low-cost (or free, in exchange for services) housing would be very much appreciated."

Please contact Mr. Mealy directly via email if you can offer a space or more information.
[Back to the top]
Event Listings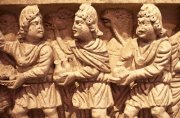 Big Apple Baroque
Music fit for a King: A Concert for Epiphany
Come and hear Big Apple Baroque celebrate the new year!

Tuesday, January 8 at 8 pm Tickets: $20 suggested donation in aid of homeless projects in the parish of Calvary/St George
Calvary Church, Park Avenue South at 21st Street, Manhattan

Click here for full details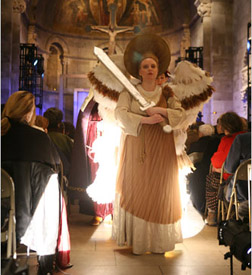 Concerts at The Cloisters presents
The Play of Daniel
Mary Anne Ballard and Drew Minter, directors
A return engagment for the 12th-century play of the story of Daniel in the lion's den. Sung entirely in Latin, the GEMS production includes dance and performances by many of New York's finest period instrumentalists and singers.

Friday, Saturday, Sunday, January 11-13 and January 18-20
1 pm and 3 pm Tickets: $75
The Cloisters Museum and Gardens, a branch of The Metropolitan Museum of Art, Fort Tryon Park, Manhattan

Click here for full details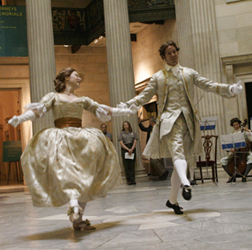 APAP Showcase
A gala showcase featuring Repast, New York Baroque Dance Company, ALBA, Parthenia, Asteria, and East of the River
Produced by GEMS Live!, in association with APAP, the premiere gathering of arts presenters in the nation.



Saturday, January 12, 7-10 pm Tickets: $20 at the door
Fifth Avenue Presbyterian Church (Chapel), 7 West 55th Street, Manhattan

Click here for full details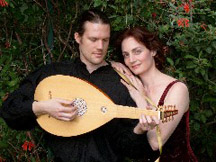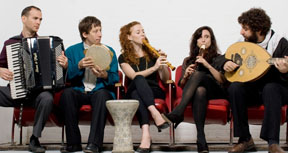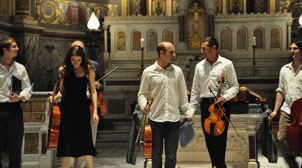 Sonnambula & The Buxtehude Consort
Music of the German Baroque:
Dietrich Buxtehude and his Contemporaries
with Virginia Warnken, mezzo-soprano & Dutch organ virtuoso Liga Vilmane

Saturday, January 12 at 8 pm Tickets: $10-$25
Church of St. Luke in the Fields, 487 Hudson Street at Grove Street, Manhattan

Click here for full details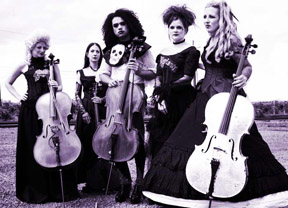 Rasputina
Fa La La: the Bastardy of Shakespeare's Madrigals
30 minutes of madrigal madness
Special preview recital for APAP 2013

Saturday, January 12 at 9 pm Tickets: $25
Stage 48, 605 West 48th Street at 11th Avenue, Manhattan

Click here for full details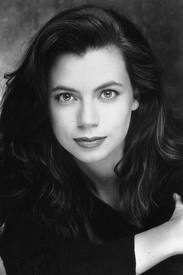 Five Boroughs Music Festival presents
Nell Snaidas, soprano, Daniel Swenberg, guitar,
Krista Bennion Feeney, violin, & Jesse Blumberg, baritone
Wörter mit Freunden: An 1820s Serenade
A Liederabend of Schubert and his contemporaries

Sunday, January 13 at 2 pm Tickets: $15-$25
An Beal Bocht Café, 445 West 238th Street, Bronx

Tuesday, January 15 at 8 pm Tickets: $15-$25
South Oxford Space, 138 South Oxford Street, Brooklyn

Click here for full details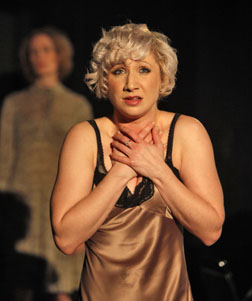 Musica Nuova
The Arianna Project
Three settings of the Greek myth of Theseus abandoning his lover Ariadne on the island of Naxos, by Monteverdi, Scarlatti, and Haydn.
A new production by Beth Greenberg with lighting by Tess James, acclaimed singers Marcy Richardson, Maeve Höglund, and Amanda Keil, and a baroque ensemble.

Monday, January 14 at 7:30 pm (doors at 6:30) Tickets: $20-$25
(Le) Poisson Rouge, 158 Bleecker Street (between Sullivan and Thompson Streets), Manhattan

Click here for full details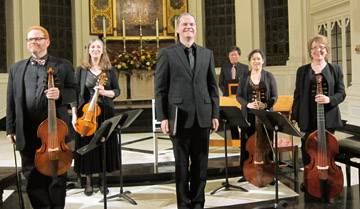 A special fundraising concert


Parthenia


The Flaming Fire: Royal Music from 16th and 17th century Tudor and Stuart Courts
Ryland Angel, countertenor
Dongsok Shin, virginal

Tuesday, January 15 at 8 pm
Tickets: $25 suggested donation
Funds raised will go to the American Red Cross for New York metropolitan-area storm relief
Church of St. Luke in the Fields, 487 Hudson Street at Grove Street, Manhattan

Click here for full details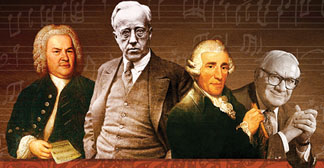 L'Orchestre des Portes Rouges
Music by Holst, Bach, Haydn, and Argento
Stephen Simon, conductor
Featuring Diane Lesser, oboe, Sato Moughalian, flute, William Meredith, English Horn, and Jorge Avila, violin

Tuesday, January 22 at 7:30 pm Tickets: $15-$25
Church of the Resurrection, 119 East 74th Street (between Park and Lexington Avenues), Manhattan

Click here for full details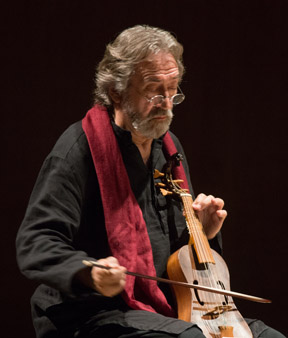 The Metropolitan Museum of Art presents


Jordi Savall


Ludi Musici: An Exploration of the Creation of the Modern Orchestra
Music by Johann Hermann Schein, William Brade, Samuel Scheidt, and Johann Rosenmuller



Friday, January 25 at 7 pm

Tickets: $90
Vélez Blanco Patio, The Metropolitan Museum of Art, 1000 Fifth Avenue at 82nd Street, Manhattan

Click here for full details
[Back to the top]

Midtown Concerts


Thursdays at 1:15 pm


Saint Peter's Church
619 Lexington Avenue at 54th Street (entrance on 54th Street)
Manhattan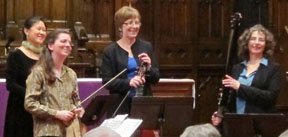 January 10 - Lyra Consort
Vita Wallace, violin
Beverly Au, lyra viol
Lisa Terry, viol
The Little Consorts Part II: English Chamber Works with Lyra and Division Viol
The Lyra Consort specializes in performing rarely-heard pieces featuring the lyra viol – a highly unique and haunting style of Renaissance viol music similar in many ways to lute music, but played with a bow for a sustained chordal sound and offering unusually rich and resonant tonal colors, often using originally composed scordatura tunings. In its fourth season, the ensemble completes the cycle of Christopher Simpson's Little Consorts for violin, lyra viol (in high harpway tuning) and continuo, Schop's beautiful divisions on the Lachrymae tune, and other music for lyra viol.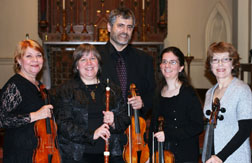 January 17 - The Dryden Ensemble
Jane McKinley, classical oboe
Vita Wallace, violin
Andreas Andros, viola
Lisa Terry, violoncello
Dongsok Shin, fortepiano
Mozart's Birthday
Movements from two works by Mozart: the Piano Quartet in E-flat Major and Schwenke's eighteenth-century arrangement of the 'Gran Partita' for oboe, strings, and fortepiano. The ensemble is named in honor of John Dryden, the English poet laureate whose words inspired Purcell and Handel.
Other Upcoming Events... (click on the date for more info)

Thursday, January 3 at 7:30 pm - Green Mountain Project, Church of St. Mary the Virgin, NYC
Sunday, January 6 at 4 pm - Melodeon, Church of the Epiphay, NYC