In This Issue

♦ What's New

♦ Of Special Interest

♦ Event Listings

♦ Choir of St. Luke in the Fields
♦ Angelica
♦ Western Wind

♦ Other events
Useful Links


Disabled Access Info

Find out how to include your event in Notes on the Scene

Find us on the web...





What's New at GEMS...

At this busy time of year, we offer this "Special Edition" with updates in the events listings below, as well as reminders of the many early music programs available to you this month.




Our total for the challenge grant match as of today is $16,780.

We need only $3,220 to meet our goal. If you haven't already made a contribution, we hope you will consider GEMS in your year-end philanthropy. Click the magic link !
Of Special Interest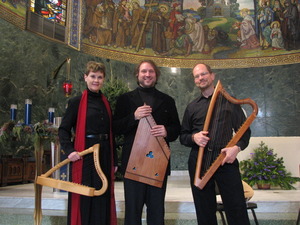 One of the best antidotes to the incessant Christmas "muzak" is a first-rate program of medieval music.

This season, you can hear one of the world's premier medieval ensembles, TREFOIL-- Drew Minter, Marcia Young, and Mark Rimple accompanying themselves on harps and psaltery-- performing eloquent music from 14th-century Italy. Salon Sanctuary Concerts, Saturday, December 10, at 8pm, at Church of the Epiphany, 74th Street at First Avenue. Click here for more info and tickets.


For a concert of joyous music celebrating both the Jewish and Christian holidays, visit Bargemusic in Brooklyn on December 17 at 8 pm for The Western Wind's program "Holiday Light." The venerable New York a cappella ensemble also performs on December 23rd at the Church of St. Paul and St. Andrew on Manhattan's Upper West Side.
[Back to the top]
Event Listings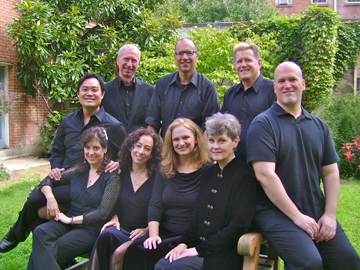 Choir of St. Luke in the Fields
Christmas in Iberia
Victoria's sublime Missa O magnum mysterium and 12-voice responsories for Christmas by Juan Bautista Comes along with motets, hymns and villancicos for the Christmas season.

Thursday, December 8 at 8 pm (lecture at 7 pm)
Tickets: $25-$35
Church of St. Luke in the Fields
487 Hudson Street, Manhattan



Click here for full details
Angelica


A Carol for to Sing
A program of medieval, traditional and contemporary carols, featuring
Benjamin Britten's A Ceremony of Carols.

Guest Artist: Lisa Tannebaum, harp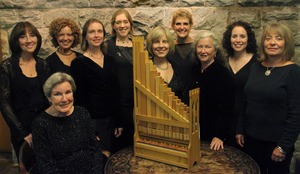 Saturday, December 10 at 7:30 pm
Suggested Donation: $10-20
South Presbyterian Church, 343 Broadway,
Dobbs Ferry, NY

Wednesrday, December 14 at 12 noon
Free (abbreviated program)
Grace Church, 33 Church Street, White Plains, NY

Sunday, December 18 at 3 pm
Suggested Donation: $10-$20
Church of St. Vincent Ferrer, 869 Lexington Ave. at E. 66th St., Manhattan

Click here for full details
The Western Wind
Holiday Light: Joyous Music for the Holidays
Enjoy both Chanukkah and Christmas music in a program including medieval carols, Sephardic Songs, Renaissance polyphony, festive folk songs from Yiddish, Hebrew and Appalachian folk traditions as well as some contemporary holiday music.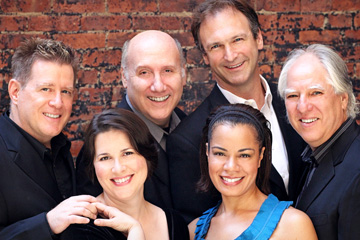 Saturday, December 17 at 8 pm
Tickets: $40 ($35 Senior, $15 Student)
"There and Then" Series
Bargemusic, Fulton Ferry Landing, Brooklyn

Click here for full details

AND

Singing Angels, Silver Bells
Guest artist: Patricia Davis, violin

Medieval, Renaissance, Early American and

c

ontemporary Christmas Songs by Dennis, Harris, Levine, Morgan, and Rutter, and holiday reflections featuring K. Karpen, narrator and author.

Friday, December 23 at 8 pm
Tickets: $5-$100
The Church of St. Paul and St. Andrew, West End Avenue at 86th Street, Manhattan



Click here for full details
Other Upcoming Events... (click on the date for more info)

Tuesday, December 6 at 7:30 - Joan Lippincott, Organ Virtuoso, Holy Trinity Lutheran Church, NYC
Saturday, December 10 at 4 pm - Brooklyn Baroque, Morris-Jumel Mansion, NYC
Saturday, December 10 at 8 pm - Trefoil, Church of the Epiphany, NYC
Saturday, December 10 at 8 pm - Yasuko Mitsui in Recital, Weill Recital Hall, NYC
Sunday, December 11 at 3 pm - Trinity Choir and Baroque Orchestra, Trinity Church, NYC
Monday, December 12 at 7:30 pm - Trinity Choir and Baroque Orchestra, Trinity Church, NYC
Friday, December 16 at 8 pm - Canticum Novum, St. Ignatius of Antioch Episcopal Church, NYC
Saturday, December 17 at 8 pm - Canticum Novum, St. Ignatius of Antioch Episcopal Church, NYC
Saturday, December 17 at 8 pm - "More Between Heaven and Earth," Abigail Adams Smith Auditorium, NYC
Monday, December 19 at 7:30 pm - Trinity Choir and Baroque Orchestra, Alice Tully Hall, NYC
Tuesday, December 20 at 8 pm - Musica Sacra, Carnegie Hall, NYC
Wednesday, December 21 at 8 pm - Musica Sacra, Carnegie Hall, NYC
Tuesday, December 27 at 8 pm - Ryland Angel & The Sebastian Chamber Players, Trinity Church, NYC
Wednesday, December 28 at 8 pm - "The Theatre of Early Music", Trinity Church, NYC
Friday, December 30 at 7 pm - TENET, Trinity Church, NYC
Saturday, December 31 at 8 pm: Trinity Choir's NEW YEAR'S EVE GALA, St. Paul's Chapel, NYC