In This Issue

♦ What's New

♦ Of Special Interest

♦ Event Listings
♦ EMA Baroque Performance Competition
♦ Abendmusik
♦ ARTEK
♦ Blue Heron
♦ El Mundo
♦ BREVE
♦ Dodd String Quartet
♦ Gensinger Quartet
♦ Repast
♦ The Frick Collection
♦ Opera Lafayette

♦ Midtown Concerts
♦ Other events
Useful Links


Disabled Access Info

Find out how to include your event in Notes on the Scene

Like us, follow us, watch us...



The Art and Ecstasy of the Chaconne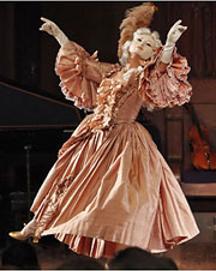 Tonight is the launch of our Fifth Anniversary celebrations!

We still have some seats available for the concert and we hope you'll join us (if you don't have tickets already). Tickets go on sale at the Society for Ethical Culture at 6:45 pm and the concert begins at 7:30. If you've been wondering what's so great about the chaconne, you'll enjoy listening to the Fishko Files from today's Morning Edition on WNYC. Sara Fishko's 7-minute report provides a preview of some of the music on tonight's program, as well as some history about the chaconne as a form of both music and dance.

Midtown Concerts

Please check out the new Midtown Concerts section of our newsletter, just below all the other listings. The new season starts next Thursday at Saint Peter's Church on Lexington Avenue and 54th Street, and will continue every week until the middle of June. Please spread the word to folks who are in the midtown area on Thursdays. The 35 minute concerts are free and open to the public.
Of Special Interest
The string quartet has been a staple of chamber music concert series for decades, and one thinks of the venerable Juilliard, Guarneri, and other "household names" as the prime interpreters. But there has been growing interest in hearing what the great quartet repertoire sounds like when played on the instruments for which the pieces were written and in informed period style. This month you have TWO opportunities to enjoy this fresh approach: the Dodd String Quartet surveys Mozart on October 16, and the Genzinger neatly places the Mozart in context on October 21st with quartets by Haydn and Beethoven. Attend one or both performances to round out your knowledge and appreciation of masterpieces of this extraordinary genre.
[Back to the top]
Event Listings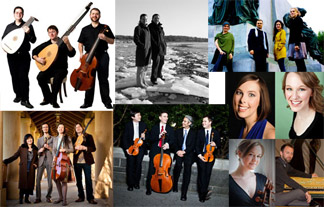 GEMS presents
Early Music America's Baroque Performance Competition
Agave Baroque, Ostraka, The Sebastians, Pallade Musica, Les Sirènes, and Zweikampf

Wednesday, October 10 at 7 pm
Tickets: $10-$20
Corpus Christi Church, 529 West 121st Street (between Broadway and Amsterdam), Manhattan

Click here for full details
The Vassar Club presents
Abendmusik
Orations and Libations
Aus der tiefe (Out of the depths) - Germany finds its voice during the Thirty Year's War

Thursday, October 11 at 8 pm Tickets: $10-$15
The Montauk Club: Historic Ballroom, 25 Eighth Avenue at Lincoln Place, Brooklyn, NY

Email for more info and reservations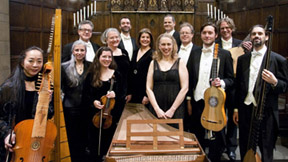 ARTEK
Laudate Dominum:
Music from Monteverdi's Selva Morale, Venice, 1641

Friday, October 12 at 8 pm Tickets: $10-$40
St. Ignatius of Antioch Episcopal Church, 552 West End Avenue at West 87th Street, Manhattan

Click here for full details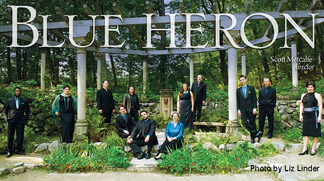 Blue Heron
Scott Metcalfe, director
North American premiere of the Missa Inclina cor meum by Nicholas Ludford and the modern world premiere of John Mason's Ave fuit prima salus.

Sunday, October 14 at 4 pm Tickets: $10-$40
St. Ignatius of Antioch Episcopal Church, 552 West End Avenue at West 87th Street, Manhattan

Click here for full details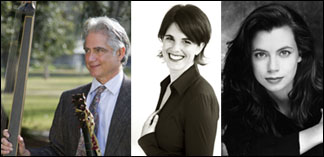 Music Before 1800 presents
El Mundo
The Kingdoms of Castille:
Spanish, Italian, and Latin American Music

Sunday, October 14 at 4 pm Tickets: $10-$45
$10 student rush tickets at the door
Corpus Christi Church, 529 West 121st Street between Broadway & Amsterdam Avenue, Manhattan

Click here for full details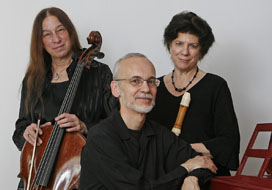 BREVE
Conversations
Baroque Sonatas from Italy, France, & Germany
Works by Dario Castello, Jacque-Martin Hotteterre, Georg Philipp Telemann, and Francesco Mancini
A celebration of Breve's new recording, Conversations.

Sunday, October 14 at 6 pm
Tickets: Free with suggested donation to museum
Roerich Museum, 319 West 107 Street (between West End Avenue and Riverside Drive), Manhattan

Click here for full details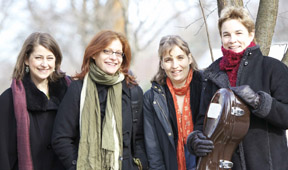 The Dodd String Quartet
Mozart chamber music for strings
A program that runs the gamut, from an early string quartet (K.173) to the late great G minor viola quintet (K.516).

Tuesday, October 16 at 8pm Tickets: Free
Christ and St. Stephen's Episcopal Church, 120 West 69th Street, Manhattan

Click here for full details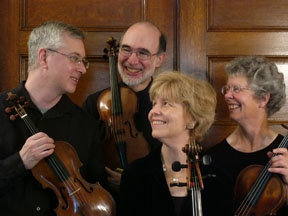 The Genzinger String Quartet
Haydn, Op. 54 #3 and Op. 55 #2
Beethoven, Op. 18 #1

Sunday, October 21 at 8 pm Tickets: $20
The Players Theatre, 115 MacDougal Street, Manhattan

Click here for full details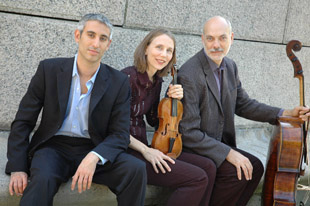 Repast Baroque Ensemble
Naked in the River
Soprano Laurie Heimes and violinist Claire Jolivet join Repast in a program of chamber music and songs addressed to the listener's most secret longings and fears.

Friday, October 26 at 8 pm Tickets: $12-$25
Baruch Performing Arts Center, 55 Lexington Avenue at East 25th Street, Manhattan

Click here for full details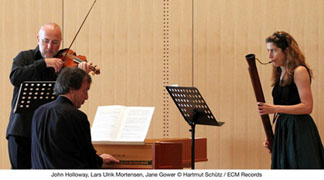 The Frick Collection presents
John Holloway, violin
Jane Gower, dulcian
Lars Ulrich Mortensen, harpsichord
German and Italian music from the 17th century

Sunday, October 28 at 5 pm Tickets: $30-$35
The Frick Collection, 1 East 70th Street (between Madison and Fifth Avenues), Manhattan

Click here for full details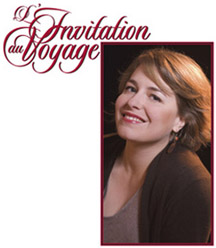 Opera Lafayette
L'Invitation au Voyage
Emmanuelle de Negri, soprano
Susan Manof, piano
Ryan Brown, violin
Colin St. Martin, flute
Loretta O'Sullivan, violoncello
Andrew Appel, harpsichord
Scott Pauley, theorbo
Works by Le Camus, Charpentier, Lambert, de la Guerre, Campra, Faure, Duparc and Debussy

Friday, November 2 at 8 pm Tickets: $25-$50
Weill Recital Hall at Carnegie Hall, 881 7th Avenue (at 57th Street)

Click here for full details Click here for tickets
[Back to the top]

Midtown Concerts


Thursdays at 1:15 pm


Saint Peter's Church
619 Lexington Avenue at 54th Street, Manhattan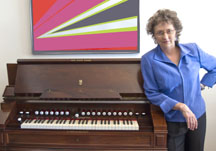 October 11 - Artis Wodehouse, harmonium
19th Century Gems from the Mustel Harmonium
Ms. Wodehouse plays rarely-heard original music composed for the harmonium, a foot-pumped keyboard instrument invented in France during the early 19th century. It combines the coloristic capabilities of the pipe organ with the dynamic expressivity of the piano. 19th-century French composers recognized the exciting potential of the then-new instrument, and created a unique repertoire for it.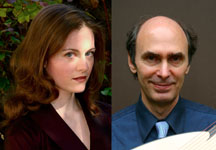 October 18 - Tracy Cowart and Richard Kolb
Roman Voices: Arias and Cantatas from Mid-17th Century Rome
Although there is little known about them today, Antonio Francesco Tenaglia and Carlo Caproli were among the elite composers of the 17th century. Their arias and cantatas, composed for exclusive private musical gatherings in the magnificent palaces of the wealthiest Roman aristocrats, combine the flowing melodic lines of the newly emerging "bel canto" with the dramatic expressiveness of the age of Monteverdi.
Other Upcoming Events... (click on the date for more info)

Monday, October 8 at 7 pm - Vilas Baroque, Most Holy Redeemer Parish, NYC
Sunday, October 14, 12pm to 5:30pm - 8th Annual Guild for Early Music, Grounds For Sculpture, Hamilton, NJ
Sunday, October 28 at 4 pm - Europa Galante, Corpus Christi Church, NYC
Sunday, October 28 at 5 pm - Musica Viva of New York, All Souls Church, NYC
Friday, November 9 at 7 pm - GEMAS – Early Music of the Americas inaugural concert with Paul O'Dette, Americas Society, NYC
Friday, December 14 at 8 pm - Canticum Novum, The Church of Saint Jean Baptiste, NYC
Thursday, December 27 at 7:30 pm - Parthenia with Julianne Baird, Trinity Church, NYC
Saturday, December 29 at 3 pm - A Christmas Concert for all Ages with Sinfonia New York, Trinity Church, NYC
January 11-13 and 18-20, 2013 at 1 pm and 3 pm, The Play of Daniel, The Cloisters, NYC