Published 1st and 3rd Thursdays of every month to over 6,500 subscribers. ♦ Naomi Morse, Editor
Gotham Early Music Scene, Inc., New York, New York ♦ October 4, 2013
In This Issue

♦ Event Listings
♦ ALBA
♦ SIREN Baroque
♦ Matt Haimovitz

Useful Links


Disabled Access Info

Find out how to include your event in Notes on the Scene

Find us on the web...




Extra Edition!

Mae West had it right when she said "Too much of a good thing can be wonderful!" Here we have three more outstanding events coming up soon.

We're happy to promote Trinity Wall Street Church's festival celebrating the Benjamin Britten centenary, even though some might consider the works of a 20th-century composer outside the traditional definition of "early music." But, in fact, much of our movement is about fresh looks at composers' intentions in the spirit of open inquiry, which is what Trinity is doing in its comprehensive survey.
Event Listings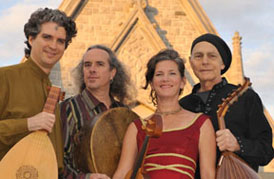 Brooklyn Public Library's Classical Interludes presents
ALBA
Songs of Ancient Mediterranean and European Cultures

Sunday, October 6 at 4 pm Tickets: FREE
Brooklyn Central Library, Dweck Center,

10 Grand Army Plaza,

Brooklyn

Click here for full details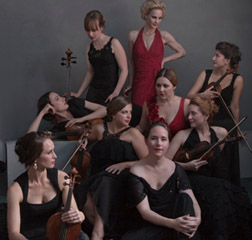 SIREN Baroque
Fyer, Fyer!
The first of four concerts exploring the ancient elements, in a special collaboration with the innovative baroque-burlesque dancers Laura Careless and Marisol Cabrera.

Monday, October 7 at 8 pm Tickets: $10-$20
The Gershwin Hotel, 7 East 27th Street, Manhattan

Click here for full details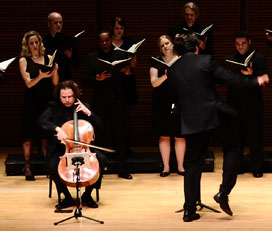 In honor of Benjamin Britten's 100th birthday, Trinity Wall Street presents nearly 100 works in more than 50 events from September through January. Full schedule here



Concerts at One featuring Matt Haimovitz


Renowned cellist Matt Haimovitz performs solo and accompanied works for cello with Julian Wachner, Director of Music and the Arts at Trinity Wall Street. Works include John Taverner's Chant and Franz Schubert's Arpeggio Rostropovich. Featured on the program is Suite for Solo Cello No. 3 by Benjamin Britten.

Thursday, October 17 at 1 pm Tickets: FREE
Trinity Church, 79 Broadway (at Wall Street), Manhattan

Click here for full details
Other Upcoming Events...
(click on the date for more info)
Friday, October 4
at 8 pm -
Brooklyn Baroque
, Church of St. Luke in the Fields, NYC
Monday, October 7
at 7:30 pm -
New York Baroque Incorporated
, (le) poisson rouge, NYC
Wednesday, October 9
at 8 pm -
Repast Baroque Ensemble
, Baruch Performing Arts Center, NYC
Thursday, October 10
at 8 pm -
New York Baroque Incorporated
, The National Arts Club, NYC
Saturday, October 12
at 7 pm -
TENET
, Tenri Cultural Institute, NYC
Saturday, October 12
at 8 pm -
Polyhymnia
, St. Ignatius of Antioch Episcopal Church, NYC
Thursday, October 24
at 8 pm -
The Choir of St. Luke in the Fields
, Church of St. Luke in the Fields, NYC
Friday, December 27
at 8 pm -
The Play of Daniel
, Trinity Wall Street, NYC
Saturday, December 28
at 3 pm -
The Play of Daniel
, Trinity Wall Street, NYC
Sunday, December 29
at 3 pm -
The Play of Daniel
, Trinity Wall Street, NYC
[Back to the top]