Published 1st and 3rd Thursdays of every month to over 6,300 subscribers. ♦ Naomi Morse, Editor
Gotham Early Music Scene, Inc., New York, New York ♦ July 19, 2012
In This Issue

♦ What's New

♦ Event Listings
♦ ALBA
♦ Other events
Useful Links


Disabled Access Info

Find out how to include your event in Notes on the Scene

Find us on the web...



What's New at GEMS...



Once again, GEMS has joined The Recording Academy, the organization that sponsors the annual Grammy® awards. We do this so that early music ensembles who have independently produced outstanding recordings may submit them, through us, for consideration for one of these prestigious awards. Any recording produced between October 1, 2011 and September 30, 2012 is eligible for consideration. Nominations are being accepted during the month of August.




So far this year, we will be nominating Asteria's 4th album, For the Love of Jaqueline, which tracks the highs and lows of a real medieval romance through the sumptuous music of Antoine Busnoys (1430-1492). The music was newly transcribed and arranged by Asteria directly from the Dijon chansonnier and recorded at the 14th-century Burgundian palace of Germolles. The album is available for purchase through the GEMS online CD store.

If you know of other early music recordings of exceptional quality released within the timeframe noted above which should be nominated, please let us know!
[Back to the top]
Event Listings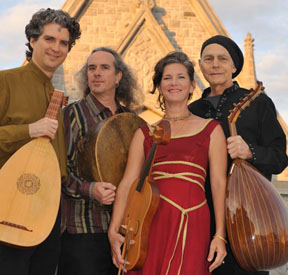 Bargemusic's There and Then Series presents
ALBA
Journey the Ancient Seas! Music of Early Spain and beyond...
Haunting melodies and dynamic rhythms of the Iberian peninsula as well as music from its Middle-Eastern and European neighbors

Saturday, August 4 at 8 pm Tickets: $15-$35
Bargemusic, Fulton Ferry Landing (near the Brooklyn Bridge), Manhattan

Click here for full details
[Back to the top]
Other Upcoming Events... (click on the date for more info)

Thursday, October 4 at 7:30 pm - Sinfonia New York and GEMS Fifth Anniversary Gala, New York
Society for Ethical Culture, NYC. Concert, reception, and presentation of the GEMINI awards to Michael and Kay Jaffee.

SAVE THE DATES
Fall/Winter, 2012 - more GEMS Fifth Anniversary events