Published 1st and 3rd Thursdays of every month to over 6,300 subscribers. ♦ Naomi Morse, Editor
Gotham Early Music Scene, Inc., New York, New York ♦ June 21, 2012
In This Issue

♦ What's New

♦ Event Listings
♦ Highlights of the Queens College Baroque Opera Workshop
♦ Other events
Useful Links


Disabled Access Info

Find out how to include your event in Notes on the Scene

Find us on the web...




The Sinfonia Players concert TONIGHT has been postponed due to a medical emergency
(though hospitalized, our stricken artist is out of danger and was released earlier today for recuperation). It is being rescheduled for a date in the fall. Stay tuned!

We are producing a special 5th anniversary edition of the GEMS Project 2012. This year the Project will comprise Sinfonia New York's "Art & Ecstasy of the Chaconne" with GEMS Gala Reception on October 4th, and a concert showcasing the 6 finalists in Early Music America's new Baroque Performance Competition. GEMS will be presenting EMA's competition concert at Corpus Christi Church (home of the venerable Music Before 1800 series) on October 10th at 7:00pm. The finalists are Agave Baroque, Ostraka, Pallade Musica, The Sebastians, Les Sirènes, and Zweikampf. More information about the competition is on EMA's website.



You won't want to miss hearing the seasoned pros on October 4th, and the hotshot emerging ensembles on the 10th. Visit our 5th Anniversary page for information and tickets to all events, including special discount subscription packages (coming soon!).

In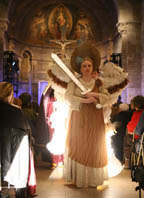 addition, we have confirmed more details about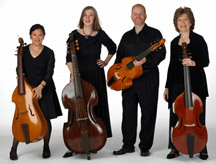 our other celebratory 5th Anniversary events. As part of Trinity Church's "Twelfth Night Festival", Parthenia will perform their As it Fell on a Holie Eve Christmas program on December 27 at 7:30 pm, and The Sinfonia Players will present A Christmas Concert for all Ages on December 29 at 3:00 pm. And last, but definitely not least, we are producing a 12 show run of The Play of Daniel at The Cloisters in January 2013. Full details here.
Event Listings
Highlights of the Queens College Baroque Opera Workshop
Orfeo by Luigi Rossi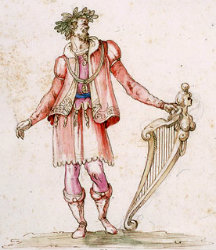 Excerpts from Rossi's three-act opera first performed in Paris (1647)
Christa Patton, music director
David Ronis, Ellen Hargis, Antonio Fava, stage directors
Dongmyung Ahn, string director
Saturday, June 23 at 1 pm Admission: $15 donation



Lecture with Emily Wilbourne


Penelope, Poppea, and the stock characters of the commedia dell'arte
Performance conventions and charactological prototypes of the commedia tradition as represented in the familiar figures from Monteverdi's late operas.
Thursday, June 21 at 8 pm Admission: Free

Both events at: Aaron Copland School of Music, Room 203, Queens College C.U.N.Y., 65-30 Kissena Blvd., Flushing, Queens

Click here for full details or call 718-997-3800
[Back to the top]
Other Upcoming Events... (click on the date for more info)

Thursday, June 21 at 8 pm - POSTPONED - The Sinfonia Players, Park Avenue Christian Church, NYC

SAVE THE DATES

Thursday, October 4 at 7:30 pm - Sinfonia New York and GEMS Fifth Anniversary
Gala, New York Society for Ethical Culture, NYC

Fall, 2012 - GEMS Fifth Anniversary events