In This Issue

♦ What's New

♦ Of Special Interest

♦ Event Listings
♦ Musica Nuova
♦ Sinfonia Players with Rufus Müller
♦ Rufus Müller
♦ The Queen's Chamber Band
♦ Blue Heron
♦ Melodeon
♦ Tallis Scholars
♦ The Teares of the Muses
♦ Choir of Madison Avenue Presbyterian Church
♦ Trinity Choir
♦ Kristin Olson
♦ Sebastian Chamber Players
♦ Other events
Useful Links


Disabled Access Info

Find out how to include your event in Notes on the Scene

Find us on the web...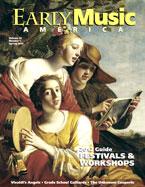 Special Offer for Notes on the Scene Readers from Early Music America!

GEMS supporters can now subscribe to Early Music America magazine at the discounted price of $18/year (regular price $24). The only magazine that covers the early music scene in North America, Early Music America is full of articles on instruments and their makers, the latest trends in performance practice, interviews with early music stars, SoundBytes (who 's doing what and where), recording reviews, and book reviews. Click here to subscribe at the discounted rate. Enter discount code GEMS.

A Project Worth Supporting...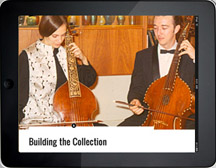 Music Word Media (Hudson, NY) is raising funds to design, edit, and publish a 200+ page large-format hardcover catalogue of Cathy and Jim Caldwell's superb and historically-important collection of viols. Cathy and the late Jim Caldwell are well known to early music lovers as founders of Oberlin's Baroque Performance Institute as well as for their instrument collection. This handsomely-illustrated catalogue contains essays on the eighteen makers represented, as well as a description of each instrument. Alongside hundreds of photos, Catharina Meints Caldwell also demonstrates each instrument in music and discusses its musical qualities. The book is a memoir as well as a catalogue, and most of all it is Mrs. Caldwell's storytelling that makes reading it a pleasure. The publisher is raising funds to produce the print publication at an affordable price and to produce it as an iPad app. View their Kickstarter page for more information and to support the project before March 29.

GEMS Fifth Anniversary Celebrations - SAVE THE DATES!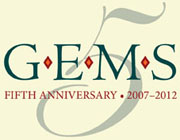 Mark your calendar for Thursday, October 4 at 7:30, when Sinfonia New York offers "The Art & Ecstasy of the Chaconne" at the Society for Ethical Culture on West 64th Street. This show surveys the development of the chaconne from its origins as a lascivious Renaissance street dance to its apotheosis in Bach's Partita in D minor for solo violin. Featuring instruments, singers, and dancers, the show sold out in 2009 and received enthusiastic reviews from The New York Times and all who attended. A gala reception will follow.

GEMS will be collaborating with Trinity Wall Street Church to present celebratory concerts during their "Twelfth Night Festival" between December 26 and January 6. Our offerings will complement their annual production of Bach's Christmas Oratorio and Green Mountain Project's Vespers.

Watch our website and this newsletter over the coming months for more details. Single tickets and special discount subscriptions to all the Anniversary events will be available soon.
Of Special Interest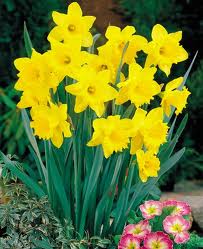 With spring in the air, our thoughts turn to youth and new beginnings. Amidst the extraordinary concerts being presented by the wealth of professional early music talent in New York, there are two performances by students worthy of your attention. Margaret Panofsky's NYU Collegium presents a program on March 30th of 17th-century German passion music as recorded on their recent CD. Then on April 3rd catch baroque oboist Kristin Olson's recital marking her graduation from the Historical Performance program at Juilliard. The concert is open to the public and free.
[Back to the top]
Event Listings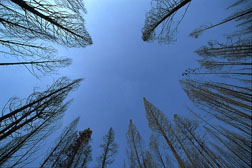 Musica Nuova
Between Heaven and Earth
Ecstatic Cima and Monteverdi sacred works, earthy Selle and Neusidler songs
Dorothy Olsson, dance and gesture; James Miller, cornetto;
Amanda Keil, mezzo-soprano; James Kennerley, tenor;
Andy Rutherford, lute; Kelly Savage, harpsichord;
Elizabeth Weinfeld, viola da gamba

Tuesday, March 20 at 8 pm Tickets: $15-$20
Church of St. Mary the Virgin, 145 West 46th Street, between 7th and 8th Avenues, Manhattan

Click here for full details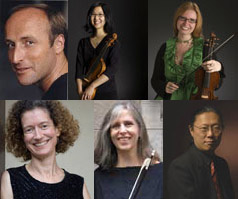 The Sinfonia Players with Rufus Müller, tenor
A Musical Feast in the Palaces of the Georgian Era
Comments and slideshow by John Kenyon Kinnear,


architect
Musical works by Purcell, Bach, Handel, Haydn, and Mozart

Wednesday, March 21 Tickets: $15-$35
doors open at 6, program at 6:30, reception at 8
Abigail Adams Smith Auditorium, 417 East 61st Street (between First and York Avenues), Manhattan
Co-sponsored with the Colonial Dames of America, the American Friends of the Georgian Group, and the St. George's Society of New York.

Click here for full details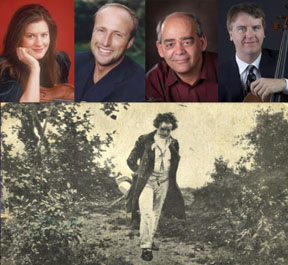 Salon/Sanctuary Concerts presents
Rufus Müller, tenor; Cynthia Roberts, violin;
Allen Whear, cello; Christoph Hammer, fortepiano
The Classical Romantic
Works of Beethoven and those who came before and after, including Haydn & Kleinheinz

Friday, March 23 at 8 pm Tickets: $15-$25
The Liederkranz Club Concert Hall, 6 East 87th Street, 3rd Floor, Manhattan

Click here for full details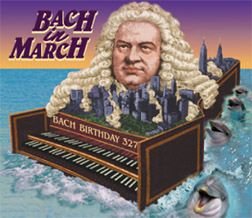 Harpsichord Unlimited presents
The Queen's Chamber Band, Choir & Soloists
Elaine Comparone, harpsichord
Bach in March
A celebration of Bach's 327th birthday

Saturday, March 24 at 8 pm Tickets: $20-$30
First Moravian Church, 154 Lexington Ave at 30th Street, Manhattan

Click here for full details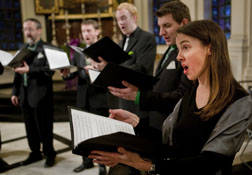 Blue Heron
Music for Three Sovereigns
A glimpse into the rich musical worlds of Holy Roman Emperor Maximilian I and his daughter Marguerite, including settings by Josquin, Mouton, and others.

Sunday, March 25 at 1 and 3 pm Tickets: $35
The Cloisters, Fort Tryon Park, 99 Margaret Corbin Drive, Manhattan
Post concert dinner with the musicians at Bleu Evolution Restaurant! $75 per person

Click here for full concert details Click here for full dinner details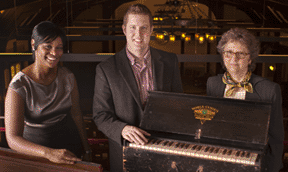 Melodeon
Vocal and Keyboard Music of 19th Century America
Artis Wodehouse, antique American keyboards
Marti Newland, soprano
George Spitzer, baritone

Sunday, March 25 at 4 pm Tickets: $15-$20
Church of the Epiphany, 1393 York Avenue at East 74th Street, Manhattan

Click here for full details
Tallis Scholars
The Field of the Cloth of Gold
Works of William Cornysh and Jean Mouton, exemplifying music that may have been performed at the 1520 summit between Henry VIII of England and Francis I of France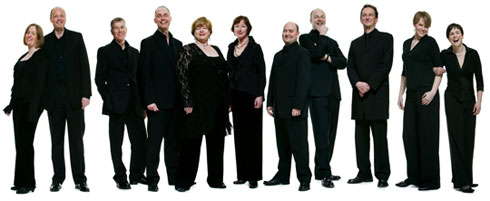 Friday, March 30 at 7:30 pm
Tickets: $15-$100
St. Bartholomew's Church, Park Avenue at 51st Street, Manhattan

Click here for full details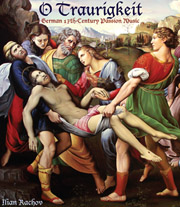 The Teares of the Muses
The New York University Collegium Viol Consort
Kathleen Cantrell and Campbell Rightmyer, Sopranos
O Traurigkeit: German 17th-Century Passion Music
A Memorial Concert for David W. Fenton

Friday, March 30 at 7:30 pm Tickets: $15-$20 suggested donation
St. Michael's Church, West 99th Street & Amsterdam Avenue, Manhattan

Click here for full details

Choir of Madison Avenue Presbyterian Church
Songs of Lamentation
Andrew Henderson, conductor
Andrew Fuchs, tenor
David Enlow, organ

Sunday, April 1 at 3 pm
Tickets: $20-$25
Madison Avenue Presbyterian Church, 921 Madison Avenue (at East 73rd Street), Manhattan

Click here for full details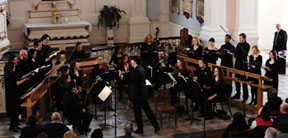 Trinity Choir and Trinity Baroque Orchestra
Passion According to St. John by J.S. Bach
Presented in its original liturgical context for a modern audience

Sunday, April 1 at 3 pm Tickets: FREE
Trinity Church, Broadway at Wall Street, Manhattan

Click here for full details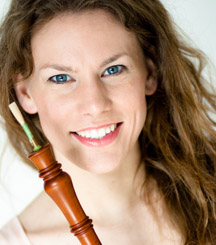 Kristin Olson
Baroque Oboe Graduation Recital
works by Bach, Boismortier, Vincent, and Janitsch, covering a vast range of styles and genres

Tuesday, April 3 at 6 pm Tickets: FREE
The Juilliard School, Paul Hall, 60 Lincoln Center Plaza, Manhattan

Click here for full details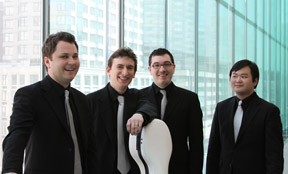 Sebastian Chamber Players
The Birth of the Classical Symphony
Featuring works by C. P. E. and J. C. Bach, Johann and Carl Stamitz, and Joseph and Michael Haydn

Saturday, April 21 at 7:30 pm Tickets: $10-$15
All Angels' Episcopal Church, 251 West 80th Street (between Broadway and West End Avenue)

Click here for full details
[Back to the top]
Other Upcoming Events... (click on the date for more info)

Thursday, March 15 at 8 pm - Music Before 1800 Hell's Kitchen, Kiya and Ziya Tabassian,
DiMenna Center, NYC
March 15-17 at 7:30 pm - L'Arpeggiata, Zankel Hall, Carnegie Hall, NYC
Saturday, March 17 at 8 pm - Choir of St. Ignatius of Antioch, St. Ignatius of Antioch Episcopal Church, NYC
Thursday, March 22 at 8 pm - Music Before 1800 Hell's Kitchen, Paul Leenhouts and Gabe Shuford,
DiMenna Center, NYC
Sunday, March 25 at 2 pm - Les Violons du Roy, Bach's St. John Passion, Stern Auditorium/Perelman
Stage, Carnegie Hall, NYC