What's New...

State of the Arts



As someone who appreciates early music and more, you are important to the future of the arts in New York State.

Like hundreds of other arts organizations in the State, GEMS is a recipient of financial support from public funds via the New York State Council on the Arts (NYSCA). Over the past months, NYSCA has begun the detailed process of long-range strategic planning (GEMS Executive Director Gene Murrow was invited to participate in one of many focus groups convened for the purpose of determining the needs of arts organizations). NYSCA now would like to hear from the general public-- people like you who partake of arts offerings in New York-- via a brief online survey. Click here to begin. It will take only 8 to 10 minutes to complete, and we encourage you to add your voice! Many states are actually eliminating their arts councils, so we are fortunate that Governor Cuomo and the State legislature continue to support ours. Thank you.

On a related topic, GEMS itself is re-shaping many of our services and procedures as well. We'll be publishing a brief survey of our own in the next couple of newsletters, and hope that you will do us the honor of participating.

The Return of "Daniel" and the Bishop's Band!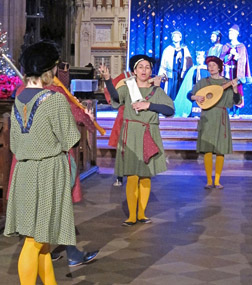 Once again Trinity Wall Street Church will be the venue for four performances of The Play of Daniel, the seminal medieval proto-opera created in the 12th century and directed by Drew Minter and Mary Anne Ballard in GEMS' production. Held during the holiday season as part of Trinity's "Twelfth Night Festival," Daniel will appear on Saturday, December 27th at 3pm and 6pm, and on Sunday, December 28th at 3pm and 6pm. New this year will be a pre-concert session featuring a professional storyteller and many of the opera's characters in costume explaining and illustrating the plot. The session is designed to encourage families to bring their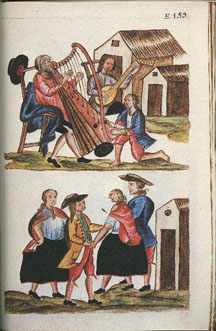 children (and anyone else not fluent in the sung Latin of medieval France!), and will begin 30 minutes before every performance.

On Monday, December 29th at 6pm, Trinity will be the venue for a repeat of the sensational "Bishop's Band" performance of 17th-century music of Peru. Last performed to a full and boisterously enthusiastic audience at the Hispanic Society, and directed by Tom Zajac and Nell Snaidas, the multi-media show illustrates the rich Spanish musical heritage in the New World with song, dance, and beautiful projections of the color illustrations found in the source Trujillo Codex (sample at right).

More information on both productions will be forthcoming. Subscribers to GEMS' new membership/subscription plan (to be announced in late summer) will enjoy preferred seating and invitations to special events.

S'Cool Sounds Update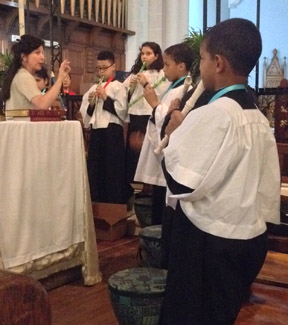 S'Cool Sounds just complete another wonderful year of teaching New York City school children.

Pictured at left is the final performance of the Washington Heights Choir School program (Loraine Enlow, director) during a recent church service. This program will be expanding next year to include students from the local community, including middle school students. Below are 2nd and 3rd graders in a final performance at the Ella Baker School - the school where the S'Cool Sounds program was first piloted and continues to blossom.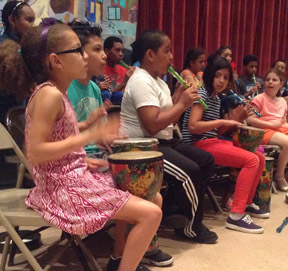 We're excited that two new schools, one in Sunset Park in Brooklyn and another on the Upper West Side of Manhattan, have engaged the program for next year.

Look for updates about our programs in Nairobi, Kenya in the next edition of Notes on the Scene.

And, if you'd like to stay up-to-date about S'Cool Sounds travels and news, please 'like' the page on Facebook. Thanks! Artistic Director Nina Stern is updating the page regularly as she travels to East Africa twice this summer.
It's the summer lull. But if you're traveling outside of the City this summer, you might find yourself close to an Early Music Festival. Here is a list of festivals still to come that we know about:
For additional summer's performances around the country and the world, check out the EMA website.