In This Issue

♦ What's New

♦ Of Special Interest

♦ Event Listings
♦ Charites
♦ Empire Viols
♦ Central City Chorus
♦ Byrd Ensemble
♦ The Royal Wind Music
♦ Melodeon


♦ Midtown Concerts
♦ Other events
Useful Links


Disabled Access Info

Find out how to include your event in Notes on the Scene

Find us on the web...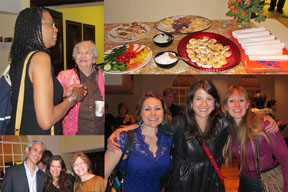 GEMS hosted a party for the musician community last night catered by our board member, Jacqueline Algon. We want to extend our thanks and congratulations to all the musicians in the New York City area for creating such a wonderful and successful season. We know it's not quite over (see below...), but we hope everyone (musicians and audience alike) has a beautiful summer.

Offer of rare books
Flutist Katharine Flanders Mukherji wrote to us with an offer: "My late father, Peter Flanders, was a choral director and Renaissance musicologist, specializing in Italian madrigals. My siblings and I are giving away our parents' books and back issues of the journals JAMS, Musical Quarterly and RILM after our mother's recent death. The most specialized are the most scholarly and do not have wide appeal even to many of our musician friends. In addition to the music books, we also have works of literature, history, foreign language dictionaries and many others. We are trying to find a worthy home for as many books as possible." If you are interested in checking out the collection, contact Katharine for an appointment at the West 94th street apartment by email.
Of Special Interest
This Saturday, Canticum Novum, under the baton of Harold Rosenbaum, will perform Mozart's Grand Mass in C Minor at the Church of Saint Jean Baptiste at 8 pm. The expanded chamber chorus will be joined by the Artemis Chamber Ensemble and soloists Heidi Grant Murphy, soprano, Jennifer Johnson Cano, mezzo-soprano, Frank Lopardo, tenor, and Clifford Derix, baritone.

Next month, there are two ensembles visiting New York from afar. The Byrd Ensemble from Seattle will perform Renaissance polyphony by William Byrd and his contemporaries on June 8 at 8 pm at the Church of St. Mary the Virgin near Times Square. And The Royal Wind Music from Amsterdam, The Netherlands make their New York debut on June 9 at 3 pm on the "Arts at the Park" series at Park Avenue Christian Church. The ensemble's 13 musicians perform on over 40 Renaissance recorders and plays the music entirely from memory and without a conductor.
[Back to the top]
Event Listings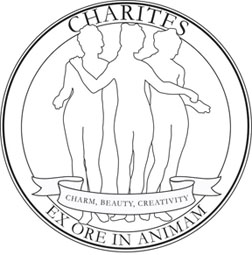 Charites
La Voce Meravigliosa:
A Concert of Baroque Music on the Art of Singing
Music by Luzzasco Luzzaschi, Claudio Monteverdi and Barbara Strozzi is interspersed with readings of ancient myths in which the human voice plays a pivotal role, including the stories of Apollo, Orpheus and Echo.

Friday, May 17 at 8 pm Tickets: $10
Zion German Evangelical Lutheran Church, 125 Henry Street, Brooklyn Heights, Brooklyn, NY

Click here for full details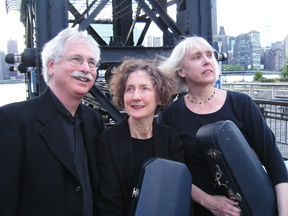 Empire Viols
Special Delivery: Music by J.S. Bach and Telemann
Bach's organ sonata BWV 525-526, in addition to Telemann's rarely heard sonata for flute, two viols, and harpsichord, and a charming duo from 'Der getreue Musikmeister.'

Friday, May 31 at 8 pm Tickets: $10 donation
Second Presbyterian Church, 96th Street & Central Park West, Manhattan

Click here for full details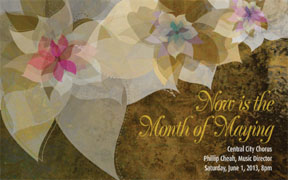 The Central City Chorus
Now Is the Month of Maying
An evening of madrigals and part-songs to celebrate spring, exploring the themes of nature and the vernal season through the centuries.
Phillip Cheah
,
Music Director
Saturday, June 1 at 8 pm Tickets: $20-$25
Saint Ignatius of Antioch Church, W. 87th St., between Broadway and West End Avenue, Manhattan

Click here for full details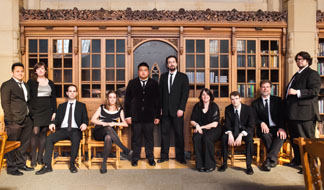 Byrd Ensemble
In the Company of William Byrd
Seattle-based ensemble returns to New York with a program of Renaissance music by Byrd and his contemporaries

Saturday, June 8 at 8 pm Tickets: $10-$20
The Church of St. Mary the Virgin, 145 West 46th Street, between 6th and 7th Avenues, Manhattan

Click here for full details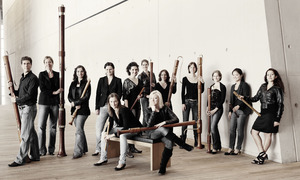 Arts at The Park presents
The Royal Wind Music
Angeli, Zingare & Pastori:
Masterworks by Italian Composers
A unique double-sextett of Renaissance Recorders from Amsterdam, The Netherlands, return to the United States after six years.

Sunday, June 9 at 3 pm Tickets: $15-$20
Park Avenue Christian Church,1010 Park Avenue at East 85th Street, Manhattan

Click here for full details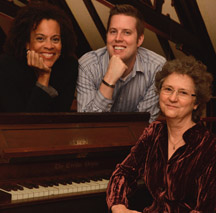 Melodeon
Iconic 19th and 20th Century American Music
A Benefit for Epiphany Arts
A special end-of-season concert to benefit Epiphany Arts featuring a broad selection of iconic but rarely performed American music from the 19th and early 20th Century.



Sunday, June 9

at 4 pm

Admission: Free will donation


Church of the Epiphany, York Avenue at 74th Street, Manhattan

Click here for full details
[Back to the top]

Midtown Concerts
Thursdays at 1:15 pm


The Chapel at Saint Bartholomew's Episcopal Church
325 Park Avenue at East 51st Street, Manhattan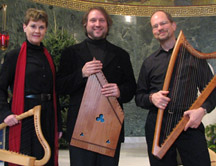 May 23 -

Trefoil


Fleur de valeur: Medieval Flower Songs
Trefoil offers a symbolic bouquet drawn from the medieval garden of musical delights. The program includes Trouvere melodies and assorted vocal and instrumental works from the 13th century Ars Antiqua through the early Burgundian style of Dufay and Binchois.
May 30

- White Sparrow
La Musa, La Musica
La Musa, La Musica explores three types of song: the English lute song, the Italian frottola, and the French air de cour. Follow the muses: Polyhymnia, she of many hymns, Thalia, the muse of Comedy, Mepomene, the muse of melancholy, and Erato, the muse of love, as they guide you through the music of John Dowland, Bartolomeo Tromboncino, and Etienne Moulinié.


June 6 -

New Comma Baroque


"Tous les Matins du Monde" All the Mornings of the World
New Comma Baroque, with guest Baroque flutist Leighann Daihl, celebrates music of the French Baroque in a concert called "Tous les Matins du Monde" (All the Mornings of the World), taken from the 1991 film of the same name.
Other Upcoming Events... (click on the date for more info)

Saturday, May 18 at 8 pm - Canticum Novum, The Church of Saint Jean Baptiste, NYC
Sunday, May 19 at 3 pm - Angelica, Women's Chamber Choir, The Church of St. Vincent Ferrer, NYC
Tuesday, May 21 at 8 pm - Gretchen's Muse, WMP Concert Hall, NYC
Tuesday, May 21 at 8 pm - Voices of Ascension, The Church of the Ascension, NYC
Wednesday, May 22 at 8 pm - Repast Baroque Ensemble, Baruch Performing Arts Center, NYC
Friday, May 24 at 7 pm - Grand Harmonie, Church of the Epiphany, NYC
Monday, May 27 at 8 pm - Gretchen's Muse, WMP Concert Hall, NYC