In This Issue

♦ What's New

♦ Event Listings
♦ The Canby Singers
♦ Pomerium
♦ Daniel Swenberg and Gwendolyn Toth
♦ Repast Baroque Ensemble
♦ Tafelmusik Baroque Orchestra
♦ TENEbrae
♦ Clarion Masked Ball
♦ Repast Baroque Ensemble
♦ Polyhymnia
♦ New Utrecht Ensemble
♦ Saint Thomas Church Benefit
♦ Go For Baroque Workshop
♦ Canticum Novum

♦ Midtown Concerts
♦ Other events
Useful Links


Disabled Access Info

Find out how to include your event in Notes on the Scene

Find us on the web...





Challenge Grant
We've almost met our goal of matching the $10,000 challenge grant offered by a generous anonymous donor through the Rockefeller Philanthropy Advisors, but we have a little way to go before the deadline of February 28 (8 days from now!). Your gift will be VERY timely, and will help ensure we have the funds we need continue our work this season. Please join your fellow enthusiasts by making a donation today.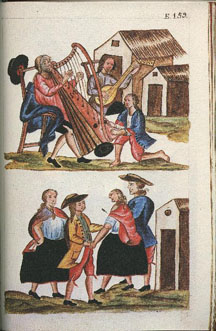 GEMAS
There are now three concerts scheduled for this spring in our new GEMAS series exploring the early music of the Americas and produced in collaboration with the Americas Society. On March 6 at 7 pm the renowned Argentine musicologist and virtuoso early-music performer Pedro Memelsdorff (also the new Director of world-famous Schola Cantorum Basiliensis (SCB) in Basel, Switzerland) brings his group Mala Punica to perform at the Italian Academy at Columbia University.

The gala concert on April 20 at 8 pm features gorgeous 18th-century music and dance from the delightful "Trujillo codex" of Peru. It will be held in the extraordinary mural-graced music room of the Hispanic Society on 155th Street. The large band of early music all-stars, led by Tom Zajac, includes soprano Nell Snaidas, violinist Robert Mealy, guitarist Grant Herreid and percussionist Danny Mallon. Slide projections of the codex illustrations and supertitles of the translations of the texts, will provide the listener with a wonderfully intimate and immediate experience, while Carlos Fittante, Robin Gilbert Campos, Bárbara Martínez and Ricardo Santiago, who specialize in Historical Performance and Flamenco respectively, will perform dances inspired by the paintings. More info and tickets.

And the final event of the inaugural GEMAS season is a concert that features Americas Society's critically acclaimed vocal ensemble Meridionalis (Sebastián Zubieta, director) and instrumentalists from the distinguished Clarion Music Society (Steven Fox, director) on April 30 at 6 pm. This concert presents instrumental and choral works written in the Jesuit missions of eastern Bolivia during the 18th century and will be heard in the perfect setting, St. Paul's Chapel at Columbia University. Tickets are now available for all the GEMAS concerts!

Connecticut Early Music Society


Longtime early music artist, arts administrator and teacher Patricia Ann Neely has just been appointed Executive Director of the prestigious Connecticut Early Music Society. CEMS runs a festival annually during the summer, and the 2013 edition will present GEMS' production of "The Play of Daniel" on Sunday, June 23 in the Chapel at Connecticut College, New London. Tickets will be available in the spring.
[Back to the top]
Event Listings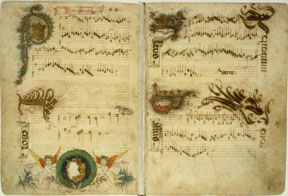 The Canby Singers
When Senfl Met Isaak
Sheila Schonbrun, conductor
Motets and songs of Isaak and his most celebrated student, Senfl, and featuring Senfl's Missa Paschalis.

Sunday, February 24 at 4 pm Tickets: $10
Church of St. Charles Borromeo, 21 Sidney Place (between Joralemon & State Streets), Brooklyn

Saturday, March 2 at 8 pm Tickets: $20
Church of St. Joseph, 365 6th Avenue, at Washington Place, Manhattan

Click here for full details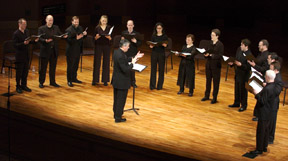 Sacred Music in a Sacred Space presents
Pomerium
Timor et Tremor: Renaissance Motets for Lent
Alexander Blachly, conductor

Wednesday, February 27 at 7 pm Tickets: $30-$50
Church of St. Ignatius Loyola, 980 Park Avenue at East 83rd Street, Manhattan

Click here for full details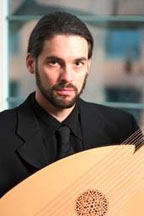 The Art of the Early Keyboard Series presents
Daniel Swenberg, period early-19th-century guitar
Gwendolyn Toth, fortepiano


Potpourri: Music for Guitar and Fortepiano
An intimate concert of music for the guitar and early piano, in the manner of a European salon concert.

Thursday, February 28 at 8 pm Tickets: $15-$25
Immanuel Lutheran Church, 122 East 88th Street at Lexington Avenue, Manhattan

Click here for full details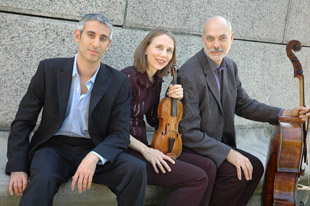 Repast Baroque Ensemble
"Mxnestrxndxsx" (The Minstrels)
J.-P. Rameau's Pieces de Claveçin en Concert, as well character pieces, dances, and sonatas of Marin Marais, François Couperin, and Charles Dieupart.

Friday, March 1 at 8 pm Tickets: $12-$25
$5 "Recession Special" at box office from 6 pm on performance day
Wine and Cheese reception following the concert
Baruch Performing Arts Center, 55 Lexington Avenue (entrance on 25th Street), Manhattan

Click here for full details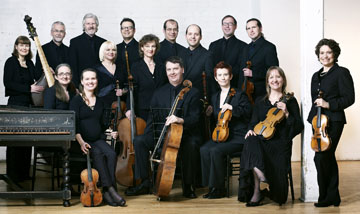 Miller Theatre at Columbia University presents
Tafelmusik
House of Dreams
Toronto's acclaimed baroque orchestra performs a multi-media program exploring the intersection of art and music in 17th- and 18th-century Europe

Sunday, March 3 at 3 pm Tickets: $24-$45
The American Academy of Arts & Letters, 632 West 156th Street between Broadway and Riverside Drive, Manhattan

Click here for full details or call 212-854-7799
TENEbrae
TENET joins forces with Trinity Wall Street to present impassioned early music during Lent, the season of darkness and self-reflection. The series is named after the somber Tenebrae service that marks the time just before the transition to light and takes place during Holy Week.
Jolle Greenleaf, TENET artistic director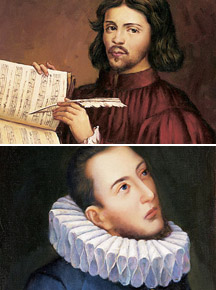 Julian Wachner, Director of Music and the Arts, Trinity Wall Street

Thomas Tallis: Lamentations of Jeremiah
Sunday, March 3 at 5 pm Tickets: $25
Trinity Church, Broadway at Wall Street, Manhattan

Carlo Gesualdo: Tenebrae Responsories for Maundy Thursday
Friday, March 8 at 8 pm Tickets: $20-$50
St. Ignatius of Antioch Episcopal Church, 552 West End Avenue at West 87th Street, Manhattan
Sunday, March 10 at 5 pm Tickets: $25
Trinity Church, Broadway at Wall Street, Manhattan

Marc-Antoine Charpentier: Leçons de Ténèbres pour Vendredi
Sunday, March 17 at 5 pm Tickets: $25
Trinity Church, Broadway at Wall Street, Manhattan

Click here for full details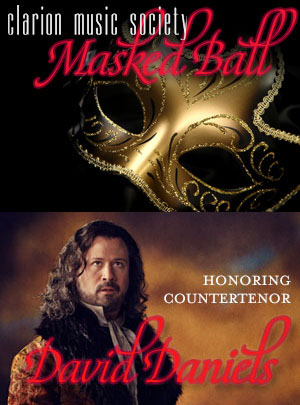 Clarion

Music

Society
Masked Ball
Join Clarion at the elegant Cosmopolitan Club for a full evening of cocktails, Clarion performances, dinner, and Baroque dancing led by members of the Balam Dance Theatre.
David Daniels, countertenor and honoree
Steven Fox, artistic director

Friday, March 8 Admission: $175-$300
7 pm Cocktails & Hors d'oeuvres, 8 pm Dinner & Program
The Cosmopolitan Club, 122 East 66th Street, between Lexington and Park Avenues, Manhattan

Click here for full details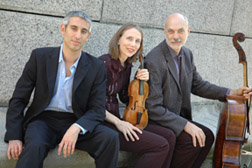 Bargemusic's There and Then Series presents


Repast Baroque Ensemble


Music For Several Friends
Intimate chamber music for violin, viola da gamba and theorbo including works by Matthew Locke, Purcell, Corelli, Matteis, and Marais.

Saturday, March 9 at 8 pm Tickets: $15-$35
Bargemusic, Fulton Ferry Landing near the Brooklyn Bridge, Brooklyn

Click here for full details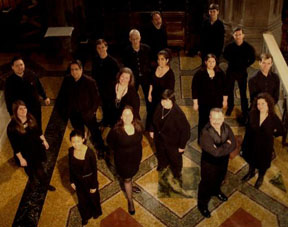 Polyhymnia
La Flor de España (The Flower of Spain)
The Music of Francisco Guerrero (1528-1599):
Missa Surge propera á6, Motets & Gregorian Chant

Saturday, March 9 at 8 pm Tickets: $15-$25
Pre-concert lecture at 7 pm with Dr. Antoni Pizà
St. Ignatius of Antioch Episcopal Church, 552 West End Avenue at West 87th Street, Manhattan

Click here for full details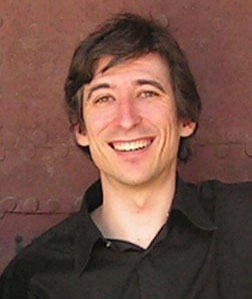 Brooklyn Friends of Chamber Music presents
New Utrecht Ensemble
Music of Salomone Rossi Hebreo, Pierre-Gabriel Buffardin, G. F. Handel, and J. S. Bach
Featuring Mary Feminear, soprano & Antonio Campillo, flute with string ensemble

Sunday, March 10 at 3 pm Tickets: $10-$20
Brooklyn Heights Synagogue, 131 Remsen Street between Clinton and Henry, Brooklyn

Click here for full details
Saint Thomas Church presents
Bach Collegium Japan & Yale Schola Cantorum with John Scott, organ
Music of J.S. Bach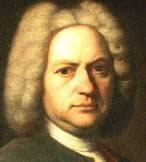 A benefit concert for victims of the tsunami in Japan and hurricane Sandy in New York
Masaaki Suzuki, conductor

Monday, March 11 at 7:30 pm Tickets: $20-$50
All proceeds will go to official non-profit agencies that are providing disaster relief in the regions hardest hit by the hurricane and the tsunami.
Saint Thomas Church, Fifth Avenue at 53rd Street, Manhattan

Click here for full details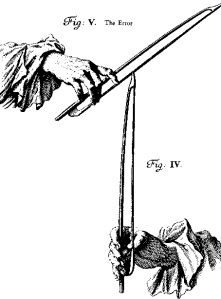 Go For Baroque Workshop
An Early Music Play-in: Welcome the coming of spring with an exploration of Le Journal du Printemps
Coaching and "break-out" sessions will be led by:
Dr. Dale Stuckenbruck, violin
Lisa Terry, cello & viola da gamba
Dr. Alexandra Snyder Dunbar, harpsichord & piano

Application deadline: March 16
Workshop: Saturday, April 27, 9 am - 5 pm Admission: $125
Park Avenue Christian Church, 1010 Park Avenue (at 85th Street), Manhattan

Email or call 516-783-9164 for more information and an application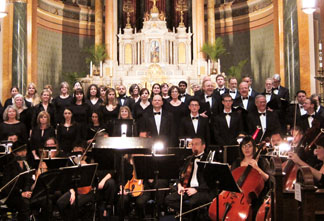 Canticum Novum
Harold Rosenbaum, conductor
W.A. Mozart: Grand Mass in C Minor (K. 427)
Plus
J.S. Bach: Singet dem Herrn ein nueus Lied
Mozart: Ave Verum Corpus

Saturday, May 18 at 8 pm Tickets: $40-$60
The Church of Saint Jean Baptiste, 184 East 76th Street (at Lexington Avenue), Manhattan

Click here for full details
[Back to the top]

Midtown Concerts


Thursdays at 1:15 pm


Saint Peter's Church
619 Lexington Avenue at 54th Street (entrance on 54th Street)
Manhattan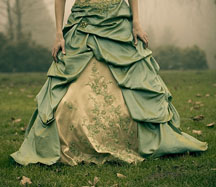 February 28 -

Sinfonia New York


Marika Holmkvist, violin
Sei Solo – Only You
Sinfonia New York's Artistic Co-Director and co-concertmaster Marika Holmqvist presents a solo violin program, featuring HIF Biber's Passacaglia and J.S. Bach's Partita in D Minor.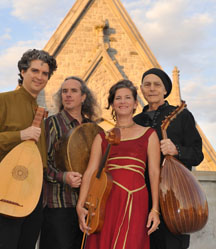 March 7 - ALBA
Sketches of Spain
Margo Gezairlian Grib, voice & vielle
Haig Manoukian, oud
Rex Benincasa, percussion
Christopher Morrongiello, lute & baroque guitar
ALBA presents an early music tour of the Iberian Peninsula, illustrating this region's diversity of culture and unique genres of music of the North (Libre Vermelle of Montserrat), South (Arabic and Ladino songs), East (Cantigas de Santa Maria) and West (music of Martin Codex) from the 12th to the 15th centuries.
Other Upcoming Events... (click on the date for more info)

Sunday, February 24 at 5 pm - TENEbrae: François Couperin: Leçons de Ténèbres, Trinity Church, NYC