In This Issue

♦ What's New

♦ Of Special Interest

♦ Event Listings
♦ Sebastian Chamber Ensemble
♦ TENET
♦ Brooklyn Baroque & Well-Tuned Words
♦ David Lang & Anonymous 4
♦ The Virgin Consort
♦ Angelica
♦ My Lord Chamberlain's Consort
♦ Pomerium

♦ Midtown Concerts
♦ Other events
Useful Links


Disabled Access Info

Find out how to include your event in Notes on the Scene

Find us on the web...




SPECIAL EDITION with a cornucopia of Holiday and Benefit concerts.
What's New at GEMS...

In October The New Yorker wrote:

"Early music in New York needs a devoted champion, and for the last five years GEMS has been it."

GEMS is a non-profit organization that provides critical services to the early music community at affordable prices thanks to the hard work of our small paid staff and dozens of volunteers, some financial support from the City and State, and the charitable contributions of music-lovers like yourself.

Please include us in your year-end philanthropic giving... you can donate online here.

Thank you!
Of Special Interest
TOMORROW NIGHT (Thursday), there will be a special early music concert for Hurricane Sandy relief, by the Sebastian Chamber Players. The Sebastians" won the Early Music America "Audience Prize" at the baroque performance competition last month. You can enjoy some outstanding music by true viruosos and help your fellow New Yorkers at the same time.
[Back to the top]
Event Listings
The Sebastian Chamber Players and Friends: A Concert for Sandy Relief
An Ode to Love, Hope, and Sharing...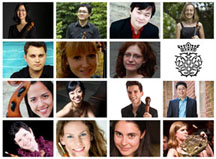 TOMORROW, Thursday, November 29 at 7:30 pm
All Angels Church
251 West 80th Street (between Broadway and West End Avenue)
This concert, featuring solo and ensemble performances by members of the Sebastian Chamber Players and special guest artists, will celebrate and meditate on life and the power of music to move the soul and bring hope. The concert is free of charge, all donations will go to the
Episcopal Relief & Development Hurricane Sandy Response Fund
.
Program to include Corelli's Christmas Concerto, Biber's Annunciation Sonata, dances by Falconieri, Merula, and Simpson, and others
Dongmyung Ahn, Baroque violin
Daniel S. Lee, Baroque violin
Christa Patton, Baroque harp
Ezra Seltzer, Baroque cello
Lisa Terry, lyra viol
and other special guests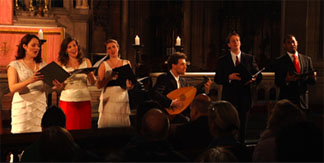 TENET
Christmas: Starry Night
An homage to Van Gogh's iconic painting with lute-accompanied carols, motets, solo songs and spirituals

Saturday, December 1 at 7 pm
Tickets: $30-$50
St. Ignatius of Antioch Episcopal Church, 552 West End Avenue at West 87th Street, Manhattan

Click here for full details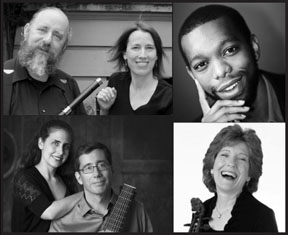 Music at Morris-Jumel presents
Brooklyn Baroque & Well-Tuned Words
Annual Holiday Concert
with guests Lisa Terry, viola da gamba &
Jonathan Woody, bass-baritone
Music by Bach, Dowland, Campra, Telemann, Byrd, & others

Saturday, December 1 at 8 pm Tickets: $20-$25


Advanced registration required; Reception to follow concert


Morris-Jumel Mansion, 65 Jumel Terrace, Manhattan

Click here for full details or call 212-923-8008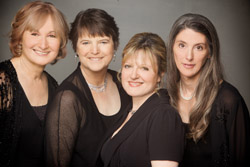 BAM presents
David Lang & Anonymous 4
love fail
The latest work from Pulitzer Prize-winning composer David Lang, love fail marries an evocative early music sound with timeless storytelling, made luminous by one of the premiere vocal ensembles of our time.

December 6—December 8 at 7:30pm Tickets start at $20
Post-show artist talk with David Lang moderated by John Shaefer on 12/7, free for same-day ticket holders
BAM Harvey Theater, 651 Fulton Street, Brooklyn

Click here for full details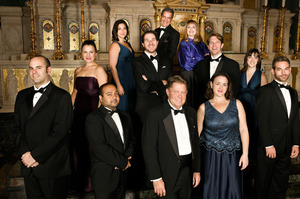 The Virgin Consort
Music Under the Dome
Kyler Brown, artistic director
Music by Poulenc, Biebl, Lauridsen, Whitacre, Willcocks, Sametz & Saylor

Saturday, December 8 at 8 pm Tickets: $15-$25
Church of St. Jean Baptiste, 184 East 76th Street at Lexington Avenue, Manhattan

Click here for full details or call 212-570-2130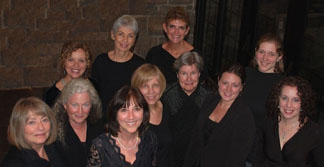 Angelica, a women's chamber choir
Cantando Gloria
Medieval, renaissance, and contemporary Yuletide selections

Sunday, December 9 at 3 pm
Tickets: $10-$20 suggested donation
The Church of St. Vincent Ferrer, 869 Lexington Avenue at East 66th Street, Manhattan

Click here for full details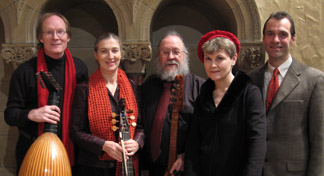 Music on Madison! presents
My Lord Chamberlain's Consort
A Renaissance Christmas
Four centuries of seasonal music from England and the Continent, including works by William Byrd, King Henry VIII, Thomas Campion, and Michael Praetorius plus excerpts from Playford's Dancing Master.

Sunday, December 9 at 3 pm
Tickets: Free-$25
Madison Avenue Presbyterian Church, 921 Madison Avenue at 73rd Street, Manhattan

Click here for full details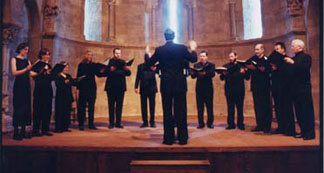 Pomerium
Creator of the Stars:
Christmas Music from the Old World
Solemn and joyful chants and their polyphonic elaborations from the Renaissance.

Tuesday, December 18 at 7:30 pm
Tickets: $25
All Souls Unitarian Church, East 80th Street at Lexington Avenue, Manhattan

Click here for full details
[Back to the top]

Midtown Concerts


Thursdays at 1:15 pm


Saint Peter's Church
619 Lexington Avenue at 54th Street (entrance on 54th Street)
Manhattan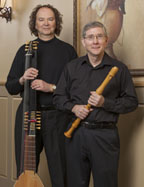 November 29

- La Tour Baroque Duo
The Scotch Humor
Tim Blackmore, recorders
Michael Cardin, theorbo
With the restoration of the Stuarts to the English throne in 1660 there began a vogue for Scottish music, and by 1730 Scottish fiddle tunes and songs were being set to figured bass in an art-music style. 'The Scotch Humor' is a delightful program of sonatas and variations on Scottish airs by lesser-known Scottish composers James Oswald, Charles McLean, Alexander Munro and William McGibbon as well as by Francesco Geminiani and Francesco Maria Veracini. Watch a video!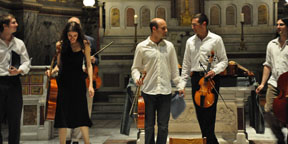 December 6 - Sonnambula
Armada:Renaissance Music from England and Spain
Douglas Kelley, viola da gamba
James Kennerley, tenor
John Mark Rozendaal, viola da gamba
Elizabeth Weinfeld, viola da gamba
In the 16th century, Spain reached the pinnacle of its influence and power, now known as the Siglo de Oro, or Spanish Golden Age. Similar traditions in England would result in a repertoire that remains today the essence of Renaissance consort music. The program will feature intimate Canciones (popular tunes with poetic texts), joyful Villancicos (songs with rustic themes), and courtly English consort songs that together represent two distinctive "Golden Ages" of cultural flourishing.
Other Upcoming Events... (click on the date for more info)

Friday, November 30 at 8 pm - SIREN Baroque, 2nd Presbyterian Church, NYC
Saturday, December 1 at 8 pm - The Tallis Scholars, Church of St. Mary the Virgin, NYC
Sunday, December 2 at 2 pm - SIREN Baroque, Church of St. Stephen and St. Martin Episcopal Church,
Brooklyn, NY
Tuesday, December 4 at 8 pm - L'Orchestre des Portes Rouges, Church of the Resurrection, NYC
Thursday, December 6 at 8 pm - Choir of St. Luke in the Fields, Church of St. Luke in the Fields, NYC
Friday, December 7 at 8 pm - New York Virtuoso Singers, St. Ignatius of Antioch Episcopal Church,
NYC
Sunday, December 9 at 3 pm - Angelica, The Church of St. Vincent Ferrer, NYC
Sunday, December 9 at 3 pm - Trinity Choir and Trinity Baroque Orchestra, Trinity Church, NYC
Sunday, December 9 at 7 pm - New York Baroque Incorporated, The Church of St. Luke and St.
Matthew, Brooklyn, NY
Sunday, December 9 at 7:30 pm - New York Consort of Viols, Congregation B'nai Jeshurun, NYC
Wednesday, December 12 at 7:30 pm - Trinity Choir and Trinity Baroque Orchestra, Alice Tully Hall,
Lincoln Center, NYC
Thursday, December 13 at 6:30 pm and 8:30 pm - Alla Francesca, The Medieval Sculpture Hall, The
Metropolitan Museum of Art, NYC
Friday, December 14 at 8 pm - Canticum Novum, The Church of Saint Jean Baptiste, NYC
Saturday, December 15 at 2 pm and 7 pm - Pipes of Christmas, Madison Avenue Presbyterian Church,
NYC
Friday, December 21 at 8 pm - The New York Virtuoso Singers, Carnegie Hall, NYC
December 26-January 6 - Trinity Twelfth Night Festival, Trinity Church and St. Paul's Chapel, NYC
Thursday, December 27 at 7:30 pm - Parthenia with Julianne Baird, Trinity Church, NYC
Saturday, December 29 at 3 pm - A Christmas Concert for all Ages with Sinfonia New York, Trinity
Church, NYC
January 11-13 and 18-20, 2013 at 1 pm and 3 pm, The Play of Daniel, The Cloisters, NYC