Les Poissons Voyageurs, featured in the New York Times, play Ritual tonight!

Dine with Tomme Arthur This Thursday at 7:pm here at Ritual
Stone Enjoy By 10.25.13 is.on.draft


Rare Drafts and Chef's Pairings Await You

Hello Neighbor!
Tomme Arthur is obviously our big news to share with you this week. We always look forward to a Port Brewing/Lost Abbey event, and you, our regulars do too. Read on for all the details of our 6th Anniversary celebration dinner this Thursday. Pictured in the photo above at Tomme's table at Ritual in 2009 are Vince Marsaglia from Pizza Port and David Keene of the original Toronado in San Francisco.
Circumstance brings us a new musical act tonight. Les Poissons Voyageurs are on tour and happen to be available to play Ritual TONIGHT. Read on for press, links and music from Les Poissons Voyageurs.
Enjoy
30th on 30th
this Monday night! It will be a great opportunity to walk the neighborhood, visiting multiple venues for $3 snacks, beverages and other treats. We will be serving up $3 craft beers and a tasty small plate, yet to be determined. (Our regular menu will not be available, as our kitchen is closed on Mondays)
Tomme's passion is Port Brewing / Lost Abbey.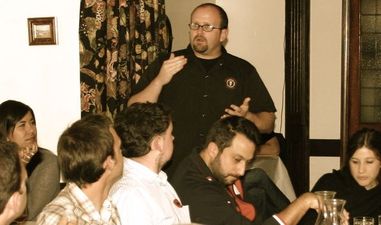 Tomme Arthur's name is forever linked with Port Brewing and the Lost Abbey. His passion for brewing helped establish their world renowned legacy, not to mention the numerous Great American Beer Festival awards. Ritual looks forward to great Lost Abbey events every year. We start by grabbing up limited release draft, beers so rare they are rare when they were released. Then we quietly tuck them away, sometimes grabbing more limited releases as the months go by. Then, when the moment is right, we tap in!

This Thursday we tap five Port Brewing / Lost Abbey kegs. Older Viscosity, Witch's Wit, and Frambroise de Amorosa have been properly cellared until now. This Thursday's event is all draft so even the rare stuff will flow plentifully, accompanied by Avant Garde and Red Barn.

Also on deck are decadent Chef's pairings. It's a feast's feast, and it's all for you. Thanks for supporting Ritual and the San Diego brewing tradition.

Les Poissons Voyageurs International tour includes Ritual TONIGHT!

Les Poissons Voyageurs began a tour a few weeks back, and they happen to know our friends in Trio Gadjo. It just worked out that they will be able to put on a show of 'Russian bluegrass and Gypsy gospel' at Ritual tonight! Its rare that we attempt to book touring bands, thanks to Trio for helping make this possible.
Jeremy from the Trio describes this act as a super group based in Montreal. Over time, members of other bands team up, and apparently this tour includes three musicians playing accordion, upright base and mandolin.
Listen in to their incredible music, and get your toes tapping along on the
Les Poissons Voyageurs website.
Thanks for helping us be your place to visit, relax, and enjoy conversation over great food and drink.
Cheers from all of us folks, at your Ritual!