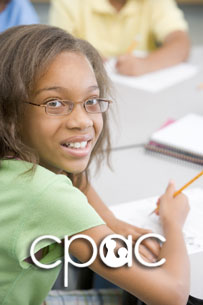 January E-News from
Connecticut Parent Advocacy Center

Happy New Year!
We are very excited to share our first CPAC E-News of 2012! We have a new look and are excited to share new and useful information with you. As always, we welcome your calls and emails and are ready to provide you with helpful information and support.

CPAC's New Satellite Office
CPAC is pleased to announce the opening of a new satellite office in Danbury, staffed by CPAC Parent Consultant, Sherri Edgar. Thanks to Danbury Children First for providing space for our work. The office is located at 83 West Street in Danbury and is open Tuesdays and Thursdays. Contact the Danbury office at
(203) 794-1259.
---
Featured Resource - Reading Rockets

Reading Rockets is a national multimedia literacy initiative offering information and resources on how young kids learn to read, why so many struggle, and how caring adults can help. The Reading Rockets website features a great deal of easy to understand, straightforward information and tips for parents, educators and other professionals. Check out "How to 'Read' Your Child's Reading Scores" by Joanne Meier.
---
"Building a Bridge" Now Available
"Building a Bridge From School to Adult Life: A Handbook for Students and Family Members to Help with Preparation for Life After High School" developed by the CT Transition Task Force is now available in hard copy from Connecticut Parent Advocacy Center. Call or email us to request a copy.
---
Charter Schools and Students with Disabilities
Thinking about charter school as an option for your child? NICHCY has created a very informative fact sheet with answers to frequently asked questions for families and educators of children with disabilities.
"
The Facts About Charter Schools
" by Elaine Mulligan
---
CPAC Working with CT Family to Family Health Information Center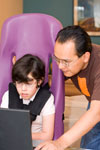 CT Family to Family Health Information Center operated by PATH/Parent to Parent/Family Voices of CT selected Connecticut Parent Advocacy Center, along with North Star Parent Support Group and Citizens for Quality Care of Sickle Cell (CQCSC), to receive funding. These organizations now have Health Information Specialists (HIS), who are parents of children with special needs, embedded in their organizations. HIS have expertise in navigating federal, state, local and private health systems and other community support organizations. We're very excited to be able to offer families in CT even more in-depth information on health care related issues with the funding provided through this grant.
---
New Assistive Technology for Classrooms
Is your child's school using the Livescribe smartpen? The pen acts as a mini computer that records what the user hears or says while he or she takes notes on specially coded paper that syncs the written word with the audio file. Teachers can also upload the synced pencast to a computer, where students can hear the audio and see the written notes. Teachers and students are already using the technology in a number of ways to improve student performance and extend teacher instruction beyond the classroom.
"
The Pen That's Smarter Than The...Pen!
" by Jennifer Netherby
---
10 Tips for High School Students Preparing for College

The key to student success in college is preparation! Check out these great tips for high school students with disabilities who are preparing for college.
"Learning Disabilities: 10 Success Tips for High School Students with College Aspirations" by Joan M. Azarva, Ms.ED.
---
Language Skills in Preschoolers
A new study conducted by Ohio State University's School of Teaching and Learning suggests that preschool students with poor language skills show much greater improvement if they're placed in a classroom with higher-achieving children, compared to being in a class with other low-achievers.
Read more about the study
---
Cognitive Training Helps Parents and Students




New research conducted by Helen J. Neville, director of the Brain Development Lab and the Center for Cognitive Neuroscience at the University of Oregon in Eugene, suggests that training parents as well as children in cognitive techniques can help to close early achievement gaps.


Read more about the research.
---
ESEA Flexibility Waiver
CT is preparing a "Flexibility Request" under the Elementary and Secondary Education Act (ESEA) formerly known as No Child Left Behind. If approved by the U.S. Department of Education, this request will waive some of the current accountability and funding requirements. The CT State Department of Education needs to hear from parents of children with disabilities about the need to maintain high standards and accountability for all students. For more information about the development of CT's proposal and how you can give input into this process visit the CT State Department of Education website. You can also learn more by reading "No Child Left Behind Waivers and Students with Disabilities" by Nirvi Shah of Education Week.
---
Upcoming Events
We know it's winter and it's sometimes tough to brave the cold to attend a workshop, but don't miss the great workshops taking place around the state! Be sure to check back frequently if you don't see a workshop in your area. We update our website daily with new events.
Upcoming Special Education Related Events in Connecticut