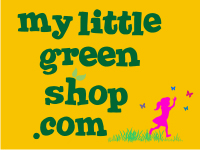 This month at My Little Green Shop we are honouring teachers with a contest since it's back-to-school time and since everybody has a teacher who's made a difference in their lives. Let's face it, some Teachers Rock!
Nominate a teacher, instructor or professor that rocks. Give us their name, school/institution and city (anywhere in Canada or the US) and tell us why they rock. Post your entry on our blog's LiveJournal thread. We'll choose one entry randomly on October 1st and that awesome teacher will receive a $50 gift certificate to use at My Little Green Shop.

Contest closes September 30th, 2010.
And since we're thinking of education, we want to mention a new item -
Anouk's Art Endangered Species Memory Game
. This beautiful and colourful game features hand rendered drawings of some of the world's endangered species by renowned artist, Anouk Bikkers. This game challenges kids' minds while teaching them fascinating facts about some of the world's endangered species. Good for kids of all ages between 3 and 103!
Finally, to make room for all the new items arriving soon, we decided to extend our
summer sale
til Sept 30th - get savings of up to
70% off
on selected items!
We hope the transition of going back to school or starting school for the very first time is a happy one for your families!
Thank you for subscribing to

My Little Green Shop's

newsletter!
Warmly,
Sebastian, Savara (our family's new addition in June!), Jim and Lili