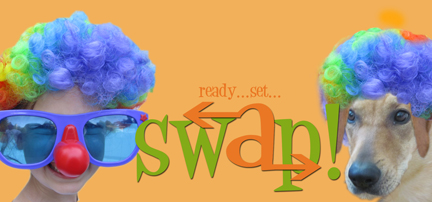 *

It's costume swap mania!

*
National Costume Swap Day is THIS SATURDAY
Wow.
Have you seen the overwhelming response to National Costume Swap Day?
We thought the idea might be a hit (what could be better than saving green while celebrating green AND having FUN?), but we had no idea how fast the enthusiasm would spread.
As of this writing, almost sixty costume swaps, in 57 cities in 24 states are registered. Some are public, some are private, but all are helping to make National Costume Swap Day's inaugural year a knock-em-out-of-the-park success.
To find a swap near you, click here.
Don't see a swap in your community? Want to whip one up? Here's how to get your swap going. Once you have details secured, be sure to register your event (public or private options).
National Costume Swap Day BUZZ!
NPR, KIWI magazine, Good Morning America & more...
The media is all over National Costume Swap Day! Since our announcement of the BIG DAY, local and national media outlets have been helping to spread the excitement.
Follow Green Halloween on Facebook for daily media updates or check out the National Costume Swap Day media page for weekly updates.
And if you catch National Costume Swap Day in your local paper, on your local news or on your favorite mom blog, be sure to let us know about it so we can add the story to the growing list.
Be sure to tune in to Good Morning America THIS THURSDAY (Oct. 7) for Sam Champion's segment on National Costume Swap Day. Please help spread the word by Tweeting about the upcoming show and then by letting GMA know via Twitter or Facebook that you want more ideas on celebrating a Green Halloween!

5 Pointers for a successful swap
It's National Costume Swap Day's first year. And like any first-year event, that means there's always room to grow.
But event a small swap can be a huge success.
Set expectations. Let participants know how the swap will work, but be sure to share that you also look forward to their feedback. Take note of the areas your swap can improve upon next year.
Let participants know in advance that there are no guarantees of size and style. The idea is to come in with an open mind. Have an attitude of excitement, wonder and mystery for your kids: "I wonder what we'll find!"
Decide in advance whether or not swappers can take their original costumes home with them if the costumes are not chosen. To make it easier, you may wish to let everyone know that all left over costumes will be donated to your local Goodwill, homeless shelter for families or other organization that serves underprivileged children.
Swap safely. Check all costumes that come in for any components that seem unsafe (broken, choking or suffocation hazards, etc.). If you wouldn't feel safe allowing your child to wear it, it probably shouldn't be worn by anyone else's child. You may wish to have a few lead-test kits on hand (available at most hardware stores) to test suspect components such as costume jewelry. Have a bottle of vinegar/water solution on hand for spot cleaning and encourage parents to wash the costumes once home.
Invite kids to come in underclothes so that they can try costume on while staying covered up. Many children are used to trying clothes on at home, but a public swap means there may be no place to try on costumes in private. Swim suits, leotards, stretch pants and tank tops are all good ideas to wear (or bring) to a swap. If you are hosting a swap, you may want to have a few of these types of "under clothes" on hand.
Why Costume Swap Day?
According to our friends at the Use Less Stuff Report:
If half the costumes kids wear each year were swapped, we could reduce the annual waste by 6,250 tons, equivalent to 2500 mid-size cars!
Help us spread the good, green FUN!
Tweets:
Save money & the planet on National Costume Swap Day http://www.CostumeSwapDay.com
National Costume Swap Day lets you save $ and the planet http://www.CostumeSwapDay.com
Don't toss last year's costumes, swap 'em! http://www.CostumeSwapDay.com
One child's worn costume is another's treasure http://www.CostumeSwapDay.com
For Facebook:
Excited about National Costume Swap Day. If you go to the website, you can find places to participate in a swap or register a swap you're hosting. Great for your wallet and the planet! http://www.CostumeSwapDay.com
Want to save money this Halloween? How about participating in a costume swap. The National Costume Swap Day site shows you how. http://www.CostumeSwapDay.com
Love this idea! National Costume Swap Day. October 9th http://www.CostumeSwapDay.com
I registered my costume swap for National Costume Swap Day. You can too! http://www.CostumeSwapDay.com
THANK YOU for hosting, attending or supporting your local costume swap!